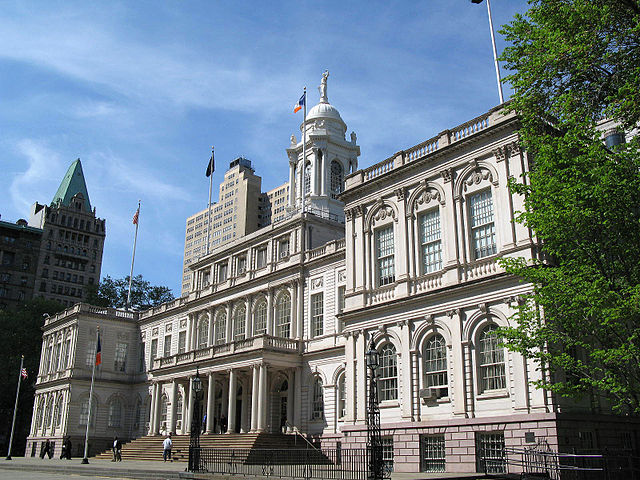 New York City Hall
---
What to watch for this week in New York politics:
The eyes of the country are on New York - even more so than usual. The presidential primaries, both Republican and Democrat, are in full-swing and New York is home to two hot contests, with all five remaining major party candidates campaigning around the state as we approach voting on April 19, a week from Tuesday.
The Democrats are debating in Brooklyn Thursday night at 9 p.m. - the debate will air on CNN and NY1, and NY1's Errol Louis will serve as one of three journalists asking questions of Clinton and Sanders. [Just before the debate, from 6-8 p.m. Gotham Gazette and City Limits are co-hosting a presidential primary event in Manhattan - Join us!]
As the week begins, Kasich, Trump, and Sanders will all be campaigning in and around Albany on Monday. This, after Clinton and Cruz were in the area last week. The candidates have all been campaigning in New York City, too, of course, and expect more of that as the week continues. Hillary Clinton is campaigning on Long Island Monday, while Bill Clinton will be representing her campaign in the Bronx and Brooklyn.
Meanwhile, as far as New York City politics goes, two main things to watch for as the week begins: a deal on the rezoning of East New York could be announced (and voted on) as early as Monday; and, the developing story around federal investigations into several NYPD officials, two businessmen with ties to Mayor de Blasio, and issues around the fundraising of de Blasio's nonprofit Campaign for One New York. It was reported over the weekend that a federal probe into the behaviors of the businessmen and NYPD officials has led to questions around fundraising by the Campaign for One New York and related official city action. Stay tuned. De Blasio starts his week promoting Hillary Clinton and holding a press conference on homelessness policy in the Bronx - details below.
As always, there's a great deal happening at the City Council and all over the city, with many events to be aware of.
***Do you have events or topics for us to include in an upcoming Week Ahead in New York Politics?
E-mail Gotham Gazette editor Ben Max: This email address is being protected from spambots. You need JavaScript enabled to view it.***
The run of the week in detail:
Monday
Both houses of the New York State Legislature are in session on Monday in Albany and Gov. Andrew Cuomo is in Albany with no public events, according to his schedule released Sunday evening.
At 10 a.m., the Assembly Standing Committee on Banks, the Assembly Standing Committee on Small Business, and the Assembly Standing Committee on Consumer Affairs and Protection will jointly hold a public hearing to examine the online lending marketplace in relation to small business access to capital.
On Monday at 10 a.m., City Council Speaker Melissa Mark-Viverito will hold a press conference with Council Member Daniel Dromm to remind New Yorkers to file their taxes - Food Bank of New York on 82nd Street in Queens. At 11:30 Monday morning, Mark-Viverito will participate in Passover food distribution at Union Plaza Care Center in Queens. And, at 6:30 p.m., Mark-Viverito will host "Speaker's Cultural Arts Series" at LaGuardia Center for the Performing Arts.
At 10:30 a.m. Monday, "Public Advocate James will release a study conducted by her office detailing the gender wage gap in New York City. She will be joined by advocates and community leaders."
On Monday at 11:30 a.m., "Mayor de Blasio will appear on Yahoo News Live with Katie Couric to discuss the upcoming New York primary." At 1:15 at BronxWorks, "the Mayor will host a press conference to announce the results of a 90-day review of homeless programs."
At the City Council on Monday: at 1 p.m., the Committee on Civil Service and Labor will meet jointly with the Committee on Aging on a bill requiring the Department for the Aging to develop a comprehensive plan to address the needs of informal caregivers, and a bill to establish a Division of Paid Care within the Office of Labor Standards, which will address issues related to home care workers and child care workers.
Tuesday
Both houses of the New York State Legislature are in session on Tuesday in Albany.
At the City Council on Tuesday:
10 a.m., the Committee on Housing and Building will meet on ten bills relating to gas infrastructure in the city, including the creation of a journeyman plumber gas qualification system, the prohibition of "self-certification" for plumbers who have worked on gas piping without a permit within the previous five years, and the requirement for the periodic inspection of gas piping systems.
1 p.m., the Committee on Consumer Affairs will meet on a bill requiring a seller license for any individual selling tickets for a place of entertainment, mode of transportation, or sight-seeing tour in a public space.
1 p.m., the Committee on Women's Issues will meet for an oversight hearing on the Commission on Gender Equality, and on a bill establishing a gender equity advisory board.
At 8 a.m. Tuesday, the Borough Planning Committee of the Queens Chamber of Commerce will be hosting a city-planning seminar, on the "Impact of New Zoning Development," featuring keynote speaker John Young, director of the Department of City Planning—Queens Borough Office.
At 10 a.m. Tuesday, the Manhattan Republican Party and the Women's National Republican Club will be hosting a meet and greet with Republican presidential candidate, Governor John Kasich, which will include "a major policy announcement."
At noon Tuesday, the Association for a Better New York will be holding a luncheon meeting featuring Governor Andrew Cuomo, who will discuss the recently-passed New York State Budget, infrastructure priorities, and his initiatives for the coming year.
Wednesday
Both houses of the New York State Legislature are in session on Wednesday in Albany.
Wednesday morning, Stroock & Stroock & Lavan LLC will be hosting a government leadership forum, "Will NYC Ever See Affordable Housing?" Speaking at this event include Vicki L. Been, Commissioner of the New York City Department of Housing Preservation and Development; Ruben Diaz Jr., Bronx Borough President; Ron Moelis, CEO and Chairman of L+M Development Partners Inc; and Erica F. Buckley, Special Counsel at Stroock.
At the City Council on Wednesday: at 10 a.m., the Committee on Public Safety jointly with the Committee on General Welfare will hold an oversight hearing on the Department of Homeless Services shelter system, and a bill requiring DHS to produce an annual report detailing critical incidents occurring in homeless shelters and safety measures taken to address these issues.
At 9:30 a.m. Wednesday, the National Action Network will launch its annual three-day convention, which brings together activists, government leaders, cultural influencers to address key issues important to a modern civil rights agenda. This year's speakers include First Lady of New York City Chirlane McCray, and many others. As always, it is led by Rev. Al Sharpton.
At noon Wednesday, City Council Member Ben Kallos will speak at "Taking on the 'Superscrapers,'" during which Kallos will speak about his move with the East River Fifties Alliance to restrict supertowers and over-development between 52nd Street and 59th Street east of First Avenue in Manhattan.
At 12:30 p.m. Wednesday at Civic Hall, David Moore will be presenting the NYC Councilmatic engagement app, which will allow citizens to easily navigate information about City Hall, including legislation, committee meetings, and council members.
At 4 p.m. Wednesday, the Senate Joint Task Force on Heroin and Opioid Addiction will hold a public hearing in Binghamton to examine issues facing communities in the wake of increased heroin abuse.
At 6 p.m. Wednesday, Bronx Borough President Ruben Diaz Jr. will host an informational panel on "Successfully Applying for Affordable Housing," featuring speakers from a variety of city agencies and real estate firms and will provide information about eviction prevention, rent freezing, apartment sharing, legal services, and more.
Thursday
The annual National Action Network conference will continue Thursday.
At the City Council on Thursday: at 1 p.m., the Committee on Juvenile Justice will meet on a bill requiring the Administration for Children's Services to report on programs and services provided to youth in placement and detention facilities.
At 9 a.m. Thursday, the Manhattan Institute will host a symposium on "U.S. Welfare Policy: Past, Present, and Future," during which senior MI fellow Jason Riley and experts such as Ron Haskins of the Brookings Institute, Reverend Eugene Rivers III, president of the Seymour Institute for Black Church and Policy Studies, and others will share their insights on welfare policy.
The next public meeting of the New York City Campaign Finance Board will be Thursday at 10 a.m.
At 6 p.m. Thursday, join Gotham Gazette, City Limits, campaign representatives, and a panel of political experts who will discuss the impending New York presidential primaries. New Yorkers get to vote on Tuesday, April 19. On Thursday, we will discuss the state of the Republican and Democratic primary races, how the votes in New York will shake out, what they will mean, and more. Representavies from multuple campaigns are expected (all have been invited to send someone), and panelists include former Rep. Anthony Weiner, David Birdsell, dean of the Baruch College School of Public Affairs; Christina Greer, professor of political science at Fordham University; and Steven Romalewski, director of the CUNY Graduate Center's Mapping Service. Details and RSVP.
At 6:30 p.m. Thursday, City & State NY will launch its latest magazine, the 2016 Borough Series: Brooklyn.
At 6:30 p.m., the NYGOP will host its 2016 New York State Republican Gala, which will feature Governor Susana Martinez, chairman of the Republican Governors Association, as well as Donald Trump, John Kasich, and Ted Cruz, the Republican presidential candidates.
At 9 p.m. Thursday, NY1 and CNN will co-host a Democratic presidential debate in Brooklyn and broadcast over those networks. Errol Louis of NY1 will be on of three moderators, with CNN's Wolf Blitzer and Dana Bash, who question Hillary Clinton and Bernie Sanders.
Friday and the weekend
The annual National Action Network conference will continue Friday.
At the City Council on Friday: at 10 a.m., the Committee on Public Housing will hold an oversight meeting examining elevator safety in NYCHA housing following the death of Olegario Pabon at Boston Road Plaza.
***
Have events or topics for us to include in an upcoming Week Ahead in New York Politics? E-mail Gotham Gazette executive editor Ben Max any time: This email address is being protected from spambots. You need JavaScript enabled to view it. (please use "For Week Ahead" as email subject).
***
by Kelly Fan and Ben Max
@GothamGazette