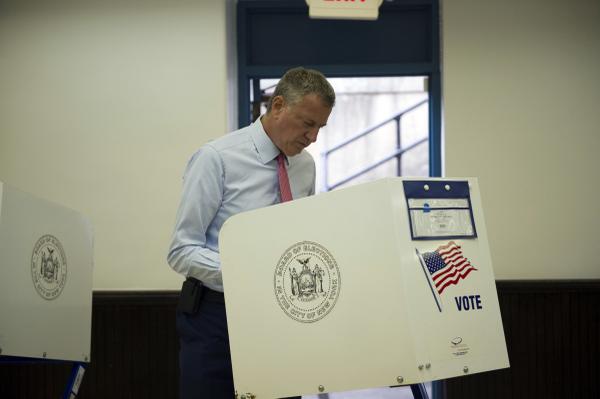 Mayor de Blasio voting (via The Mayor's Office @BilldeBlasio)
---
On Tuesday, April 19, thousands of New Yorkers cried foul about how the city was running the state's most consequential presidential primary elections in decades. Polling sites opened late. Ballot scanners failed. About 125,000 Democratic voters were purged from the Brooklyn rolls while others found their party affiliation had inexplicably changed. While many pointed to what is seen as typical city Board of Elections dysfunction, complaints from across the city prompted a strong official response.
Comptroller Scott Stringer announced an audit of the BOE, Mayor Bill de Blasio promised to hold the BOE responsible, and Attorney General Eric Schneiderman initiated an investigation into the matter. On Thursday, City Council Member Ben Kallos, chair of the governmental operations committee, which has oversight of the BOE, joined the chorus, telling Gotham Gazette that he would hold an oversight hearing within the next two months to "get to the bottom of what happened."
"I think there are recurring problems that continue to happen despite our efforts," Kallos said.
For all the hand-wringing and accusations of incompetence around Tuesday's election, New Yorkers had little cause for surprise. The problems at the BOE that made headlines across the country are far from new. For years, the body charged with running elections, maintaining the electoral rolls, educating and registering voters has been criticized for its functional inefficiencies, hiring practices, mistakes, and structure.
Fundamental flaws at the BOE were identified in a comprehensive report from December 2013 by the city's Department of Investigation, which recommended more than 40 reforms. At an oversight hearing of the City Council's governmental operations committee in February 2014, new DOI Commissioner Mark Peters testified that his office found issues of gross nepotism, pressure on staff to engage in political activities, deficient voter rolls, poorly trained poll workers, and inadequate, inefficient, and outdated procedures.
"The illegalities, misconduct, and antiquated operations detailed in the report are deeply corrosive and must end," Peters said at the hearing. He called on the BOE to provide a corrective action plan to implement those reforms.
A DOI spokesperson told Gotham Gazette that the BOE had implemented a small percentage of those reforms but did not provide an official corrective action plan, did not implement key reforms, or keep DOI updated on whether additional reforms have been put in place. BOE officials did not respond to requests for comment.
Many have praised BOE Executive Director Michael Ryan, who took over in 2013, while continuing to point to problems in both BOE function and the state laws that govern the BOE.
Kallos said that many BOE issues had indeed been resolved over the past two years, but "I was disappointed that despite moving forward on a lot of improvements, the BOE still has a lot of problems."
The February 2014 hearing was Kallos' first as chair of the governmental operations committee and he has since worked hard to impress upon the BOE the need for reform. In an interview, he was clear that to him the two main issues at the BOE are the political patronage in appointments and the lack of an efficient voter information portal.
Recent history illustrates Kallos' point. In October 2010, George Gonzalez, former BOE executive director, was fired following the dismal management of primary elections that year and issues with ballots for the pending general election. Gonzalez had been acting executive director and was officially selected to the position that August. Then, in 2013, a Chinese translation error in ballots for the November election cost one employee their job while another resigned. In 2014, then-president of the BOE Jose Miguel Araujo was fined by the Conflicts of Interest Board for temporarily hiring his wife to work for the board. Two other employees faced penalties for nepotism. Just last year, the president after Araujo, Michael Michel, was fined for helping his son-in-law get three different positions at the board. Michel is still a BOE commissioner.
Even in the months leading up to Tuesday's primary, tiny cracks were beginning to appear in the BOE's handling of this year's elections. It misprinted absentee ballots and sent vague and confusing election notices to voters. Then, just as people were heading to vote on April 19, WNYC radio discovered that more than 60,000 Brooklyn Democrats had been removed from the electoral rolls in what turned out to be a major clerical error that has already led to one employee suspension and helped prompt the launch of multiple investigations by government regulators. The number actually turned out to be 126,000 Brooklyn Democrats removed from the rolls.
Kallos, who has long advocated for BOE reform, first brought up the online voter information portal in 2007, when more than a million voters were removed from the rolls ahead of the 2008 presidential elections. On Wednesday, he did his own analysis of the voter purge in Brooklyn, crunching the numbers from the state voter file and looking at how Kings County routinely purges thousands of people from the rolls every year. It is normal practice for the BOE's different borough offices to remove inactive voters from the rolls based on people who have died or moved away. But, the extent of the purge is the question.
Kallos intends to find out more once he gets BOE officials in front of him. "It's a concern that eight years after I raised this, it continues to be a problem," he said. "The issue is state law. If someone doesn't vote and fails to respond to one letter (from the BOE), they get removed from the rolls. We really need Albany to do its job here."
A major concern for Kallos is the political structure of the BOE. The board is composed of ten commissioners, two each from New York's five boroughs. The candidates are recommended by the political parties, typically the county chair of each party, and confirmed by the City Council to serve four-year terms. Staff is also hired on a partisan basis. Kallos believes the city should stop funding these "patronage positions" and hire qualified people through publicly advertised jobs.
"The staff people who lack the competence to fix these problems need to be replaced with staff that can do the job," he said, discussing the issue of the full-time BOE staff, which only begins to touch on the issue of the election day provisional staff who administer voting throughout the city and often commit mistakes.
Susan Lerner, executive director of Common Cause New York, a good government group, shares Kallos' views. "We pick people based on their party affiliation and who they know, and that means sometimes we get very capable people and sometimes we don't, and that's not a good way to choose people," Lerner said.
Lerner compared New York's flawed system with Los Angeles, which has a nonpartisan professional election administration that, she said, is responsive to voters and taxpayers. "Our Board of Elections is not responsive to either and that is a matter of state law," she added. "The lines of accountability are completely unclear." She did say that the BOE had improved to a degree under recent management.
Another government reform group, the New York Public Interest Research Group, also bemoaned the administration of Tuesday's election. In a press statement, NYPIRG called on Governor Andrew Cuomo and the state Legislature to establish automatic voter registration and updating of enrollment data and same-day registration (as in, on election day), and echoed calls for eliminating patronage in selection of BOE employees. The group also said the state should shrink its registration and change of enrollment deadlines to ten days prior to the election. For this year's primary, the deadline for people to change their party affiliation was October 9 last year -- the earliest deadline of any state in the country.
Some members of the state Legislature acknowledged these issues and the dire need for reform. Assemblymember Brian Kavanagh, a Manhattan Democrat, and State Senator Michael Gianaris, a Queens Democrat, have sponsored the Voter Empowerment Act, which provides for automatic registration of eligible voters and online registration, and changes the deadlines for registration and party enrollment.
"The system now generates a lot of obstacles to voting," Kavanagh told Gotham Gazette. "And it's important that we not get too focused on any one of them, and instead think about it as a broad, systematic set of problems with a series of solutions, all of which we should consider and many of which we should implement."
Among the issues Kavanagh raised are BOE staffing and poll worker training, long shifts for poll workers on election days, and simply "bad, outdated" election laws.
Ryan downplayed people's concerns about the primary election, telling Fox5's Greg Kelly on Wednesday morning that "No one was disenfranchised." He attempted to deflect blame to certain voters themselves. "What we did see was a concerted effort by some folks to apparently, to protest New York's closed primary process by showing up to vote when they weren't registered to vote. We tracked down dozens who say they were disenfranchised and as it turns out, they weren't registered in the parties that they were trying to vote for," he said.
Since then, however, the BOE changed it's tune somewhat. A long-serving BOE official, chief clerk in Brooklyn Diane Haslett-Rudiano, was suspended over the purging of thousands of eligible voters from the rolls. Initial reports indicate that Haslett-Rudiano made a clerical mistake, but a series of investigations will seek to get to the bottom of what happened.
Part of the problem is the BOE's failure to communicate with the public, said Matt Sollars, press secretary for the New York City Campaign Finance Board. "It's troubling that the BOE provided little notice to the public about its efforts to clean the voter rolls, or guidance on how to resolve the issue for voters who had been removed," Sollars said. "Particularly in the run-up to a high-profile election, the BOE should do more to clearly communicate to voters about what it is doing and what actions they need to take, if any."
Many of the problems, Sollars said, would be resolved by updating the state's "archaic" voting laws. The CFB, with its voter engagement arm, NYC Votes, and a broad coalition is putting forward a "Vote Better NY" platform, which includes several changes to voting rules.
On Wednesday, City Council Speaker Melissa Mark-Viverito seemed to echo all these frustrations. "Obviously my interest, as everybody's interest here, is to make sure that our Board of Elections conducts an election process that is thorough, fair, and as smooth as possible," she said, responding to reporters at a news conference at City Hall. "Unfortunately, the reality is that every election we have problems and issues -- polls open late, etc., and those are things that we can't tolerate."
"The concerns that were raised are ones that we've heard in other elections as well," she added. "And we've gotta make sure that this just stops at some point."
Last week's was the first of four election days this year in New York City, with congressional primaries coming up in June, state-level primaries in September, and Election Day in November.
In a radio interview on Friday, Mayor de Blasio criticized long standing issues at the BOE. "The BOE is governed by state law, obviously with a partisan dynamic, in terms of the party structures play a role in it, and I think the whole thing needs to be reexamined now," he told WNYC's Brian Lehrer. The mayor pledged to leverage the city's budgetary power over the BOE and his own leadership position in the Democratic Party to make changes at the board. He also insisted that the voter purge in Brooklyn be reversed immediately, while calling on Albany to update New York laws governing the board and the wider administration of elections.
"From my point of view," he said, "we've seen it time and again with the BOE, an arcane structure that has to be modernized and has to be made efficient so people are encouraged to vote."
"A vote would have to happen in the Legislature to change the rules and change the structure," de Blasio added. "But I'm going to work for it, because from my point of view I could not be more frustrated by the notion of people trying to exercise their right to vote and, time and time again, having a bad experience."