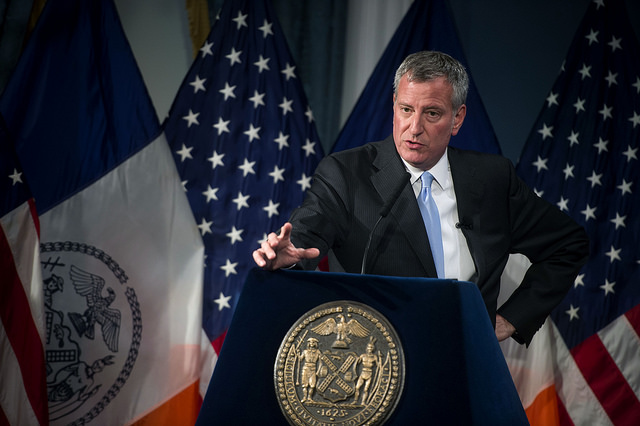 De Blasio (photo: Demetrius Freeman/Mayoral Photography Office)
---
The revelation that it was Gov. Andrew Cuomo's chosen enforcement counsel at the Board of Elections who sparked an investigation into Mayor BIll de Blasio's fundraising activities, in the mayor's 2014 effort to flip control of the state Senate, has raised a number of questions about motivation and independence.
De Blasio has asserted his innocence, saying that he and his associates followed the letter of the law. He and his lawyer have used Risa Sugarman, the BOE enforcement counsel who used to work for Cuomo, and the leak of her referral to investigators to discredit allegations that the fundraising he spearheaded broke election laws. Analysts say these arguments, in which de Blasio has repeatedly questioned Sugarman's "motivations," are at least somewhat effective because the governor has a long history of stacking state watchdog organizations, boards, and agencies with his friends, long-time employees, and political donors.
"There is pervasive conflict of interest under Governor Cuomo, including in the areas of ethics enforcement he has a hand in," said John Kaehny, executive director of Reinvent Albany. "Risa Sugarman should not be the enforcement counsel at BOE, just as Seth Agata should not be executive director of JCOPE. They are seen by many as Cuomo loyalists, not independent actors. Their relationship to Cuomo colors everything they do, including investigating the governor's political foes."
Headlines featuring Cuomo and de Blasio's ongoing political feud have dominated newspapers for nearly two years now. Cuomo has come to routinely undermine de Blasio through the many levers he controls as the head of state government. He has stymied de Blasio at many turns, holding back funding for affordable housing, homelessness prevention, the MTA, and more, while holding hostage issues of rent regulations, the 421-a tax abatement, and extension of mayoral control of schools.
If there is one thing Cuomo is famous for in Albany, beside his precise and prodigious understanding of the mechanics of governing, it is his taste for political vengeance and Machiavellian political vendettas. De Blasio's very public pointing out of the latter in June took their feud to another level.
By many accounts Sugarman's report on de Blasio's fundraising highlights major and valid questions about the state's campaign finance system and the legality of de Blasio's methods. Jennifer Rodgers, former assistant U.S. Attorney and current executive director of the Center For The Advancement of Public Integrity at Columbia University, told Gotham Gazette that after reviewing the state statutes and Sugarman's report, she thinks there is good reason to believe the law was violated, but admitted there is enough discretion that a district attorney may decide there is not enough hard proof of intent.
On Wednesday evening, de Blasio's administration said that "City Hall" had been subpoenaed by the offices of District Attorney Cy Vance - who the BOE referral went to three months ago - and U.S. Attorney Preet Bharara. "The Mayor has not been personally served," the statement from de Blasio counsel Maya Wiley reads.
There are multiple investigations of de Blasio and his associations occurring at once - another has to do with donations to a non-profit established by the mayor's allies and whether city action was offered or given in return. The Wall Street Journal has reported that mayoral aides and consultants have been subpoenaed.
The questions raised by Sugarman's connections to Cuomo and the leak of her referral to Vance have been key to de Blasio's defense of himself, along with saying that he broke no laws and that others have used similar tactics that he and his team used in moving money to state Senate candidates.
Asked about the BOE-referred investigation on Monday, de Blasio relied on a letter from Laurence Laufer, a lawyer who represents the mayor and a number of de Blasio's fundraisers. Laufer raised questions about Sugarman's "motivations" and said that the fact that the memo was leaked to the press increases the impression the investigation was politically motivated. De Blasio said similarly.
"I am quite certain that all of you will get to the truth about that," de Blasio said to reporters of the leak on Monday. "I am quite certain that you will be able to uncover whatever motivations may have existed. But we can say this: a government officer is supposed to honor their responsibilities, and first of all that should never have been put into the public domain, and second of all, when you look at how inconsistent it is with state law, it begs the question 'what was the underlying motivation,' but I have confidence that all of you will get to the bottom of it."
De Blasio has said that he believes his fundraising tactics were legal and that all of his plans were "vetted" by lawyers. The leak and Sugarman's connections to Cuomo have offered him a public defense to what many say is a fairly damning report.
Sugarman detailed how de Blasio and his allies planned and executed a program to subvert campaign finance limits by funneling major donations through county political committees and having the cash sent directly to candidates in heated races. The donation limits to county committees are far higher than to candidate committees and there are no limits on donations from the former to the latter.
The referral spurred by Sugarman, and voted onward by the four-member Board of Elections, is now in the hands of District Attorney Vance, a Democrat like Cuomo and de Blasio.
Other concerns about Sugarman's actions include that her report appears to ignore not only the past use of similar tactics by former Mayor Michael Bloomberg and both major political parties, but also the fact that members of the governor's office were kept informed of the de Blasio-led plan to flip the Senate, including the ways in which money was being moved, if not involved in it outright.
These question marks add to the skepticism of some observers who think that Sugarman was acting in Cuomo's interest. Cuomo administration officials stress that Sugarman was nominated by Cuomo, but had to be approved by the Legislature and acts independently.
The Daily News and the New York Times reported that Sugarman took up her investigation after complaints were filed by Republican voters in Senate districts targeted by de Blasio's efforts. Sugarman then carried out an investigation, presented her findings to the four Board of Elections commissioners, two of whom are Republicans and two of whom are Democrats. They approved her referral to the Manhattan DA.
Cuomo's office has denied it was aware of Sugarman's investigation.
The impression that Albany's ethics watchdogs are not actually independent has been festering for years as Cuomo has seen to it that three of his former longtime employees have headed the Joint Commission on Public Ethics (JCOPE). Cuomo nominated Sugarman to the BOE after the position was created in a 2014 deal with the Legislature that killed the Moreland Commission on Public Corruption, another entity with many questions around independence from the governor. Cuomo has said conflicting things about whether Moreland was his commission or independent.
Sugarman came to the BOE counsel position from the Department of Taxation of Finance, where she was a deputy commissioner. Before that she worked as a deputy commissioner of The Division of Criminal Justice Services and for four years at the Attorney General's office under Cuomo.
Members of the Board of Elections, who are political appointees, have complained since Sugarman took charge that they are kept in the dark about enforcement actions and are concerned Sugarman is free to act out of political expediency. Doug Kellner, a Democratic BOE commissioner since 2005, said that any attempt to ascertain Sugarman's method of enforcement has been rebuffed. "She has made it clear she won't answer those questions because she feels she is independent," Kellner told Gotham Gazette.
Kellner agreed with concerns raised by Laurence Laufer, a lawyer who represents some of the fundraisers involved in the case, including de Blasio, that the leaking of the memo could be politically motivated. "In any event, the leak is certainly a highly prejudicial and perhaps politically-motivated act, which is contrary to both your non-partisan, independent function and to the bi-partisan charge of the agency by which you are employed – that is, if you or your office was responsible, directly or indirectly," Laufer wrote to Sugarman in a letter made public.
Republican BOE commissioner Gregory Peterson told Gotham Gazette that he was concerned about "selective enforcement" and thought that it was possible that it occurred with this referral. "This case may have been selective enforcement, but I think she was right on," Peterson said.
Rodgers said that "independence" is key for any oversight board. "It is concerning that she has this history, it's also concerning that she isn't being transparent with her commissioners. If you are doing everything by the facts, independently and following the law then you should have no problem explaining how you pursue enforcement."
She noted that there are checks on Sugarman - she has to present her referral to the commissioners for approval, which they provided in the de Blasio case, though she can break a tie, and then the District Attorney has decide whether to investigate and whether criminal charges are warranted. Sugarman is also bound to investigate complaints but cannot investigate when none is made.
Blair Horner of the New York Public Interest Research Group, who has repeatedly criticized what he sees as a lack of independence for JCOPE, said that Sugarman's BOE work will inevitably be judged by her connections to the governor, whether those connections motivate her or not. "The fact that she is connected to the governor is trouble for her even if she's on the up-and-up."
Cuomo has addressed the importance of rooting out the appearance of bias and conflict of interest when speaking on the topic of criminal justice reform. In 2015, during his State of the State address, Cuomo spoke about a crisis in faith in the criminal justice system. "And that's not just New York, it's a problem all across the country and it's a problem in reality and it's a problem in perception and if it's a problem only in perception, it is still a real problem because people have to trust the justice system and the trust has to go both ways," Cuomo said, speaking about police and community, but also referring to the oft-cited conflict of interest around police and prosecutors who regularly work together but can then be at odds when an officer is suspected of a crime.
Sugarman did not return requests for comment, but she did defend her independence in an interview with the New York Times this week. "The work that I do here has nothing to do with where I came from," Sugarman said, adding, "It just makes me chuckle when people say those kinds of things." She refused to answer any questions about her investigation into de Blasio's fundraising, which includes several de Blasio aides and groups that either donated large sums or helped run the operation.
JCOPE, another Albany ethics agency created by Cuomo and the Legislature, has been headed by someone from the Cuomo camp since its inception. Seth Agata, a former Cuomo counsel, was recently named JCOPE executive director, to criticism for his ties to the governor. The commission met with Agata as its chair for the first time this week. Less than ten minutes of the proceedings took place in public. JCOPE is not subject to public meeting laws and most of what it does is done in secret - a necessity, some say, due to its sensitive business. It's members have complained in the past that Cuomo has too much influence over the agency and pushed for a national search for its leadership. That search resulted in Agata's hiring.
Previous JCOPE heads include Letizia Tagliafierro, who worked for Cuomo during his time as attorney general and later as his director of governmental operations. She left JCOPE and took a position as deputy commissioner of the state's Department of Taxation and Finance in 2015. Her appointment in 2013 drew the ire of legislative members of JCOPE, including one who quit in protest.
Tagliafierro replaced Ellen Biben, who worked as the governor's inspector general and in the attorney general's office when Cuomo held that position. Biben now is now a Court of Claims Judge - she was nominated for the position by Cuomo.
"Notwithstanding the unique and extensive qualifications of these nominees, all three were approved by a bipartisan group of commissioners and to suggest otherwise ignores not only the facts but the process," said Cuomo spokesperson Dani Lever.
"It's a real closed game with Andrew," said Doug Muzzio, professor of political science at Baruch College. "It's striking that he talks reform but he plays this real insider game with friends and immediate associates."
Sugarman's statements haven't been reassuring for watchdogs, who say they've seen little real independent action from JCOPE or Sugarman; they find it worrying that the first major criminal referral to come out of Sugarman's office targets an individual, de Blasio, that Cuomo has been warring with.
"Mayor de Blasio's team has raised legitimate questions about Sugarman being biased and whether her criminal complaint amounts to selective, politically-motivated enforcement," said Kaehny. "By appointing these loyalists, the governor has badly undermined whatever credibility JCOPE and the state BOE have as fair and impartial ethics enforcers. Maybe that is his goal, or maybe he is so immersed in conflict of interest that he can't see what the problem is. Either way, it's another setback for clean government."
Whether de Blasio's coordinated fundraising warrants criminal prosecution is now up to Vance. A number of observers say they think it would be hard not to take into account who appointed Sugarman, the fact that coordinated fundraising through party committees has been commonplace for years, and that the leak may have tainted public perception.
"The leak raises some pretty serious concerns," said Richard Briffault, a professor at Columbia Law School. "No serious law enforcement agency should be leaking findings. It can lead to a trial by the public. I don't know if the leak was illegal, but it sure should be."
Rodgers says she doubts the leak will be a major influence on Vance, but notes that it could taint his view of it as being politically motivated.
Kaehny said it would be concerning if de Blasio were suddenly to be held to different standards after this particular fundraising technique has gone unchecked for decades.
"It sure seems wrong and unfair, but it may be legally valid," said Kaehny of Sugarman's referral. "Prosecutors have lots of discretion, and it will be up to them to weigh this. I do not have the expertise to judge the legal case, but as a prosecutor, I would probably not indict if I learned this was a customary practice of the previous mayor. If I was enforcement counsel, I would have sent a letter to the mayor and written a public advisory notice that said, going forward, we are interpreting the law like this. The idea is to change overall behavior, not selectively persecute."
Others see the tactics used by de Blasio's team as a more egregious coordinated effort than has been used before - with an understanding of specific amounts on specific dates that candidates' committees were expecting to see moved through county committees.
Rodgers said she will be extremely interested to see how Vance decides to proceed. "He may look at this and say 'We are going to pursue this case but we don't want to be selective, we don't want to get involved in a political hit, so we are going to open up investigations into everybody who uses this technique.' This isn't a matter of public safety, if he looks at it and decides this is a political hit job and an example of selective prosecution, he could just drop it."