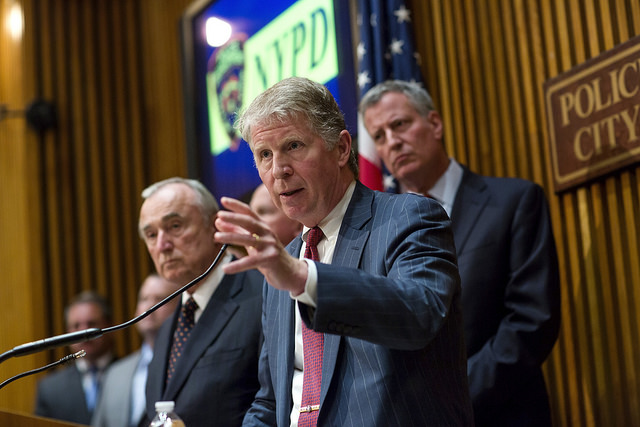 Cy Vance (front) and Bill de Blasio (photo via The Mayor's Office on flickr)
---
Manhattan District Attorney Cy Vance finds himself in a unique situation as he takes on the investigation of efforts led by Mayor Bill de Blasio to win control of the state Senate for Democrats in 2014.
Vance has a longstanding political relationship with de Blasio and both share a number of donors. Like de Blasio, Vance is an elected Democrat. They've stood together for several policy announcements over the past two-plus years since de Blasio took office as Mayor.
Perhaps the most notable and concerning connection to some is that Vance has also employed two of the political strategy groups subpoenaed in the investigation spurred by the state Board of Elections enforcement counsel, Risa Sugarman, who found problems with the unsuccessful 2014 efforts by de Blasio and his allies to win key swing Senate seats. Specifically, Sugarman pointed to ways in which de Blasio's allies attempted to evade state campaign donation limits.
City officials confirmed on Wednesday that "City Hall" had been subpoenaed, but said that the mayor himself had not been named. The subpoenas, de Blasio's counsel said, were from both Vance and U.S. Attorney Preet Bharara. De Blasio has repeatedly insisted that neither he nor his team broke any laws.
As New Yorkers await more information from Vance's investigation, his political relationship with de Blasio is part of a complicated picture. The two have given support for each other or issued joint statements in at least eight announcements over the past three years. They've held at least three joint press conferences and Vance's office works closely on a day-to-day basis with de Blasio's police department. Topics Vance and de Blasio have worked on together include prosecutions of bankers, funding to examine rape kits, an overhaul of the city's summons system, and efforts to get illegal guns off the street.
"The Manhattan District Attorney's Office is an independent agency from the Mayor's Office, and has frequently conducted investigations and prosecuted cases involving city agencies or employees. We cannot comment on what private firm may or may not have received subpoenas," Joan Vollero, Vance's director of communications, told Gotham Gazette in a statement.
People who know the two well stress that Vance and de Blasio are not particularly close personally and note that the mayor has also made joint announcements with Bharara. The U.S. Attorney, who has made rooting out public corruption a mission, made waves earlier this month, telling a crowd, "We will keep looking hard at corruption in our legislative branch, as we have been. But not just there: in the executive branch too, both in city and in state government."
Meanwhile, state Board of Elections records show Vance's connection to two firms included in the BOE referral to law enforcement. Filings show Vance's campaign paid Mark Guma Communications $1,327,351 from 2009 to 2013 for television and radio advertising, political mailers, and consulting.
Mark Guma Communications was subpoenaed by Sugarman in her investigation into what she described as de Blasio's team's efforts to intentionally evade campaign finance laws by funnelling donor cash into county committees, which have larger contribution limits, and out to candidate campaigns, which have much lower limits. A subpoena does not indicate charges or guilt.
Vance's campaign also did business with Red Horse Strategies, which was also subpoenaed in Sugarman's investigation, to the amount of $25,000 in 2009.
Both firms assisted Democratic Senate candidates in the 2014 election cycle.
To some, these connections simply show the close-knit nature of New York politics, but to others they present reason for Vance to recuse himself in the de Blasio-related investigation.
"Cy Vance seems to be a very straightforward guy," said Jennifer Rodgers, former assistant U.S. Attorney and current executive director of the Center For The Advancement of Public Integrity (CAPI) at Columbia University. "In the case of any personal involvement I believe he'd be the first to recuse himself. In the absence any personal involvement the fact that New York City politics turns out to be this weird incestuous pool with everyone working with the same consultants says nothing of the independence of Cy Vance."
John Kaehny, executive director of Reinvent Albany, said he believes the connections are a good reason for Vance to disassociate himself from the case. "Given the sweeping breadth of the investigation into areas touching DA Vance's own political activity - at least two of his own political consultants were subpoenaed - Vance should welcome a complete takeover of the investigation by Preet Bharara," Kaehny told Gotham Gazette.
Dick Dadey, executive director of Citizens Union, said it was "unsurprising" that de Blasio and Vance used the same political strategists but said it is important Vance proceed "appropriately" and with "integrity."
Sugarman's report states:
"Documents were obtained via subpoena from five political consultants involved in these campaigns: Berlin Rosen, LTD., Mark Guma Communications, The Parkside Group LLC, AKPD Message and Media LLC, and Red Horse Strategies LLC. We sought information about work these consultants performed in connection with campaigns for the state senate races of Justin Wagner, Terry Gipson and Cecilia Tkaczyk. Thousands of documents were produced. Review of the documents revealed evidence of campaigns that were coordinated at every level and down to minute details."
Long-time Board of Elections commissioner Douglas Kellner, a Democrat, said that it was Sugarman who suggested referring the de Blasio case to Vance and that he and other commissioners concurred. "I think he's very capable and I think he will evaluate this independently," Kellner said of Vance. Kellner said he thought Vance was appropriate because "his office had two prior cases where he was having to argue that you have to look at the whole transaction, not just the parts."
Multiple sources tell Gotham Gazette the vote to refer the case was unanimous among the board's four commissioners, two of whom are Democrats, two of whom are Republicans.
One of Vance's previous campaign finance cases was against Manhattan Surrogate Case Judge Nora Anderson. Anderson was charged with campaign finance fraud for reporting donations had come from herself when they had actually come her boss at the law firm that employed her. A jury acquitted her.
The other Vance case was that of Queens political consultant John Haggerty who was accused of bilking Mayor Michael Bloomberg's campaign fund for hundreds of thousands of dollars to buy his family a house. Haggerty was convicted.
"One or two cases can make or break the career of a Manhattan District Attorney," said Dadey. "It is integral that Cy Vance move forward with this case with the independence and fair mindedness he is known for. These charges against the mayor are serious. It's clear that his team skated close to the line of the law, if not over it. It will be up to the prosecutor and judicial system to decide whether a law was broken."
Vance is treading in fairly new territory as thousands of past referrals from the BOE were ignored by other district attorneys from around the state due to what they have said was a dearth of detailed information or a lack of resources to pursue them.
"There is a big difference between the Manhattan DA and the Albany DA," Rodgers, of CAPI, told Gotham Gazette. "There are a lot more resources going to the public corruption unit in Manhattan. The lack of cases is a shame, but it is partially due to resources and partially due to the quality of investigations. If Sugarman is doing more referrals that are wrapped in a bow and the DA just has to bring it, it may become easier for any DA to act."
A New York Daily News report from August 2013 detailed how the Albany County District Attorney failed to act on around 1,300 referrals from the Board of Elections. At that time the board referred campaign finance violations to district attorneys with jurisdiction, but with little to no prior investigation.
"I can see a DA saying 'Thanks for the complaint but we don't have two detectives to put on this," said Rodgers. "In Albany, violent crime has to be a priority. Public corruption cases are usually hard cases that take a long time, a lot of expertise and are fairly complicated."
However, since Sugarman was confirmed in 2014 to fill the newly created enforcement counsel position, it appears she has abandoned the previous process of fining candidates that don't file and instead dug into violations of the law she thinks will make good cases. Sugarman did not return request for comment.
"Risa Sugarman dismantled the process by which committees who didn't do filings were routinely fined," said Kellner. "She doesn't agree it's appropriate for her do that, but my concern is that campaigns will catch on and realize there is no consequence for failing to file."
As for Vance, Dadey said he believes all of New York City will be looking to the DA to deliver a fair and strong investigation, and if necessary a case. "The spotlight will be on this DA like it hasn't been since the Dominique Strauss-Kahn case, which was not handled well," Dadey said. "Perhaps even more so because of the high profile of the Mayor of New York City...Hopefully the DA has learned from his early mistakes and will proceed with the independence and competence he is known for."
Note: Gotham Gazette is an independent publication of Citizens Union Foundation, sister organization of Citizens Union.