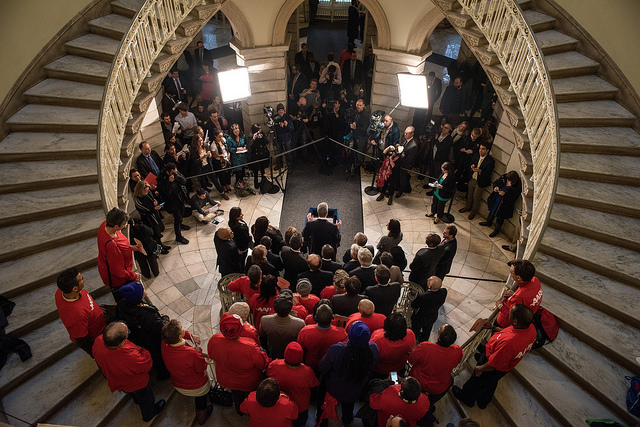 Announcement at City Hall (photo: Demetrius Freeman/Mayor's Office)
---
With the recent passage of the East New York rezoning and community development plan, the city committed to revitalizing the neglected Brooklyn neighborhood by creating affordable housing, investing in community infrastructure, and promoting economic development. The first among 15 neighborhood rezonings planned by Mayor Bill de Blasio, East New York ushers in a new era of planned change and city promises.
As these rezoning and development plans progress, a parallel effort is moving through the City Council to ensure that the city is held to its word in making commitments to communities when modifying land-use rules and upzoning neighborhoods for development.
Last month, a bill was introduced in the City Council -- sponsored by Public Advocate Letitia James, City Council Speaker Melissa Mark-Viverito, and Council Members Rafael Espinal and Deborah Rose -- that would create a publicly accessible database of commitments made by the administration in any city-sponsored Uniform Land Use Review Procedure (ULURP) application. The database and an accompanying annual report would allow elected officials and, perhaps more importantly, the general public to track the promises to communities made by the Mayor and city agencies.
The database and reports would provide regular updates on the progress of initiated projects and track projects left unfulfilled. Following the final passage of any city-sponsored land-use application, the commitments would be recorded on the database within 30 days.
"It will not only record commitments," said Public Advocate James, "It's an ongoing reminder of the commitment made by the city to the general public."
James recognizes the need to push this bill at a time when the city is gearing up to rezone and redevelop those 15 neighborhoods across the city, starting with East New York, as part of an ambitious plan by Mayor Bill de Blasio to harness gentrification and create affordable housing in neighborhoods under strain from market forces.
The public advocate, formerly a Brooklyn City Council member, says she has seen a pattern in similar neighborhood rezonings in the past where guarantees made by the city routinely fell through the cracks. She cited Downtown Brooklyn, Williamsburg, and Greenpoint as a few areas where the city reneged on its pledges to provide ample community benefits while allowing real estate development. "I see all of these luxury condos that have gone up and no public benefits and amenities," James said.
James' vocal opposition to the Atlantic Yards redevelopment in Brooklyn was in part because of the city's failure to ensure adequate community benefits particularly affordable housing.
"The bill is a transparency and accountability effort ensuring that promised benefits are delivered," she added. James said the bill would be prospective and would not apply retroactively to any land use deals.
City Council Member Brad Lander is a "big fan of planning" and he gives the administration credit for the broad community development plan created for East New York. "There's a lot of important parts to getting planning right," he said.
One of those important parts, he believes, is tracking community commitments and the public advocate's bill would make those commitments "visible, public, and online, and ensure regular tracking and reporting," Lander said in support.
Of course, tracking does not necessarily mean that promises will definitely be kept, he said. "It's very hard to mandate keeping of promises," he said, pointing out that the Council can only make budget decisions for a one-year period and cannot control decisions made in later years by new elected officials. But he added that it provides people with a strong tool to hold the city publicly accountable.
If there's any elected official now facing this, it's Espinal, the Council member who represents a majority of the East New York area under the new rezoning plan. He was front and center in the negotiations with the de Blasio administration and managed to secure $267 million in capital funds for East New York under the plan (plus other investments through school and sewer construction that comes from other funding sources).
Ensuring that the capital projects outlined in the East New York deal are carried out is "one of the most important parts of the plan," Espinal told Gotham Gazette shortly after it was voted through by the Council land use committee. "We want to make sure that the commitments that are made by the administration are kept, that the community residents are able to track this easily online so that we won't be kept guessing on when these projects will start and when they'll be completed."
Espinal is hoping, and trying to see, that the bill passes before the East New York commitments are set in stone -- which he said would be 30 days after the full Council vote of April 20.
"We're currently working with the administration in creating the template of what that (database) will look like so the bill is actually being worked on and it's something that we hope to pass very soon," Espinal said. "It's gonna happen within a month or so."
In a letter that listed the various capital commitments in the East New York plan, Deputy Mayor Alicia Glen said her office was working with the Mayor's Office of Operations and city agencies to "develop a tool that will track the progress made against each commitment and make this information available online for the public." These commitments, the letter states, will be posted on the city's website within 30 days of the council's full vote. MOO will also post an annual progress report online.
"Our goal from the beginning of the process has been to ensure that we create a clear set of commitments, which can be tracked by the community and the Council Member to ensure that we are honoring our commitments made as a part of rezoning," the letter reads.
These efforts would become mandatory if James and the Speaker's bill passes. Currently, there is no hearing set for the bill, which would go before the land use committee, but a spokesperson for Speaker Mark-Viverito said they expect to find a date soon. The bill will require one committee hearing to garner feedback from the de Blasio administration and the public, followed by another committee meeting for a vote and then a vote through the full Council.
"Obviously my interest would be to put this in place as quickly as possible," Mark-Viverito told Gotham Gazette after a recent news conference at City Hall. "We want to be able to track whatever commitments are made on any new development deals or land use deals."
Both James and Mark-Viverito said that they were having conversations with the administration on the bill. An aide for the speaker said there was a "a normal back and forth that the administration's generally supported."
And it appears the de Blasio administration is onboard. "We look forward to working closely with the City Council and Public Advocate on this important transparency measure," said Austin Finan, spokesperson for the mayor, in an email.