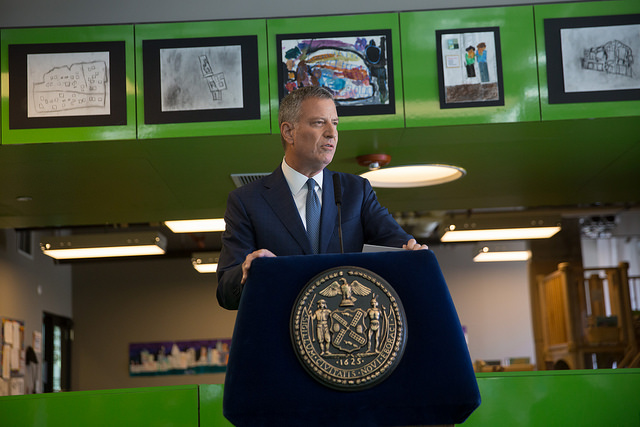 Mayor de Blasio (photo: Michael Appleton/Mayor's Office)
---
Mayor Bill de Blasio on Wednesday said he would take another look at funding of the city's Conflicts of Interest Board (COIB) for the fiscal year 2017 budget. At its March City Council preliminary budget hearing, COIB representatives explained underfunding of the agency resulting in its inability to carry out its mandated training of city employees around conflict of interest rules and its inability to retain employees. They also said that the city's budget office had denied repeated requests for increased funding.
At a press conference on Wednesday where the mayor again referenced the work of the Conflicts of Interest Board in ensuring ethical government, Gotham Gazette outlined the underfunding of COIB and the agency's budget testimony. The mayor replied, "That's news to me, but your timing's impeccable. There's still more time ahead in the budget process and we will now put this on the agenda and see if something more needs to be done."
De Blasio recently presented his $82.2 billion executive budget and the City Council is holding another round of hearings. However, there is no executive budget hearing scheduled for the Committee on Standards and Ethics, which has oversight of COIB. This and the mayor's lack of awareness about COIB funding issues may be because COIB wrote a letter to the city budget office requesting about $26,000 in additional funds for its most "critical budgetary needs," mostly staff raises, which was met. A copy of the letter, sent by COIB Executive Director Carolyn Lisa Miller, was provided to Gotham Gazette by the mayor's office on Thursday.
At the start of the March 10 letter, COIB writes, "At the Preliminary Budget and Annual Oversight Hearing held at the City Council on March 8, 2016, the Committee on Standards and Ethics and the Committee on Finance recognized that the Conflicts of Interest Board was impeded in fulfilling its mission due to budgetary limitations and requested that the Board memorialize in writing those specific issues. While the Board continues to believe that its overall salary structure needs to be evaluated, below reflects the most significant budgetary issues currently facing the Board."
After prior requests for additional funding were denied, COIB appears to have requested what it saw as the minimum in additional funding. COIB representatives did not return a request for comment. At its preliminary budget hearing, COIB representatives explained that the agency had had three 2015 requests for additional funding denied by the Office of Management and Budget (OMB).
The mayor's executive budget, released April 26, includes $2.32 million for COIB, about $30,000 more than what was included in this year's preliminary budget and $90,000 more than last year's adopted budget. The agency is small, with 22 employees (and a five-member board) and is tasked with training city employees and providing guidance about potential conflicts of interest. City employees can call COIB for advice about possible ethical concerns.
In recent weeks, the mayor has consistently touted the COIB as one of the robust pillars of ethics and legality in city government and his administration. With several investigations into the actions of him and his allies, including around fundraising for an aligned political nonprofit, de Blasio has repeatedly said that he sought and followed COIB guidance. It was a point he reiterated several times on Wednesday as reporters asked him many questions about his fundraising for the Campaign for One New York, now shuttered, which accepted large donations from entities with city business.
The mayor also uses outside consultants who advise him while they also represent clients who have business with the city. The mayor insists that these advisers do not bring up their clients when giving the mayor advice and that if they do talk with him about their clients' business, the conversations are disclosed.
Asked by Gotham Gazette if he should have known about COIB's budget issues, de Blasio said not necessarily. "It's a very large government and it's a very detailed budget process," he said. "Every single agency says they don't have enough resources. Every agency at preliminary and executive always says they need more money. So that doesn't get reported to me. That's not breaking news but what should be reported is when OMB comes to the conclusion that there is a valid need...or, if it's a jump ball, OMB says, 'look this is a debatable point, we have questions but we still think it's important that you hear this perspective.' I would never be told generically that an agency wants more money."
At its preliminary budget hearing in March, COIB officials testified that they were struggling to retain staff because of low salaries and limited resources to give raises, and that they were unable to fully carry out mandated ethics trainings for city employees. Three separate requests made to the Office of Management and Budget, totaling $200,000 in additional funding, had been rejected in 2015, they said. City Council members said they wanted to see funding increase, but it has not been a significant priority.
A budget deal between the Mayor and the Council is due by the July 1 start of the new fiscal year.
Note: this article has been updated with further detail from the mayor's office, including details about COIB's March budget letter.