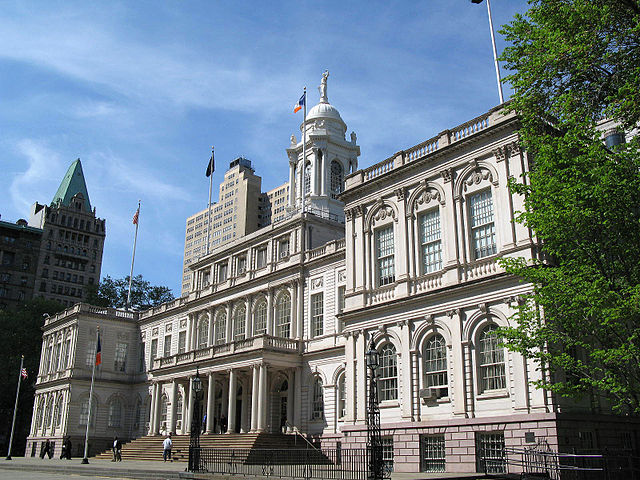 New York City Hall
---
What to watch for this week in New York politics:
As the week begins we're continuing to look at the various investigations and controversy surrounding Mayor Bill de Blasio. The New York Post reported over the weekend about yet another aspect of inquiry into city action under de Blasio, this over the deal to sell the Brooklyn Heights library, which involves affordable housing, development rights, and donors to de Blasio.
The Mayor spent the weekend in Seattle with family there, celebrating his older brother's retirement. Much of the news around de Blasio at the end of the week and throughout the weekend dealt with the disclosure by the administration that five individuals outside of city government have been given certain status as advisers to the Mayor whereby their correspondence with him is shielded from public records requests. Four of the five are in political consulting and have clients that do business with the city, setting up conflict of interest concerns. De Blasio insists, however, that the four are able to compartmentalize, advising him as friends when they do that and then working with their clients. If any of the four discuss their clients with the Mayor, then those discussions are disclosed publicly and their contents are subject to records requests.
De Blasio is back in New York City Monday with no public events scheduled.
Otherwise, we're continuing to follow the investigation into Governor Andrew Cuomo's administration and associates, especially related to the Buffalo Billion economic development project.
In Albany, there are 12 legislative session days left this year before the mid-June end, if lawmakers even use all of them, including this week's Monday, Tuesday, and Wednesday meetings. Mayoral control of city schools is one of the top issues to be dealt with - last year's one-year extension is due to expire at the end of June. Also to watch: statute of limitations on child sex abuse; daily fantasy sports; any government ethics reforms at all (pension forfeiture, maybe?); a resuscitation of the 421-a real estate tax break for affordable housing; and a few other items. There are a number of big-ticket items like the DREAM Act and raising the age of adult criminal responsibility above 16 that appear to be completely off the table. You never know in Albany, though, so...stay tuned.
Those are some of the high profile topics to watch this week, but as always, there's a great deal happening all over the city, with many events to be aware of - see our day-by-day rundown below.
***Do you have events or topics for us to include in an upcoming Week Ahead in New York Politics?
e-mail Gotham Gazette editor Ben Max: This email address is being protected from spambots. You need JavaScript enabled to view it.***
The run of the week in detail:
Monday
Monday at 9 a.m., City Council Speaker Melissa Mark-Viverito will speak at the YWCA 3rd Annual Potential to Power Symposium. In the evening, at 8 p.m., Mark-Viverito is scheduled to attend the Hester Street Collaborative Benefit.
Monday at 9 a.m. in the Bronx, "The US Postal Service New York District and Bronx Postmaster Lilliam Rodriguez in collaboration with Bronx Borough President Ruben Diaz and Senator Jose Serrano will host a dedication ceremony which renames the Morrisania Post Office in honor of the late Congressman Herman Badillo." Participants will also include U.S. Senators Charles Schumer and Kirsten Gillibrand; Congressional Reps. José E. Serrano, Charles Rangel and Joseph Crowley; Ray Kelly, former NYPD Commissioner; and others.
On Monday at 10 a.m. in Albany, the Senate Standing Committee on Labor will meet "To examine potential reforms to the construction industry payment system in New York State to ensure that businesses are paid for their services in a timely manner."
At the City Council on Monday: 10 a.m., executive budget hearing for the public safety committee.
On Monday at 11 a.m. at City Hall, "Members of the Ending the Epidemic Coalition will rally on the steps of City Hall to praise the success of last year's City Hall and City Council funding, while calling for an increase in funding to build off the success. Long-time AIDS activists and policy-makers who fought for decades with past administrations say that this funding, along with the unprecedented collaboration with the Department of Health and Mental Hygiene, has been game-changing for combating New York City's HIV/AIDS epidemic, which has claimed the lives of over 100,000 residents."
At 11 a.m. in Albany, the Assembly Standing Committee on Labor and the Assembly Commission on Skills Development and Career Education will hold a public hearing on "Pre-Apprenticeship and Work Preparation Programs in New York State."
On Monday at 1:15 p.m. at the Morgan Library and Museum in Manhattan, "Chancellor Fariña will deliver brief remarks at the Arts & Cultural Education Services Fair, an event where DOE educators connect with New York City arts organizations."
Both houses of the state Legislature are in session on Monday in Albany.
On Monday evening, an event on "Use of Force in Prisons" at Brooklyn Historical Society, 6:30 p.m. "Against the backdrop of the Jamal Lightfoot case, Brooklyn Historical Society brings together a panel of thought leaders to discuss the complex issue of the use of force in prisons...Moderated by Ted Conover, author of Newjack, panelists include Brian Fischer, former Commissioner, NYS Department of Corrections, Tom Robbins, who has written about this issue for The New York Times and The Marshall Project, Mary Lynne Werlwasfrom The Legal Aid Society's Prisoner's Rights Project, and Mikail DeVeaux, Executive Director of Citizens Against Recidivism."
Tuesday
Both houses of the state Legislature are in session on Tuesday in Albany.
On Tuesday at 10:30 a.m. in Albany, the Joint Commission on Public Ethics (JCOPE) will meet.
On Tuesday at 8:30 a.m., "Second Chance Summit: New York Working to Expand Employment Opportunities for People with Criminal Backgrounds" at The New School. "The Second Chance Summit is a gathering of business, nonprofit and government leaders exploring opportunities and resources for employing people with criminal backgrounds. The Summit will feature compelling speakers, content-rich panel discussions, and ample networking opportunities." The morning keynote will be given by Glenn E. Martin of JustLeadershipUSA. "Second Chance Employee Panel" moderated by Professor Jeff Smith and more.
On Tuesday beginning at 9:30 a.m., "Parks Without Borders: Ideas for the Next Generation of Urban Parks" will be hosted by the city Parks Department, the Center for New York City Affairs, and the Tishman Environment and Design Center at The New School. Speakers include: Charles Birnbaum, President and CEO, The Cultural Landscape Foundation; Paul Goldberger, Joseph Urban Chair in Design and Architecture, The New School; Fred Kent, Founder and President, Project for Public Spaces; Mike Lydon, Principal, Street Plans; Signe Nielsen, FASLA, Principal, Mathews Nielsen Landscape Architects; Mitchell Silver, FAICP, Commissioner, NYC Parks.
On Tuesday at the City Council: the finance committee will wrap up executive budget hearings with a 10 a.m. meeting.
Also Tuesday at 10 a.m., Mayor de Blasio will deliver remarks at the 10th Annual Citywide Procurement Fair.
At 11 a.m. Tuesday, Dr. Betty Rose, chancellor of the Board of Regents, will speak at a South Bronx Leadership Forum.
On Tuesday at 6 p.m. Brooklyn Borough President Eric Adams will host "a free "Tenants: Know Your Rights" workshop" at Sunset Park High School. "Tenants will have an opportunity to speak in English or Spanish with advocates and lawyers from Brooklyn Legal Services Corporation A (Brooklyn A) about their rights under federal, state, and local laws to protection from unfair practices by landlords.Borough President Adams spoke about the clinic as an extension of his continued efforts to support neighborhoods that are experiencing an increasing risk for tenant harassment."
At 6:30 p.m. Tuesday in Queens, City & State will launch its Queens special issue featuring op-eds and reporting on the future of politics and policy in the borough. Queens Borough President Melinda Katz will be interviewed at the launch event.
On Tuesday evening at the Queens Museum, "New York City Council Member Julissa Ferreras-Copeland, Speaker Melissa Mark-Viverito and the Hispanic Federation host a citywide PrideProm for individuals of all ages who are currently being denied the opportunity to participate in prom night because of their sexual orientation, who have been shut out from their prom in the past or simply want to experience this rite of passage as their true selves."
Wednesday
Both houses of the state Legislature are in session on Wednesday in Albany.
On Wednesday in Albany, a key vote related to funding for Gov. Cuomo's Buffalo Billion program, which is the subject of much controversy, criticism, and a federal investigation. From Gannett's Jon Campbell: "The Public Authorities Control Board, a little-known but powerful board, is set to meet Wednesday at the state Capitol. The board is scheduled to consider whether to approve spending nearly half a billion dollars to fund ongoing construction at a high-tech complex that will house a massive solar-power manufacturing plant in the state's second-largest city. The plant, which will be occupied by SolarCity, is the marquee item of the Buffalo Billion..."
On Wednesday morning at 9:15 at City Hall, "Manhattan Borough President Gale A. Brewer and Councilmember Margaret Chin will unveil legislation to reform the city's practices concerning the modification of deed restrictions, the arcane process at the heart of the controversies surrounding the sale of Rivington House on the Lower East Side and a lot owned by the Dance Theater of Harlem in upper Manhattan. The bill will be introduced at Wednesday's Stated Council Meeting."
On Wednesday at 10 a.m. at City Hall, City Council Member Mark Levine is leading a rally to push for more funding for city parks. He'll be joined by New Yorkers for Parks, The New York League of Conservation Voters, American Society of Landscape Architects, community gardens enthusiasts, and others.
On Wednesday, the City Council is set to vote through the Criminal Justice Reform Act. Read about the package of bills here.
On Wednesday at noon at City Hall, "City Council Member Costa Constantinides, joined by environmental groups and others, will call for a vote on his bill INT. 642. The legislation would ensure more sustainable energy consumption by increasing the use of biodiesel in home heating oil. The bill would increase biodiesel use from the current standard of 2% to a 5% blend, and then raise that blend incrementally until we get to 20%." Constantinides will be joined by New York League of Conservation Voters, Empire Clean Cities, Teamsters Local 553, and others.
On Wednesday at the City Council: the finance committee will meet at 10 a.m. and the Committee on Rules, Privileges and Elections will meet at 10:30 a.m. At 12:30, Council Speaker Melissa Mark-Viverito will hold the typical pre-stated meeting press conference, then at 1:30, the full City Council meets.
On Wednesday at 10:30 a.m., the Manhattan Chamber of Commerce will host a chairman's breakfast event led by Chair Ken Biberaj, with special guest Valerie Jarrett, White House Senior Advisor. "The event will focus on a range of topics including the President's nomination to the Supreme Court, criminal justice reform and a variety of other topics of importance to the business community...This event is OPEN PRESS...Infor is the host of the event."
On Wednesday at 5 p.m. in the Bronx, the Assembly Standing Committee on Housing and the Assembly Subcommittee on Mitchell-Lama will hold a public hearing on "The status of Mitchell-Lama housing."
Thursday
Thursday is City & State's "On Urban Development" forum. Keynote Remarks by Carl Weisbrod, Chair of the City Planning Commission at 8:45 a.m. Then a panel on affordable housing with Senators Liz Krueger and Adriano Espaillat, and City Council Member David Greenfield. Then a panel on Real Estate Growth in Outer-Boroughs with Ruben Diaz, Jr., City Council Members Donovan Richards and Rafael L. Espinal. Then a panel on Infrastructure's Impact on Development with City Council Members Jumaane Williams and Dan Garodnick.
Also Thursday morning, at 8:15 a.m., the Center for New York City Law will hold a CityLaw Breakfast to present the Center's Civic Fame Awards - recognizing Mark Davies, former executive director of the NYC Conflicts of Interest Board, Kay Murray, former General Counsel of the NYC Department of Juvenile Justice, Frederick A.O. Schwarz Jr., former NYC Law Department Corporation Counsel, and Claire Shulman, former Queens Borough President. NY1's Errol Louis will be the featured speaker.
On Thursday at the City Council:
10 a.m., a joint oversight hearing of the Committee on Health, Committee on Fire and Criminal Justice Services, and the Committee on Mental Health, Developmental Disability, Alcoholism, Substance Abuse and Disability Services "evaluating recent changes in healthcare in city correctional facilities" and considering several related bills.
1 p.m. the Committee on Courts and Legal Services will hold an oversight hearing "examining the collaboration between the court's and legal service providers to ensure court record accuracy."
On Thursday evening in Queens, State Senator James Sanders Jr. will host "an exciting discussion on voter education in NYC" at 6 p.m. at Calvary Baptist Church "to educate and re-engage voters in the Democratic [sic] process." Featured guests: CUNY Center for Urban Research, Families United For Racial and Economic Equality, Black Lives Matter and NYC Campaign Finance Board.
On Thursday evening, the Annual Joseph S. Murphy Scholarship Reception at the CUNY Graduate Center will feature Assembly Speaker Carl Heastie.
Friday and the weekend
Have a good Memorial Day weekend!
***
Have events or topics for us to include in an upcoming Week Ahead in New York Politics? e-mail Gotham Gazette executive editor Ben Max any time: This email address is being protected from spambots. You need JavaScript enabled to view it. (please use "For Week Ahead" as email subject).
***
by Ben Max
@GothamGazette