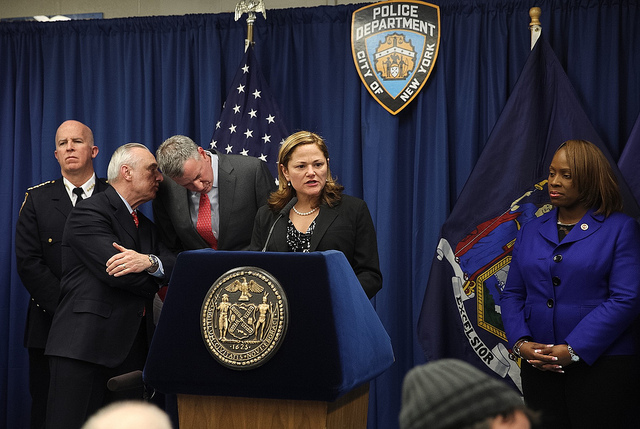 City Council Speaker Mark-Viverito (photo: William Alariste)
---
City Council Speaker Melissa Mark-Viverito has a year and a half left on the job and is clearly focused on making criminal justice reform a centerpiece of her legacy. While a commission formed by the speaker explores other changes to the city's criminal justice system and the idea of closing the notorious Rikers Island jail complex, the City Council on Wednesday will vote on a package of bills that will in large part establish civil rather than criminal punishment for low-level nonviolent offenses and provide alternatives to monetary penalties.
The package of legislation that the Council will pass and Mayor Bill de Blasio is expected to sign takes direct aim at reforming the enforcement of Broken Windows policing, a controversial trademark of NYPD Commissioner Bill Bratton whereby low-level offenses are aggressively policed in an effort to protect quality of life and prevent more serious crimes.
In her State of the City address on Feb. 11, 2015 Mark-Viverito promised a more fair criminal justice system by reducing penalties for low-level quality-of-life offenses that disproportionately affect young men of color. What followed was the Criminal Justice Reform Act (CJRA), eight bills heard by the City Council in January and set to be voted through this week, with a few modifications.
The CJRA, which would take effect over the next year, creates guidelines for the police department to follow regarding littering, noise violations, public urination, open alcohol container violations, and breaking park rules. Barring repeated violations or nonpayment of fines, officers would be encouraged to give out tickets instead of criminal summonses. In effect, the reforms do not decriminalize these behaviors but mandate alternative punishments, largely civil penalties as opposed to criminal.
"For too long, New York's Criminal Justice System has been broken - it's time we fix it," said Mark-Viverito in a statement accompanying news that the package of bills will pass this week. The CJRA, she said, will create "a more fair and just system that will ensure the penalties fit the crime."
The Council did not arrive at the final solution alone. The mayor and the NYPD, initially holding several reservations, negotiated with the Council before and after the legislative package was introduced. Mayor Bill de Blasio said in an April 2015 interview with NY1's Errol Louis, "I think Speaker Mark-Viverito put forward some very heartfelt proposals. I don't agree with them in the first instance, but they're certainly going to get an honest discussion from us. I know Commissioner [Bill] Bratton feels the same way."
On Monday, he was no longer reticent about the reforms. "We pledged to reduce unnecessary arrests while protecting the quality of life of all our residents, and this legislation is an important step toward this essential goal," de Blasio said in a statement. One key for having de Blasio and Bratton on board is that the package does not remove the criminal codes involved, leaving the NYPD leeway, including in demanding identification from and running background checks on those they stop for violations.
Some of the amendments to the bills added civil penalties where there were none proposed earlier, maintained criminal enforcement for particular violations, and included a mechanism to track police criteria for determining the nature of the violation as civil or criminal. The Council estimates that CJRA changes will divert about 100,000 cases from the criminal court system, save 10,000 people annually from having a permanent criminal record for these low-level offenses, and drastically reduce by tens of thousands the number of summons warrants issued - the city currently has a backlog of warrants well over one million.
"We have worked closely with the Mayor, the Speaker and the Council on this legislation," said Peter Donald, NYPD director of communications, in an email. "The new legislation allows the NYPD to use the full range of enforcement tools that we currently have to address these offenses while providing us with the additional option to issue a civil summons instead of a criminal summons or arrest in appropriate circumstances. This legislation advances the many steps the NYPD has taken to implement precision policing in all communities throughout the City."
Commissioner Bratton has recently touted his use of a "peace dividend," which is the reduction in unnecessary negative interactions between NYPD officers and New Yorkers that is allowable by continuing drops in crime. Arrest numbers have indeed been dropping.
One of the CJRA bills would allow people to participate in community service offered by the Office of Administrative Tribunals and Hearings instead of paying a fine. OATH will also track these offenses and evaluate how they are imposed.
Another bill changes the $25 criminal penalty for an open alcohol container to a civil fine for the same amount. Like others, this change is aimed at avoiding criminal records for individuals committing low-level nonviolent offenses.
The first bill to go partially into effect reduces misdemeanors for breaking parks rules to violations. In 30 days after the bill is signed into law, it will no longer be a misdemeanor to be in a park at night or fail to comply with park signs. Other elements of the bill would apply after a year.
Another month after that (60 days from signing), the law establishing civil instead of criminal penalties for littering and public urination would apply. The original legislation was amended to allow criminal enforcement and additional civil penalties.
Under two other bills, the NYPD would have to report the number of summonses and Desk Appearance Tickets (issued in the case of misdemeanors) every three months, with demographic data. The first summons report would be due October 2017 while the DAT report is due by this July.
City Council Minority Leader Steven Matteo, a Republican from Staten Island, calls the bills "unnecessary." In a statement to Gotham Gazette, Matteo said, "The NYPD should - and does - have the flexibility to enforce quality-of-life crimes appropriately and judiciously. But that enforcement should be dictated by policies tailored to specific community problems and trends, not overarching legislation. In my view, most of these bills are unnecessary and send the wrong message about our public safety priorities."
Calling it a "balanced approach," City Council Public Safety Committee Chair Vanessa Gibson said in a statement, "The Criminal Justice Reform Act of 2016 gives our police force tools to address low-level offenses for what they are: infractions to be taken seriously, but not ones that should yield life altering consequences."
While some conservative critics worry about a reduction in safety and quality of life, for criminal justice advocates outside of government, the bills are not all they want to see, but certainly a significant step forward for the city.
"This act makes important progress away from the crippling effects of 'broken windows' policing and toward policing practices that are smarter, fairer and safer for all New Yorkers," said Donna Lieberman, executive director of the New York Civil Liberties Union, in a statement.
The reforms move the city's system "closer to actual justice and away from an overreliance on arrests, prosecution and jail for low-level offenses," said Tina Luongo, attorney in charge, criminal defense practice, the New York Legal Aid Society, while pointing out that the existing system disproportionately penalizes communities of color and low income New Yorkers.
"We are pleased City Council has acknowledged that jail time and criminal penalties – with all of the attendant civil consequences such as job loss, eviction or deportation – are inappropriate punishments for things like littering or holding an open beer can on the street," said Lisa Schreibersdorf, executive director of Brooklyn Defender Services.
"Civil adjudication is a more appropriate response to these issues," Schreibersdorf added, "and we look forward to continuing to work with the City Council on the implementation of the new law."
Not all advocates are satisfied, however. Many want low-level offenses to be completely decriminalized as opposed to finding alternative punishments. Alex Vitale, associate professor of sociology at Brooklyn College, finds it encouraging that the Council is recognizing the effect of what he calls over-policing. "But my concern is that they are still relying heavily on punitive responses to the city's problems," Vitale said in a phone interview. "Rather than debate whether or not people should be getting arrested or [getting] a ticket for public urination, the city should be installing public bathrooms."