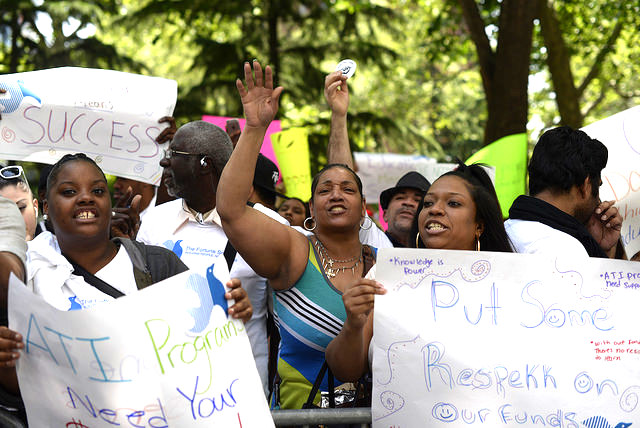 Adult Literacy Rally (Sofie Hecht / Gotham Gazette)
---
A variety of activist groups and City Council members gathered outside City Hall on Wednesday morning to call for attention to their respective causes. New legislation was to be introduced at the City Council that afternoon and more budget money was being requested, or demanded, as the city's new financial plan is due by the end of June and negotiations between the Mayor and the City Council continue.
The weather had finally begun to feel like summer and a series of hot rallies sought recognition from the media and lawmakers, especially Mayor Bill de Blasio, who, along with many City Council members, walked into City Hall throughout the morning. The central government building provided the backdrop for what felt like several attempts at the same scene from a movie - different actors in different clothes holding different signs about different causes, crowds of varying sizes trying to get the feel just right.
But, in reality, these were individuals and groups with very serious purposes, attempting to influence the legislative and budget-making process, with the City Council set to hold one of its two full-bodied meetings of the month in the afternoon, where Council members would introduce new bills and vote on previously considered items. Some Council members participated in the rallies beforehand, others may have taken note as they walked by.
The morning in photographs, with explanation below:
Deed Restriction Reform
The day began at 9:15 a.m. with a press conference led by Manhattan Borough President Gale Brewer and City Council Member Margaret Chin, who announced new legislation being introduced to the Council that would change the city's deed restriction practices. The move was prompted by the controversial lifting of a deed restriction by the de Blasio administration that is now being investigated by several entities - the "arcane process...surrounding the sale of Rivington House on the Lower East Side," according to the Brewer/Chin press release. Council Members Mark Levine, Ben Kallos, and Vincent Gentile voiced their support at the press conference. Increased transparency and oversight are at the center of the reforms being proposed.
Parks Funding
Following the deed restriction press conference, about 25 people gathered on the steps of City Hall to rally for increased funding for parks and green spaces. City Council Parks Committee Chair Mark Levine, New Yorkers for Parks, the New York League of Conservation Voters, and others participated. Sporting signs with the hashtag #pitchin4parks or slogans like "Flowers Not Towers," the group of gardeners, park enthusiasts, park workers, and advocates made their budget requests clear. Levine has been pushing his Council colleagues and the de Blasio administration for more parks funding before the budget deal is reached.
Library Funding
An even larger and more colorful group came out at 11 a.m. to lobby for funding for libraries. Library workers and supporters of the cause clad in bright orange or green t-shirts stood on the steps behind the speakers. City Council Members Brad Lander, Mark Levine, and Jimmy Van Bramer were among those who voiced their support for a $22 million increase in operating funding and $100 million of capital funding to New York City Public Libraries for restoring and maintaining the buildings. "Public libraries offer New Yorkers opportunities to strengthen themselves and their communities," New York Public Library President Tony Marx said in a press release, expressing the same sentiment at the rally. Council Member Van Bramer, chair of the Council's cultural affairs committee, echoed Marx, saying, "Libraries are our lifeblood."
Adult Literacy Funding
"What do we want?" "Education!" "When do we want it? "Now!"
Approximately 1000 people gathered outside City Hall's gates around noon on Wednesday, rallying for increased funding for adult literacy. They could be heard blocks away passionately calling for an end to cuts to High School Equivalency (HSE) and English as a Second Language (ESL) classes. Seven hundred students from over 15 different adult literacy programs attended the rally, according to organizers, calling on Mayor de Blasio to invest $16 million in adult literacy programs this fiscal year so that their programs and education can continue.
Myra Less shared her family's story, one very similar to many students and attendees of the Wednesday event. Less moved to New York from Ecuador when she was 21 and struggled to find work or enroll in college because she couldn't speak English. She learned English from newspapers, TV, music, and "practice and practice and practice," she explained. But others aren't as lucky as her, she noted. Her mother's English classes at an organization on her corner stopped because of funding cuts. "My mom wants to help [my sister] with her homework and she can't because she's still struggling with her English," she said.
More than 6,000 adult literacy classroom seats were cut for fiscal year 2015. Of 2.2 million adults in need of either HSE or ESL classes, state, federal and city funding only provides services for 61,000 people, less than 3% of the need, according to UJA-Federation employee Sasha Kesler.
"You guys drive New York City," Kevin Douglass of United Neighborhood Houses said to the crowd of students and advocates, "We need adult literacy."
Budget Crunch Time
As negotiations enter their final stages, expect more rallies outside City Hall as advocates and legislators look to push for more funding for their causes. A budget deal is due by the July 1 start of the new fiscal year, but many expect it to be completed sooner. Stay tuned!
***
by Sofie Hecht, Gotham Gazette
@GothamGazette