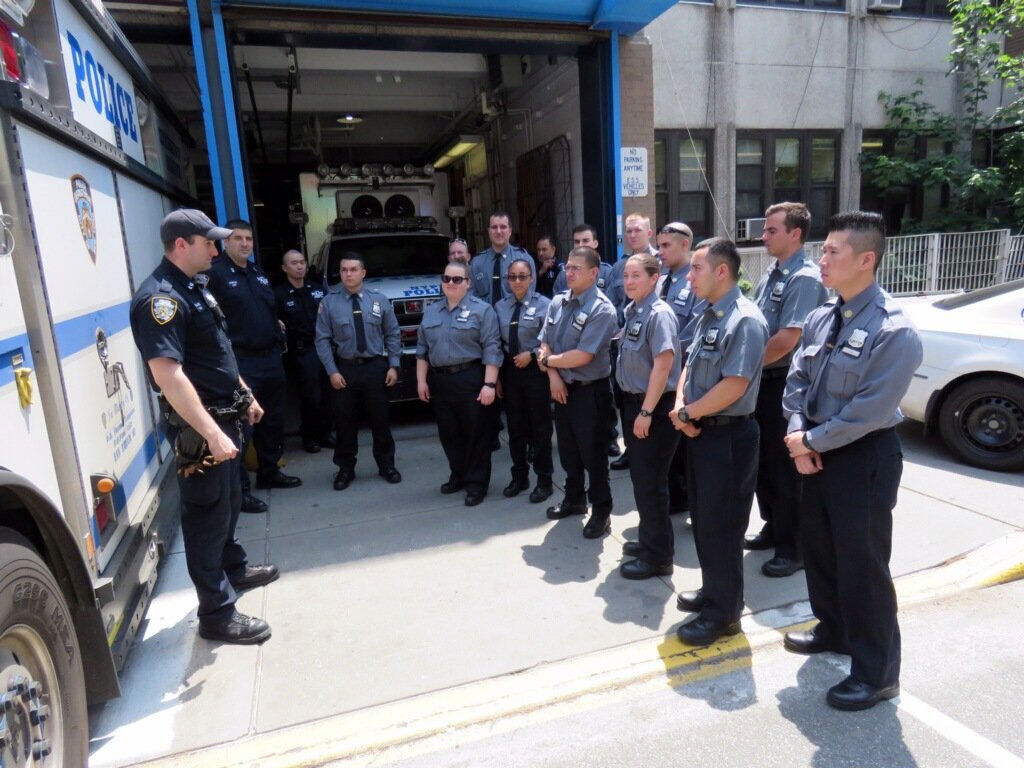 photo via @NYPDNews
---
NOTE: this article was originally published June 7, but the hearing discussed was postponed to June 28; it has been edited to refllect the new date and other recent news
Following on the heels of passing the Criminal Justice Reform Act, which diverts the prosecution of a number of low-level nonviolent offenses to civil rather than criminal avenues, the City Council will hear a bill on Tuesday that also addresses criminal justice reform, but this time by targeting bad actors within the NYPD.
The bill, Intro. 119, is sponsored by Council Member Jumaane Williams and was first heard in May 2014 by the Council's Committee on Oversight and Investigations. Tweaked ahead of this second hearing, the bill would require the inspector general for the NYPD to review police misconduct, including civil cases against police officers, to identify systemic issues in the department. With input from the Law Department, the NYPD and its Internal Affairs Bureau, the Civilian Complaint Review Board, and the Commission to Combat Police Corruption, the IG would then recommend systemic changes in discipline, training and monitoring of officers.
Williams, along with Council Member Brad Lander, was one of the two lead sponsors of the Community Safety Act, which established the NYPD Inspector General and was passed in 2013 over a veto by then Mayor Michael Bloomberg. His new police accountability bill currently has eight sponsors in the 51-member Council. The NYPD IG was in the news last week after the office released a new report discrediting the claim that broken windows policing, which relies on rigorous enforcement of low-level crimes to prevent larger ones, does indeed prevent felonies. A war of words ensued between the Department of Investigations, which includes the NYPD IG, and NYPD Commissioner Bill Bratton, the leading proponent of broken windows policing, which he is credited with implementing.
At one time, Tuesday's hearing was to be held earlier this month and jointly with the Committee on Public Safety to consider another bill, Intro. 927, which is sponsored by Council Member Daniel Garodnick. That bill, which mandates that the NYPD create an early intervention system to identify aggressive police officers for enhanced training or monitoring, was taken off the docket for this hearing, which itself was postponed. A representative for Garodnick said the bill was still being worked on and would be rescheduled for a hearing. The two bills are seen as complementary, but Garodnick's is newer, having been introduced in September, and has not had a hearing yet.
For police reform advocates, these bills show efforts in the right direction. Michael Sisitzky, policy counsel at the New York Civil Liberties Union, said Williams' bill is "a good way to exercise the inspector general's ability to look into abuses of power" and identify systemic problems that can be addressed through systemic changes in the department. The NYCLU has also long advocated for an early warning system to identify potentially abusive police officers, he said.
Other advocates, while supportive of the bills, shared a lukewarm sentiment for the Council's effort by large. "The kind of reforms being proposed and that have been enacted are not going to make much difference in terms of day-to-day practices on the ground," said Robert Gangi, director of the Police Reform Organizing Project (PROP). He said meaningful reform could only come from abandoning Broken Windows policing, abolishing quota systems for tickets, and taking strong executive action against errant officers. He likened the Council's "superficial effort" to a house in a state of collapse being slapped with a single coat of paint.
"It might help policy-makers claim they've made significant changes," Gangi said, "but might actually fool some segments of the public that meaningful change has happened."
Mark Winston Griffith, executive director of the Brooklyn Movement Center, shared the same concern. BMC is a member of the Communities United for Police Reform coalition, which has been pushing for more extensive legislative reform, particularly the Right to Know Act. Under that act, police officers would be required to identify themselves, let people know the reason for stopping or questioning them, and inform them of their right to deny a search where probably cause does not exist. Griffith believes that should be the priority rather than the Williams and Garodnick bills, which are politically "easier and safer," but not necessarily designed to have a critical impact. In spirit, Griffith supports the two bills, but worries that there seems to be significant discretion involved. "It seems good on paper but it's only as good as it's execution," he said.
Neither Williams nor Garodnick was made available for an interview for this article.
When Garodnick introduced his bill last year, he told WNYC at the time that the bill was in part a response to the case of James Blake, a professional tennis star who was forcefully arrested by NYPD officers when at least one mistook him for a suspect in an investigation. The officer who arrested Blake was facing two federal lawsuits for the use of excessive force. In late 2014, WNYC reported extensively on issues related to officers' use of force.
NYPD Commissioner Bill Bratton was particularly emphatic in pushing back against Garodnick's proposal. "It's exactly what the cops resent about the City Council," he said after speaking at an event on September 22. "These continual efforts. They say they want to support the cops, and then they keep coming up with new ways to try and effectively micromanage the police department. It's not needed. It's a waste of time and energy, and it's grandstanding, being quite frank with you."
Bratton stressed that the NYPD was already implementing its own risk assessment system. Garodnick responded, telling the Daily News that if the commissioner was supportive of the concept of his bill, he should work with the Council to "strike the right balance for the sake of the NYPD and the public." Discussions between the parties may ongoing and appear to have led to the delay in the hearing on Garodnick's bill.
Eugene O'Donnell, professor at John Jay College of Criminal Justice and a former NYPD officer, believes the Council is overstepping. "The City Council has to knock it off," he said. "It's getting ridiculous. The cops are totally risk-averse at this point. Recruitment is destroyed and [the Council is] still going."
The hearing comes as a federal investigation into corruption in the NYPD continues and several high-ranking officers have been arrested and others disciplined, while some are filing retirement paperwork, seemingly to secure their pensions before other indictments are handed down. None of the allegations involved appear to be related to use of force. There continue to be questions of low morale at the NYPD, dating to well before news of the federal probe, something Commissioner Bratton has discussed on several occasions and Mayor Bill de Blasio has sought to downplay.
O'Donnell said the Council was "beating a dead horse" and would create a less proactive police force that would be too concerned about civil and criminal liability to do their jobs effectively. Noting that there are already numerous oversight entities -- the Attorney General, the U.S. Attorney, the District Attorney, the Internal Affairs Bureau -- he said there was no need for additional cumbersome oversight legislation. "The net effect is that anyone who thinks of becoming a New York City cop should be disqualified," he said, "because you'd have to be insane to consider joining the NYPD."