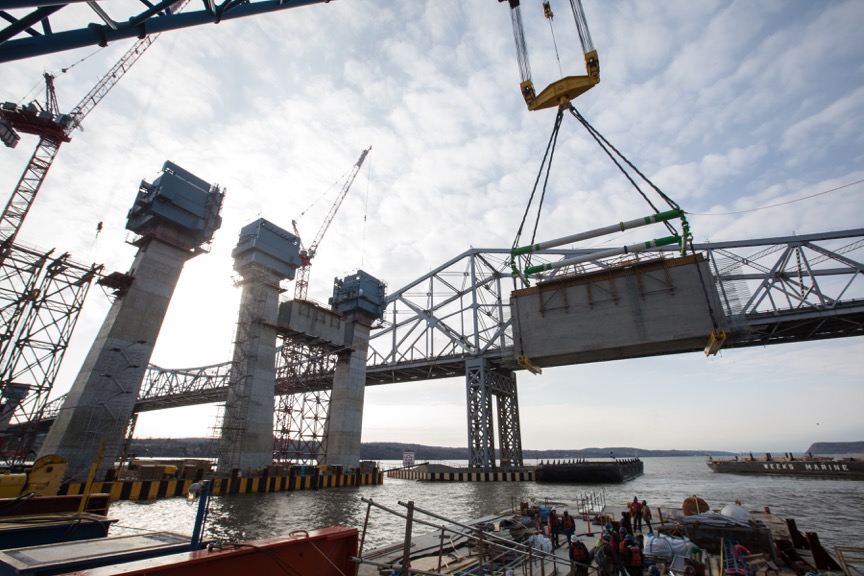 New NY Bridge Construction (photo: New York State Transit Authority)
---
Every day, approximately 140,000 vehicles travel an elevated stretch of the Brooklyn-Queens Expressway that runs through Brooklyn Heights between Atlantic Avenue and Sands Street. In addition to being one of New York's busiest roads, one Brooklyn stretch of the BQE is a feat of engineering—it consists of 21 different overpasses and, for about half a mile, takes on the form of a triple-cantilever structure with two-way traffic and a walkway stacked vertically on three concrete levels.
But in the past decade, the BQE has fallen into disrepair. Deteriorating joints, narrow lanes, and potholes have led to chronic delays and safety issues, according to a briefing released by the New York City Department of Transportation in April. DOT has forecast $1.7 billion in upgrades and repairs to the BQE, which could take until 2026 to complete.
Commissioner Polly Trottenberg, however, has identified a way to save $98 million and shave up to a year off the project. Known as "design-build," the project delivery method would allow DOT to hire a contractor who is responsible for both design and construction of the project. According to Trottenberg, this would cut time and cost over the traditional "design-bid-build" method in which agencies must sign separate contracts with an architect and contractor, thereby lengthening the process and assuming any unforeseen costs that arise between a project's design and execution.
"It can shave years off our major projects, it can shave millions of dollars and also greatly cut down on potential disputes, change orders, and litigation," Trottenberg said in an interview with Gotham Gazette. "If [the architecture firm] and [the construction firm] got together in the beginning, then they would have a design that by nature would probably be more flexible and more buildable."
Under New York State procurement law, however, the design-build method is off-limits to most public entities including city agencies like DOT. Governor Andrew Cuomo expanded design-build authority as a "pilot" program to a few state agencies in 2011: the Thruway Authority, Department of Transportation, Office of Parks, Recreation and Historic Preservation, Department of Environmental Conservation, and Bridge Authority. The pilot program expired in 2014 and was renewed the following year, but Albany failed to pass a 2015 bill that would have expanded design-build authority to all public entities including in New York City.
A somewhat more modest design-build bill, the New York City Public Works Investment Act, was introduced to the state Assembly and Senate last May by sponsors Michael Benedetto, a Democrat representing the East Bronx, and Andrew Lanza, a Republican representing lower Staten Island, respectively. In its current state, the bill would extend design-build authority only to New York City and certain agencies therein: the Department of Design and Construction, DOT, Department of Environmental Protection, Department of Parks and Recreation, School Construction Authority, and New York City Health + Hospitals.
The bill must pass through committee and each house to reach Gov. Cuomo's desk. With just a few days left in the current legislative session in Albany, design-build could be among the slew of legislation traditionally passed in the final hours of the session. Cuomo has been an outspoken proponent of design-build, citing it as an example of how he has led the state in what he says are cost-effective major infrastructure projects.
The Assembly's design-build bill has remained in its cities committee since introduction, but the Senate version has passed through committee and advanced to third reading on the Senate floor. Benedetto, who is also Assembly cities committee chair, said support for design-build continues to grow, though he did say he is continuing to tweak the bill to gain final approval.
Labor unions were initially wary of lower labor costs that design-build might bring about, but a recent effort by city officials to convince unions that the bill would not threaten labor has united advocacy groups, unions, and the public sector, according to Benedetto.
"I told the representatives from the city that you're going to have to be able to convince the members of my chamber that this is not going to have a negative effect on labor," Benedetto told Gotham Gazette. "Show me the paper. And finally within the last two weeks the papers have been produced and I sent out a packet to my colleagues at the state Assembly...and I attached letters and memos from various leaders in the labor movement."
One clause of the legislation—meant in part to assuage labor and public employee unions—would make design-build contracts contingent on project labor agreements, which provide bargaining rights to unions before labor can be hired for a project. While opposition to project labor agreements from lawmakers upstate (where unions are less prominent) doomed past efforts to allow design-build statewide, the inclusion of PLAs are less likely to weigh down the New York City-specific bills.
"The construction market has not been that strong [upstate]. It's been very strong down here, and that's why the city is comfortable with PLAs because there's so much work to go around," New York Building Congress President Richard T. Anderson told Gotham Gazette. "[City contractors] want to make sure they get the best people and they're willing to pay a little more to get that."
In addition to the Building Congress, varied business and labor interest groups including the Partnership for New York City, the Real Estate Board, the Building and Construction Trades Council of Greater New York, the NYC Central Labor Council, DC 37, and the General Contractors Association have expressed support for the city-specific design-build legislation.
City officials have urged Albany to grant design-build authority, including Trottenberg, DEP Deputy Commissioner Vincent Sapienza, Mayor Bill de Blasio, and city Budget Director Dean Fuleihan. In a statement to Gotham Gazette, a mayoral spokesperson said design-build "increases the accountability of contractors, saves time and money, and streamlines the construction process overall" and that the administration would support proposals "that reduce project delays and enhance delivery methods."
Largely permitted in 41 states, design-build has also been endorsed by members of the Center for Urban Future, the New York University Rudin Center for Transportation Policy and Management, the Bipartisan Policy Center, and Citizens Budget Commission.
In a report published in March 2015, CBC Vice President Maria Doulis weighed the use of design-build by state agencies against the need for savings displayed by city agencies. While Doulis warned that PLAs tied to design-build could reduce agencies' ability to hire the most cost-effective labor, she concluded that "New York's experience demonstrates design-build's effectiveness in delivering public construction projects on time and on budget."
But the design-build movement does have some vocal opponents. The New York State Society of Professional Engineers published a statement last June opposing Benedetto's bill on the grounds that design-build puts engineers in a legal bind. Engineers have less autonomy in design-build contracts, the argument goes, but could still be held legally responsible for subpar designs enacted by the contractors who retain them. Such opponents point to the New York State Education Law, which heavily regulates design standards for projects.
"Design-build puts the engineer in a compromised position where businessmen are making decisions that should be made by a professional," NYSSPE President Lawrence J. O'Connor told Gotham Gazette. "Where does quality come from in the construction? It comes from a lot of people, but it starts with the design."
It may be too soon to evaluate long-term architectural quality of design-build projects in New York, but proponents have repeatedly touted their cost-efficiency. Most notably, the New NY Bridge (Tappan Zee), being constructed through the State Thruway Authority with a design-build contract, is projected to cost $1.7 billion less than originally planned and set to be completed 18 months ahead of schedule.
Lowered costs have made design-build contracts especially appealing to city agencies. In a 2014 report, the Center for an Urban Future estimated that the city needed to divert $6.2 billion in funding to repair crumbling infrastructure by 2017, $3.2 billion of which was encompassed by the DOT. Trottenberg said that while design-build would not be used for maintenance like road resurfacing, it could save on engineering-heavy projects such as bridge repairs. A report sent by the DOT to Gotham Gazette highlights nine current bridge projects, including the BQE Triple Cantilever, that will cost $4.63 billion but could be reduced to $4.37 billion using design-build.
Similarly, the city Department of Environmental Protection has estimated that it would save $8 million of an approximate $200 million annual construction budget by using design-build. In a February testimony, Sapienza said such savings would be crucial for DEP in "hardening its wastewater infrastructure to increase resiliency against flood damage."
As momentum builds and historic resistance from unions fades, Assembly Member Benedetto is confident that his bill will move through the state Legislature. But first, Benedetto said he is in the process of tweaking the bill and considering narrowing the scope of agencies it covers to make it more passable.
"We're adjusting as we go and hopefully this will satisfy people," Benedetto said. "We have high hopes that this is going to produce projects out there that are going to be done quicker and cheaper, save the taxpayers money and aggravation, and we're keeping our fingers crossed that everybody involved with this is going to be happy."