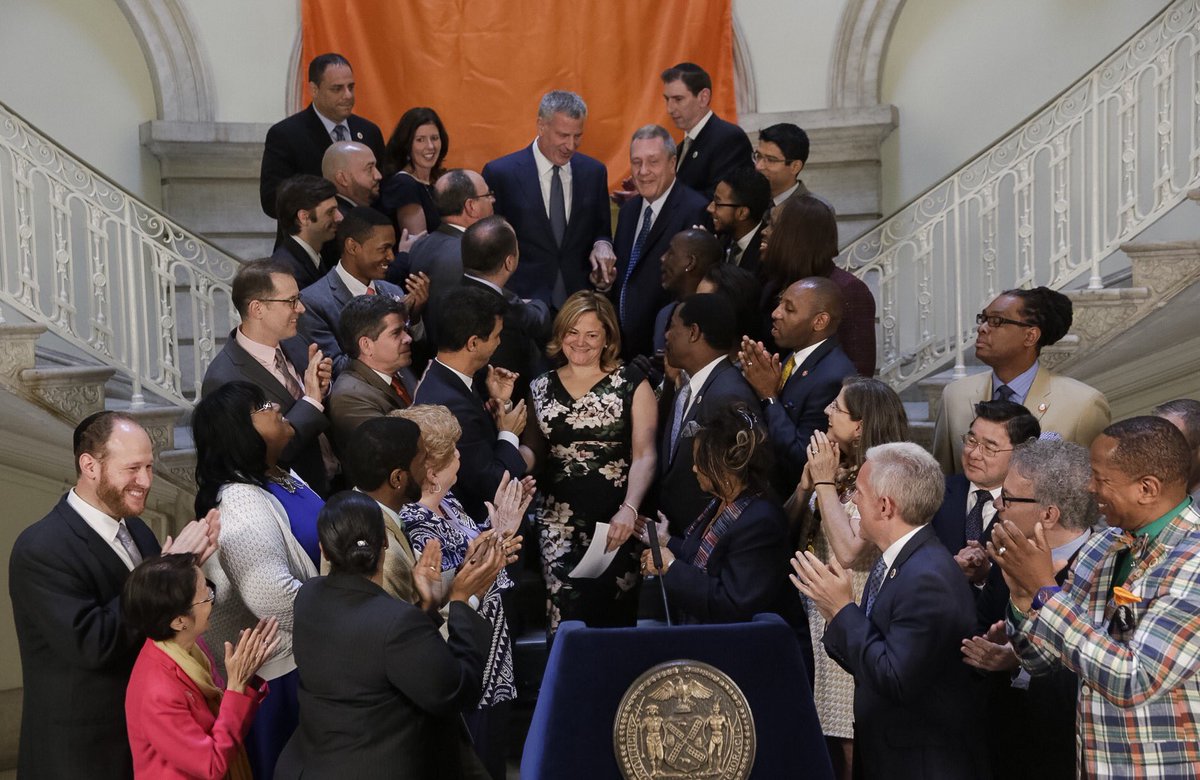 The Mayor & the City Council (photo: William Alatriste)
---
The City Council chambers at City Hall were filled with grief on Tuesday. Before the Council would conduct its business for the day -- approving an $82.1 billion budget for the city's 2017 fiscal year -- members first paid their respects to the 49 people killed by a terrorist who shot patrons at a gay nightclub in Orlando on Sunday. One by one, Council members read out the names of victims and placed small electric candles on the dais at the front of the chamber. Almost every Council member expressed solidarity with the LGBT community by placing a small rainbow flag on their desks.
The somber mood soon turned celebratory, though, with the earliest adoption of the city's budget in 15 years. Following months of hearings and negotiations, after funding for a number of Council priorities was added to the mayor's final proposal, and amid concerns of a widely expected economic slowdown and potentially insufficient savings, the Council approved a plan that increases city spending by about $3.6 billion over last year's adopted budget. The new fiscal year begins July 1.
"With this budget agreement, once again this City Council has proven itself to be a champion for all New Yorkers in all five boroughs," said Council Speaker Melissa Mark-Viverito, at Tuesday's vote. "This is a budget for everyone. We're investing in jobs. We're investing in youth. Above all else, we're investing in New Yorkers and we're investing in our future."
The final budget is $100 million lower than the mayor's executive budget (but almost the exact amount of the preliminary budget proposed by Mayor Bill de Blasio in January). It makes targeted additional investments in the city's youth, seniors, immigrants, cultural institutions, public safety, healthcare, social services, and education, among other areas. However, there are some concerns from within and outside the Council that the city budget is growing too quickly and that there is not enough being put aside in reserves, though rainy day funds are at their highest levels ever.
"Today's Council vote marks the earliest adoption since 2001," said de Blasio in a statement, "and further highlights the good work that can be done when the Administration and City Council come together. The adopted budget is responsible, progressive, and honest."
At the insistence of the Council, the budget was geared to creating larger savings and setting aside more reserve funds. The Citywide Savings Plan of $2.7 billion over the next two years is the largest it has been in five years. The city reserves stand at $3.9 billion, with $250 million added to the Retiree Health Benefits Trust fund before the final budget agreement.
Nevertheless, multiple Council members who voted to approve the budget and one who didn't expressed reservations, mostly with the increase in spending and what they viewed as an inadequate level of reserves. Budget watchdogs and fiscal monitors have praised the city's budgeting and fiscal health, but concerns about an eventual economic slowdown remain. Comptroller Scott Stringer has also stressed that the city needs to reach higher reserve levels, between 12 and 18 percent of expenses. Currently, the city stands at just over 10 percent.
At the vote, Council Member Dan Garodnick warned that the massive increase in spending and the ballooning of the city's workforce would mean trouble in the future. Citing a possible budget deficit of $3.8 billion in fiscal 2019, he said, "As a city we must take steps now in good times to prepare for the inevitable bad times ahead. Progressive, honest and responsible budgeting protects people not only when revenues are strong but when they are weak. We should better protect ourselves from having to lay people off and cutting core services when that happens." Council Members Corey Johnson and Ben Kallos expressed similar concerns.
Council Member Rosie Mendez was the only member to vote against the budget, which passed 48-1 in the 51-seat Council. Mendez cited spending increases, a rushed process, and issues with funding that was supposed to go to her district in the current budget.
A number of Council members voted to affirm the new spending plan and explained the specific area or areas of funding they were most happy with. Council Member Margaret Chin, chair of the Committee on Aging, was particularly proud of the budget's increased funding for seniors. But, she said, "we still have a way to go before the Department for the Aging's core funding fully reflects the needs of all seniors." She pointed out that the Council will contribute a large chunk, $21 million, to DFTA's $330 million budget in the coming fiscal year.
Chin's sentiment was echoed in a statement by two of the largest senior advocacy groups in the city, AARP NY and LiveOn NY, which criticized the budget for cutting senior homecare services by $2.2 million and other changes. "Today's enacted budget agreement is short-sighted and clearly insufficient to ensure a livable city for New Yorkers of all ages," said Beth Finkel, state director, AARP, in the statement. LiveOn NY's director of public policy, Bobbie Sackman added, "The inability and unwillingness of the de Blasio administration and City Council to reach an agreement to fully fund these programs creates a hardship and a dangerous reality for seniors who so desperately need and rely on support."
Throughout the budget process, Council Member Helen Rosenthal, chair of the contracts committee, has been calling for increased funding for human services nonprofits that contract with the city but struggle to meet costs of salaries, administration, equipment, rent, and maintenance. While voting for the budget on Tuesday, Rosenthal again decried that this funding hadn't been included and said the city's commitment to these providers, who operate shelters, food pantries, adult literacy programs, and more, "could be better." Without the government's help, she said, "we're setting these providers up to fail."
Another major item that remains somewhat unresolved is the administration's plan for the city's municipal hospital system, New York City Health + Hospitals. Speaker Mark-Viverito said at the "budget handshake" announcement with the mayor last week that the plan was still under discussion. At the budget vote, Council Member Ritchie Torres criticized the administration for acting too late. While supporting the city's infusion of about $2 billion into the ailing system, he insisted that the problems in the system were foreseeable and a plan should have been in place three years ago. "The city's late and lackadaisical approach hardly inspires confidence about the future of Health + Hospitals," Torres said. "I am concerned and low-income New Yorkers should be as well."
The budget vote came quick on the heels of the Council's Monday release of the "Schedule C," a document listing the Council's adjustments to the budget, terms and conditions set on spending, and $59 million in discretionary grants or member items sponsored by individual Council members and the Speaker. The discretionary funding supports programs at nonprofits throughout Council districts "in order to meet local needs and fill gaps in City agency services," according to the document. Each Council member received $400,000 in base funding, with additional pots of $25,000, $50,000, $75,000 and $100,000 depending on poverty levels in their districts. The Council again identified five areas for discretionary funding -- spending on the aging, youth, anti-poverty programs, local initiatives, and borough-wide needs. Each year, Council members are able to submit their plans for allocating these funds to their chosen organizations and initiatives.
A separate "Speaker's Initiative" for citywide needs, totaling $3.39 million, is also included under the funding.