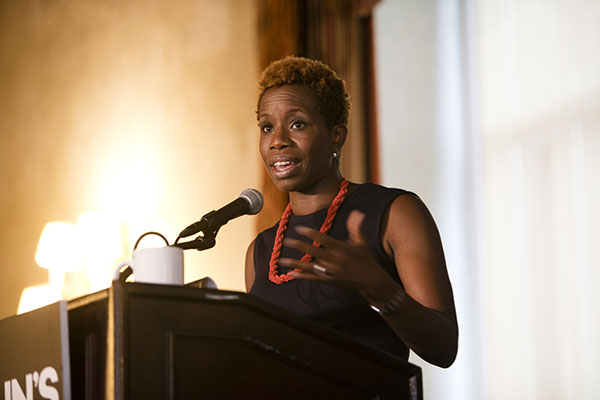 NYCHA Chair Shola Olatoye (photo: Buck Ennis)
---
The head of the New York City Housing Authority (NYCHA), landlord to more than 400,000 New Yorkers and leader of more than 11,000 employees serving about 178,000 apartments in nearly 2,600 buildings, believes that the future of public housing in the city must be driven by the same type of innovation embodied in its early years.
"Certainly, we must do the basics better," said Shola Olatoye, NYCHA CEO and Chair, at a breakfast hosted by Crain's New York Business at the New York Athletic Club on Thursday morning. "But frankly that won't be enough. We have to innovate."
In prepared remarks, Olatoye traced the past, present, and future of NYCHA, from its inception in 1934 as a "grand and sweeping experiment" to its current financial and structural woes and the vision laid out in the city's strategic ten-year plan, NextGeneration NYCHA. Frankly assessing "crummy" conditions and little historical reason for optimism among NYCHA tenants, Olatoye outlined the city's accomplishments in the year since the NextGeneration plan was announced, acknowledged the challenges that lay ahead in revamping an outdated operational model, enhancing programming, and tapping new pipelines of funding.
NYCHA has about $17 billion in capital needs to address long-developing problems with its buildings and properties. Olatoye was proud to announce, though, that the authority has a balanced operational budget two years running.
"I am fundamentally a hopeful person," she said. "It will be messy and sometimes unnecessarily complicated. It demands that all levels of government support it, not simply attack it. It must aggressively court private investment and individual donors, not simply for capital sources but for new sources of support, partnership and innovation."
Olatoye stressed that NYCHA in its current state is, for the most part, a far cry from its early years. The system that once built high-quality housing with strong political and public support, provided a range of community and social services, utilized bold urban design and strived for racial integration, no longer exists, she said. Sources of funding, especially federal and state, have dried up and the demographic profile of NYCHA residents has changed.
One compounding problem, she told the audience of about 150, is that "While the funding and population we serve has changed dramatically, NYCHA's operating model has largely remained frozen in time." Key elements of NextGeneration NYCHA outline the way forward, Olatoye said.
She listed the initiatives of the new strategic plan -- decentralizing management of developments, retraining property offices, transitioning to digital technology, integrating services with other city agencies, raising private funds for capital needs, among others. She announced that by the end of the month, the city would seek bids from developers to build housing in Boerum Hill and the Upper East Side that will be 50 percent affordable and 50 percent market rate - part of the city's controversial plan to add new housing stock on NYCHA properties that will bring in revenue and create more affordable housing.
Olatoye also said the city was preparing to submit the country's largest application to the federal Department of Housing and Urban Development (HUD) to preserve 15,000 affordable housing units and implement more than $3 billion in capital repairs at NYCHA developments.
The biggest challenge is NYCHA's ability to preserve quality affordable public housing with limited funding. In a question and answer session after Olatoye's 15-minute speech moderated by Erik Engquist, assistant managing editor of Crain's, and Ben Max, executive editor of Gotham Gazette, the NYCHA CEO detailed major avenues of the strategic plan. These include building 10,000 units over the next ten years that are 100 percent affordable (three projects are already under way), meaning that rents will fall under certain limits and raising between $300-600 million over the course of the plan through the NextGeneration Neighborhoods program, which is often referred to as "infill."
The agency's funding challenges are part of virtually every operational and programmatic issue in its purview. While Olatoye pointed out that Mayor Bill de Blasio has invested more than $570 million into NYCHA for operating expenses and capital needs, the agency suffers from continued disinvestment by state and federal authorities.
Federal funding of $300 million each year is insufficient to meet capital needs, she said, and the state's commitment of $100 million in capital funds last year came for the first time since 1998 - but, the state funds are still in limbo and will be funneled through state authorities rather than directly allocated to NYCHA. Olatoye declined to speculate as to why the state has not moved forward to use the funding to address problems at NYCHA it was dedicated for.
As part of NYCHA's operational overhaul, Olatoye said the agency was moving towards a model with community partners to provide services in areas of education, employment, and mental health, and to connect residents to city resources like cultural institutions. "We're reorienting the way we do that," she said, contrasting the model with the original developments with all-encompassing services. She said that a variety of programs have been in place to help NYCHA residents, especially youth, experience different parts of the city, but that those are being rethought and new partners are being sought.
A running theme of Olatoye's appearance was that NYCHA is looking for investment on a variety of fronts - from real estate developers, community-based organizations, and others who are willing to aid in NYCHA's attempted renaissance. [Hear Olatoye's full remarks and the Q&A through the audio embedded below this article]
Olatoye also announced a pilot program starting in July at 12 developments that would gauge the viability of providing near round-the-clock management and repair service rather than the current 8 a.m. to 4 p.m. model. In relaying the current, antiquated hours to the audience, Olatoye explained that NYCHA is working with the main labor union involved to expand hours so that residents can have repairs done in the evenings.
While she seeks to turn a massive ship around, Olatoye is landlord to an aging NYCHA population that is also poorer than it used to be, with many working-age residents not in the workforce for a variety of reasons, some of which include health challenges. NYCHA is also currently dealing with an inquiry from federal authorities around its lead abatement procedures in developments and possible underreporting of hazardous conditions.
With the implementation of the NextGeneration plan, Olatoye envisions a reinvention and reinvigoration of NYCHA. By 2025, she said, NYCHA will be financially stable, generating recurring revenues and maintaining strong reserves. Its capital needs will fall from $17 billion to $10 billion and it be an "attractive investment" for municipal bond holders who will help it move further toward zero. Residents would wait no longer than 72 hours for basic repairs and will be able to "once again say they live in safe and clean housing."
Below: 1) a conversation between Ben Max and Jarrett Murphy about NYCHA and 2) the full Crain's breakfast event:
Listen to Gotham Gazette's Ben Max & City Limits' Jarrett Murphy discuss NYCHA and Chair Olatoye's latest comments:
Listen to the full Crain's New York Business breakfast with Chair Olatoye, including her remarks and the Q&A session that followed: