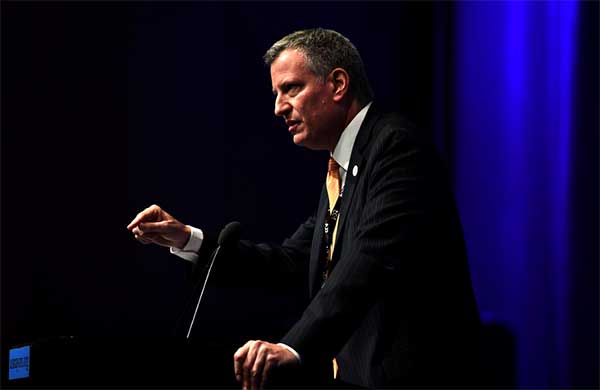 (Credit: Rob Bennett/Mayoral Photography Office)
---
The New York City Campaign Finance Board sent a somewhat mixed message to Mayor Bill de Blasio on Tuesday over the nonprofit group set up by his allies to promote his progressive policies.
At a public meeting in Downtown Manhattan, the CFB issued a determination that de Blasio's fundraising for the Campaign for One New York, a group established to promote universal pre-kindergarten, was not connected to the mayor's 2017 re-election campaign and therefore did not violate campaign finance rules. The ruling resolved both a CFB investigation and a Feb 22 complaint by Common Cause New York, a government reform group, that alleged the mayor may have violated campaign finance law by soliciting donations for his nonprofit group and then transferring some of those funds to another nonprofit, United for Affordable NYC.
"The Campaign for One New York was formed to advocate for New York City's progressive policy agenda," said spokesperson Dan Levitan, in an email. "It never engaged in any election campaign activity for any candidate and shut down more than a year and a half before next year's election. We are pleased with today's CFB decision."
But even as the Board absolved the mayor's campaign, it criticized the mayor's fundraising through the nonprofit, which they said "plainly raises serious policy and perception issues" and shows the limits of the city's Campaign Finance Act.
CFB Chair Rose Gill Hearn stated that the board would continue to closely monitor the mayor's campaign to ensure compliance with the law. "To the extent that tangible goods, services, or work product from the Campaign for One New York may be made available to the 2017 campaign, the Board does not consider this matter closed," she said.
Hearn stressed that more than 95 percent of the funds received by the Campaign for One New York would have been illegal contributions if they were made to a candidate since they largely exceeded contribution limits and included contributions from corporations, Limited Liability Companies and people with business before the city. She also pointed out that the city's campaign finance system, with its public matching funds program and contribution limits, helps candidates run for election without the backing of wealthy special interests. "New York City's system depends on reasonable contribution limits that reduce the appearance that influence can be bought or sold through campaign contributions," she said. "It defies common sense that limits that work so well during the campaign should be set aside once the candidate has assumed elected office."

The CFB also issued an accompanying advisory opinion relating to candidates' cooperation with issue-advocacy organizations. The Board put forward seven criteria for determining if expenditures by such a group are connected to an election, most importantly the timing of expenditures. Any coordinated expenditures after Jan 1 in an election year, they said, would be presumed to have been made in connection with the election and would be subject to campaign finance rules and regulations.
Government reform advocates were disappointed with the CFB's determination, which they saw as a narrow interpretation of the city's campaign finance law. "The onus is now on the city council to close this gap and on the mayor to sign a bill if it's passed," said Susan Lerner, executive director of Common Cause New York, after the meeting, referring to the apparent loophole that allows elected officials to raise unlimited funds for an issue-advocacy organization as long as it doesn't promote their campaign.
Criticizing the mayor, she told reporters, "If you're gonna be the champion of the little guy and run as he did, to his credit, with the largest proportion of small dollar contributions of any of the candidates, then stick with that. Stick with the people. Don't even give the appearance that you're selling out to large unions, large real estate developers who are cutting you $250,000, $350,000 checks."
Dick Dadey, executive director of Citizens Union, said the CFB "clearly felt constrained by the law" and he put forth a proposal for new legislation that would create stronger regulations for nonprofits affiliated with or created by elected officials. Under the legislation, such groups would have to register with the Campaign Finance Board, would have limits on contributions from people who have business with the city and would be required to disclose all donations and expenditures, similar to the CFB's regulations for transition and inauguration committees for elected officials.
"We saw with the activities of the Campaign for One New York, the re-emergence of a pay-to-play culture that would breed corruption in the city of New York if it is not stopped," Dadey said.