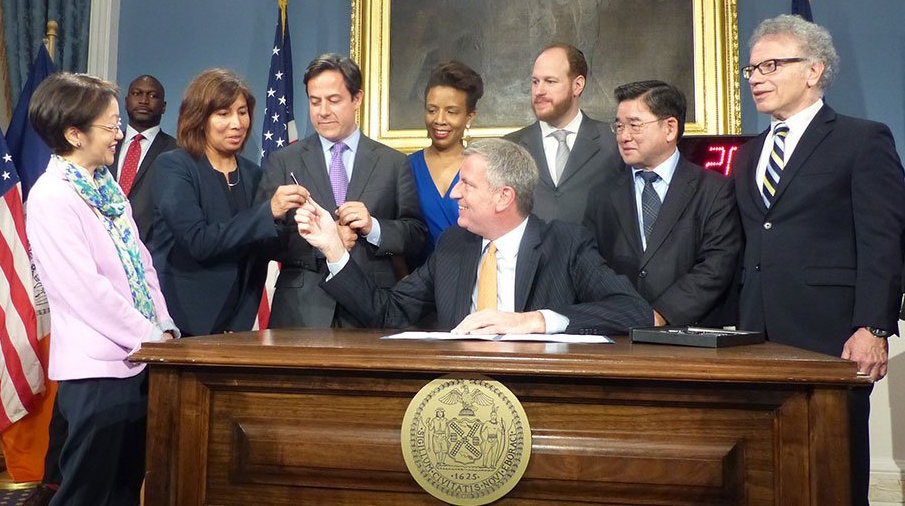 Salas accepting a pen from the mayor at a bill signing ceremony (photo via @NYCDCA)
---
When Lorelei Salas was appointed Commissioner of the Department of Consumer Affairs by Mayor Bill de Blasio in May, she inherited a dramatically better-funded and more heavily staffed agency than her predecessor, Julie Menin, did when she took office in 2014.
New York City's DCA is the nation's largest municipal consumer protection agency, tasked with licensing businesses, monitoring predatory business practices, redressing consumer grievances and enforcing various municipal benefits, among other functions that it performs. Its adopted budget has grown from $23.6 million to $40.6 million between fiscal years 2013 and 2017 and its staff has increased from 301 to 441 in the same period.
In recent months, new challenges have arisen for the agency, including a pattern of noncompliance in the retail and restaurant industries, the need to set up a new Council-mandated Office of Labor Policy and Standards, and the looming effort to educate businesses and workers about a rising minimum wage. In the face of these issues, Commissioner Salas has yet to decide whether she will use the large budget at her disposal to simply maintain Menin's strategy or aggressively carve out a new path, like Menin did.
Menin's time with DCA was markedly successful. Appointed commissioner in April 2014, she took the reigns of an agency that had been widely criticized under the previous administration by business owners and then-Public Advocate de Blasio himself for issuing excessive fines to businesses to generate revenue for the city.
In the two years that followed, Menin spearheaded what City Hall characterized as a "turnaround" of the department, lowering the number of violations issued from 19,888 in fiscal year 2014 to 11,923 in fiscal year 2015 while increasing consumer restitution from $3.6 million to $6.2 million in that time frame. She also oversaw the implementation of a swath of de Blasio's signature policies, including the executive order on expanding the Living Wage Law, the Small Business Relief Package, the Paid Sick Leave Law, and the Commuter Benefits Law.
But Menin's term was cut short in February when de Blasio appointed her Commissioner of the Mayor's Office of Media and Entertainment. DCA went without a permanent commissioner until the end of May, when de Blasio appointed Lorelei Salas to head the agency. After a short training period during which Salas was debriefed by senior officials, she began acting as commissioner in late June.
Salas, an outside hire who most recently served as Director of Legal Services at Catholic Migration Services and has held senior management enforcement positions at the New York State Department of Labor, told Gotham Gazette she still needs time to learn from senior DCA officials before setting specific goals for the department. Those officials have outlined plans that largely emphasize outreach and education to adhere to de Blasio's agenda of protection and financial equity for businesses, workers and consumers.
"I could come here with great ideas that I borrowed from someone else but the truth is that the people who are doing this work day to day understand what the challenges are," Salas said in an interview at DCA's office in Downtown Manhattan on June 29. "I'm hoping to learn from them first before I start saying I'd like to do this other great thing."
For now, Salas said she is interested in expanding the agency's financial empowerment programs for low-income New Yorkers. The first initiative of her term, known as the Collaborative for Neighborhood Financial Health, was announced Thursday and will aim to increase financial resources and education in Bedford-Stuyvesant and East Harlem.
When asked about the administration's vision for DCA's immediate future under Salas, a mayoral spokesperson indicated that the agency would maintain its mission established during Menin's term — emphasizing a focus on economic empowerment.
"Under Mayor de Blasio, our consumer affairs department is working to give everyone in the marketplace the means they need to thrive - consumers, employers and employees alike," said the spokesperson, in a statement to Gotham Gazette. "The Administration has sharpened the department's focus on promoting economic empowerment for everyone."
To execute the "economic empowerment" that DCA has come to prioritize in recent years, Menin, aided by annual budgetary increases throughout her term, raised funding for aggressive outreach campaigns to educate both workers and business owners. DCA's Office of Financial Empowerment, a DCA division that offers financial services to low-income New Yorkers, also saw increased success during Menin's term.
"As a result of a $3 million investment that the city made, we returned over $250 million back to low-income New Yorkers," Menin said in a phone interview with Gotham Gazette. "That truly worked and fit within the administration's goal of increasing access and increasing equity as well."
The Office of Financial Empowerment first received baseline budgetary funding for its Financial Empowerment Centers in 2012, following which the number of tax returns filed through centers increased from 90,000 to 150,000 within a year. Under Mayor de Blasio, OFE's budget has grown every year, and even allowed them to hire three new employees in Fiscal 2015.
"This was a really amazing initiative that started with the need that people are not getting their earned income tax credit, which is obviously the anti-poverty initiative of our time," OFE Executive Director Debra-Ellen Glickstein said in an interview. "This was the first time that the city put real money against this."
In addition to an increase in outreach, the drop in fines assessed by DCA during Menin's term was facilitated by administrative policy. Under the Small Business Relief Package, put into effect by de Blasio in 2014, DCA began issuing warnings for violations that did not pose immediate consumer harm and issuing "curable violations" for first-time offenders. The total number of violations issued by DCA dipped from 24,835 in fiscal year 2012 to 11,923 in fiscal year 2015.
This effort to decrease violations, coupled with DCA's responsibility to implement new regulations, has made for a tension within DCA's mission that Salas has acknowledged will require nuance to maintain. On one hand, the agency attempts to protect businesses by scaling back unnecessary investigations and forgiving violations when possible. On the other, DCA must protect workers from businesses by enforcing regulations like Paid Sick Leave and Commuter Benefits. These newer missions, heavily funded for the first time in the past two years, are in addition to the department's longest-standing obligation: to protect consumers.
"We are in the process of figuring out how to balance the different varying needs and demands in our agency," Salas said. "We have to assume that people will comply if they have the right tools and the right information."
Despite an overall trend of compliance following a concerted effort by the agency to increase education in recent years, DCA officials have identified specific challenges that Salas will need to address. For example, although DCA directly educated over 400,000 businesses at more than 800 events about the Paid Sick Leave law — which requires employers to provide paid sick leave if they have five or more employees who work at least 80 hours per year — and has gathered $3.4 million in fines and restitution, officials said specific businesses still regularly fail to comply.
"We have and continue to have experience with certain industries where there's a high level of noncompliance and that includes retail, home health aides, security, restaurants," said Nick Smithberg, executive director of Paid Sick Leave and Commuter Benefits, in an interview with Gotham Gazette. "Those are kind of hot buttons. We see them again and again and again."
Jessica Shpall Rosen, an attorney specializing in employment and labor law, told Gotham Gazette that although DCA's education measures have been helpful, compliance with the paid sick leave law — which includes a requirement that businesses write and distribute their own paid sick leave policies to employees — is more likely to be an issue for small businesses without access to legal advice.
"It requires a deep level of technical knowledge and a direct reading of the law, and it's not easy to figure out how to deal with some of these technical requirements," Rosen said. "But I believe the DCA could do a better job by perhaps providing various versions of samples that could be adopted by small businesses. Right now it ends up being a little bit difficult for some companies to figure out how to comply."
DCA has already taken some steps to close this gap in compliance. According to First Deputy Commissioner Alba Pico, who acted as interim commissioner until Salas took office, DCA has targeted cultural and language barriers that prevent business owners, especially of small businesses, from avoiding violations. The department now publishes inspection checklists in eight languages so that business owners "are not surprised" by laws, Pico said, and allows business owners to select the language in which their inspection will be performed.
DCA will inevitably face another major challenge later this year. As the city's minimum wage incrementally rises for approximately 18,000 workers in keeping with de Blasio's Living Wage executive order, Salas said the agency would help educate workers and businesses about new wages. The specifics of this effort, however, have yet to be determined. According to an agency spokesperson, DCA "is currently strategizing" about the scale of its education efforts and whether it will, in fact, help with minimum wage outreach.
The most recent point of uncertainty for the agency is the creation of the Office of Labor Standards and Policy, a subdivision of DCA mandated by a law passed by the City Council and signed by de Blasio last November. The office, slated to take over labor-facing DCA roles like worker education and enforcement of the commuter benefits and paid sick leave laws, has yet to begin operating and still has no director. The exact timeline for the office's setup and whether it will take a different approach than DCA has in the past remain unclear.
"I'm hoping that maybe within the next four weeks or so we'll be able to have more of a structure around the office," Salas said at the June 29 interview. "We obviously are doing a lot of the work already that we have on our plate. I would love to see us up and running fully within the next couple of months."