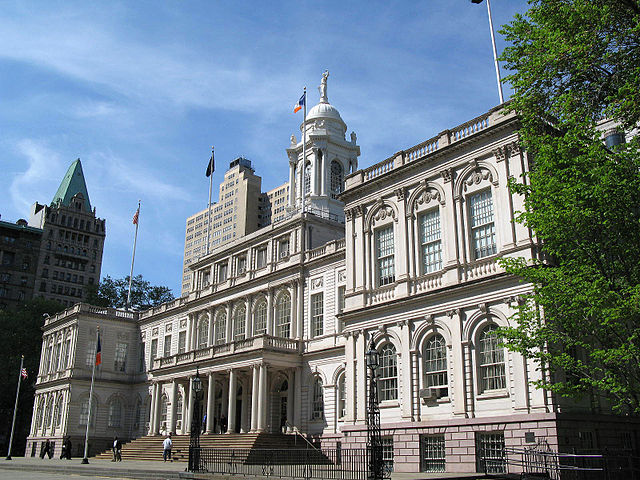 New York City Hall
---
What to watch for this week in New York politics:
This week will see continued focus on race, policing, community-police relations, crime, NYPD reform, and related national conversations. Mayor Bill de Blasio and NYPD Commissioner Bill Bratton will hold a press conference on "citywide crime" on Monday at 11:30 a.m. at NYPD headquarters. They are likely to discuss some or all of the aforementioned topics as well as to review this year's city crime statistics through June. They are also likely to discuss the killing of Delrawn Small by an off-duty police officer in Brooklyn last week.
First, on Monday morning at 7:15 a.m., Mayor de Blasio and his wife, Chirlane McCray, will appear on CNN's New Day to discuss police-community relations and recent events in Dallas, Minnesota, and Baton Rouge.
This week we're watching for the latest campaign finance filings by New York City 2017 electorial campaigns with the city Campaign Finance Board. Campaigns can begin e-filing raise and spend information on Tuesday, the deadline to file is 11:59 p.m. Friday.
There are several hearings at the City Council this week, along with a full Council Stated Meeting on Thursday, where new bills will be introduced and others voted through the Council to the Mayor for his signature. Details on Council hearings below.
There's all that and more - like Council Speaker Melissa Mark-Viverito giving a speech at The Association for a Better New York - happening this week, with a variety events to be aware of - see our day-by-day rundown below.
***Do you have events or topics for us to include in an upcoming Week Ahead in New York Politics?
e-mail Gotham Gazette editor Ben Max: This email address is being protected from spambots. You need JavaScript enabled to view it.***
The run of the week in detail:
Monday
At 8:15 a.m. in Manhattan, the New York City Bar will host a breakfast with Maria T. Vullo, Superintendent of the New York Department of Financial Services. Vullo was confirmed by the New York State Senate as Superintendent on June 15.
At the City Council on Monday: At 11 a.m., the Subcommittee on Landmarks, Public Siting and Maritime Uses will meet regarding several land use applications.
On Monday at noon, City Council Speaker Melissa Mark-Viverito will appear on BK Live, on BRIC TV.
On Monday at 2:45 p.m., Lieutenant Governor Kathy Hochul will review expansion plans and highlights Governor Cuomo's commitment to the craft brewery industry during a tour of Brooklyn Brewery. At 4:45 p.m., Hochul will promote the state's commitment to the arts during a tour of the Whitney Museum.
At 5:30 p.m. Monday in Queens, Borough President Melinda Katz and members of the Queens Borough Board and Cabinet will meet to discuss current planning initiatives and priorities for the Borough. These include flood resiliency efforts, Mandatory Inclusionary Housing (MIH), and City Planning Studies in Long Island City and Flushing West to promote affordable housing, economic opportunity, and supporting infrastructure and services.
At 7 p.m., Brooklyn Borough President Eric Adams, members of the faith community, and local Brooklyn residents will gather at Grand Army Plaza for a candlelight vigil honoring recent victims of violence across the nation.
Also at 7 p.m. Monday, in Western Bedford-Stuyvesant, the 79th Precinct's Community Affairs unit will host a forum at 585 Dekalb Avenue, where the precinct community council meets once a month, at which top officers will discuss the Neighborhood Policing program with residents and provide details of how it is being implemented. [See Gotham Gazette's recent overview of the program and report from the 79th Precinct here.]
Tuesday
At the City Council on Tuesday:
At 9:30 a.m., the Subcommittee on Zoning and Franchises will meet to discuss zoning and land use applications.
At 10 a.m., the Committee on Women's' Issues will meet regarding a proposed bill "requiring lactation rooms in certain locations providing services to the public."
Also at 10 a.m., the Committee on Parks and Recreation will meet to discuss the renaming of several thoroughfares and public places.
At 11 a.m., the Committee on Land Use will meet regarding a resolution to designate the Riegelmann Boardwalk in Coney Island as a scenic landmark.
At 9:30 a.m. Tuesday, Governor Andrew Cuomo will make an announcement at Niagra Falls.
At 10 a.m. Tuesday, the Department of Consumer Affairs will host a training series at its Manhattan office "to help employers understand their responsibilities under NYC's Paid Sick Leave Law" as well as the Commuter Benefits Law.
At 10:30 a.m. "Tuesday, Mayor de Blasio and the Mayor's Fund to Advance NYC will join leadership and players from the U.S. Soccer Foundation, NYC Football Club and adidas to host an event to kick off a new soccer initiative." Later, at 12:30 p.m., "the Mayor will deliver remarks at the Municipal Forum of New York Luncheon."
Beginning Tuesday, and through Friday, campaigns for the 2017 New York City election cycle must file their latest fundraising and spending information with the city Campaign Finance Board. See #FilingDay on Twitter via the @NYCCFB feed.
On Tuesday at 1 p.m. at City Hall, City "Council Member Jumaane D. Williams, Deputy Leader, and Council Member Daneek Miller, Chair of the Committee on Civil Service & Labor, will hold a press conference to rally support for a package of bills that will reform commuter van practices in the City...they will be joined by commuter van drivers across the City."
At 6 p.m. Tuesday in Brooklyn, State Senator Jesse Hamilton and several other elected state and city officials will join with local residents and police in a Peace and Unity Walk, starting at 127 Utica Ave and ending at Lincoln Terrace Park. Comptroller Scott Stringer is among those who will speak.
Wednesday
At 8 a.m., The Association for a Better New York will host a breakfast featuring City Council Speaker Melissa Mark-Viverito, where she will discuss the upcoming federal elections and more.
At 10:30 a.m. Wednesday at the CUNY Graduate School of Journalism, New York Secretary of State Rossana Rosado will make an announcement regarding a new statewide naturalization initiative.
At 6 p.m. Wednesday, the Manhattan Chamber of Commerce will present "Making it to the Top: NYC Women and Their Road to Success." Jessica Walker, President of the Chamber, will participate in a panel discussion along with Lysa Scully, General Manager of LaGuardia Airport, The Port Authority of NY & NJ; Victoria Bailey, Executive Director, Theatre Development Fund; Cristyne Nicholas, CEO, Nicholas & Lence Communications; moderated by Christine Modafferi, Retail Market Manager, TD Bank.
At 6:30 p.m. Wednesday at Pier A Harbor House, City and State will host "Still Serving," an award ceremony honoring ten of New York's veterans who are still serving the community. The event will feature a keynote address by Loree Sutton, Commissioner at city's Department of Veterans Affairs.
At 6:45 p.m., the Manhattan Institute will host a Young Leaders Circle Forum on urban policy and crime featuring NYPD Commissioner Bill Bratton.
Thursday
At 9:30 a.m. Thursday at Borough Hall in Staten Island, Borough President James Oddo and the New York Harbor VA Medical Center will host a public Veterans Resource Fair. "At the fair, there will be educational opportunities, information on services and a small job fair. Veterans will be able to speak to representatives from the VA hospital, VA Regional Office, VA National Cemetery, Mayor's Office of Veterans Affairs, NYS Office of Veterans Affairs, Vet Center, United War Veterans Council, WorkForce1 and the College of Staten Island."
At the City Council on Thursday:
At 10 a.m., the Committee on Finance will meet to approve "the new designation and changes in the designation of certain organizations to receive funding in the Expense Budget."
At 1:30 p.m., the City Council will hold a Stated Meeting. This will be prefaced, as usual, by a press conference led by Council Speaker Melissa Mark-Viverito.
At 1 p.m. Thursday at the Paul H. Nitze School of Advanced International Studies in Washington, D.C., the American Enterprise Institute, Results for America, and the Washington Monthly will host a roundtable discussion on "lessons learned from the anti-poverty experiments of the Bloomberg administration through the development of the Center for Economic Opportunity, and the potential for these experiments to inform federal anti-poverty strategies." Featured speakers will include Linda Gibbs, former New York City Deputy Mayor of Health and Human Services, and Robert Doar, former Commissioner of New York City's Human Resources Administration.
At 6 p.m. Thursday at City Hall, the New York City Council's Legislative Division will be launching its inaugural two-day conference, "Local Legislative Drafting Summit: The Art of Lawmaking in Cities Nationwide." Attendees will have the opportunity to share local bill-drafting best practices, collaborate in addressing challenges faced by local government drafters, and develop relationships with other participating local governments. Panelists for the conference include Randall G. Bluth from the New York State Legislative Bill Drafting Commission; Charlotte Brookins-Hudson, former General Counsel to the D.C. Council; Glenn Martin of JustLeadershipUSA; Rashida Richardson of the NYCLU; Anthony Crowell of New York Law School; Richard Briffault of Columbia Law School; and leaders in the legislative and law fields from Los Angeles, Boston, and other major cities. The conference continues all day Friday and through Saturday morning.
At 6 p.m. Thursday in Manhattan, the Mayor's Community Affairs Unit, Rentlogic, and Civic Hall will present "#HackHousing," an evening of panels and presentations on how to "level the playing field" between landlords and renters in the city. The panelists will "discuss strategies on how to collaborate our efforts, pack more of a collective punch, and stand up for the millions of New Yorkers who are being threatened with displacement."
Friday and the weekend
Friday is the next New York City Campaign Finance Board filing deadline. See #FilingDay on Twitter via the @NYCCFB feed. New York City 2017 campaigns may file electronically beginning Tuesday, July 12 and have until 11:59 PM on Friday July 15 to submit disclosures to the CFB. Interested parties can access to the campaign finance summary pages for an overview, and go line-by-line in the CFB's searchable online database.
***
Have events or topics for us to include in an upcoming Week Ahead in New York Politics? E-mail Gotham Gazette executive editor Ben Max any time: This email address is being protected from spambots. You need JavaScript enabled to view it. (please use "For Week Ahead" as email subject).
***
by Amanda Sherwin and Ben Max
@GothamGazette