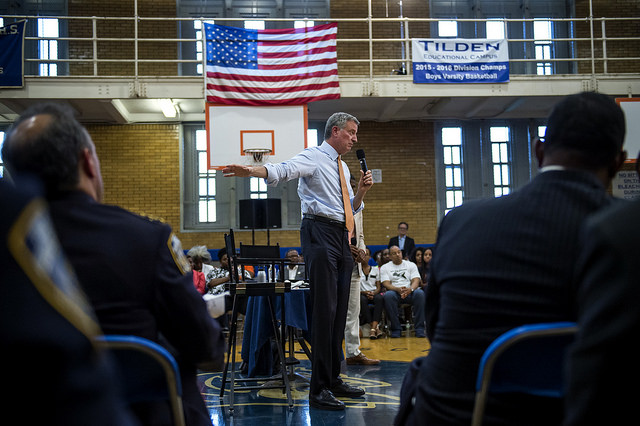 Mayor Bill de Blasio (photo: Ed Reed, Mayor's Office)
---
Despite not believing in "unilateral disarmament," Mayor Bill de Blasio decided to disarm without any sign of a political ceasefire. In doing so, the mayor not only contradicted himself, but gave implicit acknowledgement to problems with the most troubling aspect of his tenure: the establishment of a political nonprofit that took in major donations from entities with business before the city.
Giving the go-ahead to his allies to shut down The Campaign for One New York, which is under federal investigation, and its offshoot, United for Affordable NYC, de Blasio decided a few months ago to put his big extra-governmental weapons away. Amid a flurry of controversy, he said their work was done. Yet, just last week, de Blasio again said those advocacy groups were necessary in the face of a "wealthy" opposition that has already spent at least $11 million against him and his agenda and explained that his side alone should not be expected to put its swords down.
But de Blasio did, essentially eschewing for 2016 the organized outside help he saw as essential in 2014 and 2015. This, while he continues to be attacked by the city's police union; charter school supporters; Gov. Andrew Cuomo, a fellow Democrat; state Senate Republicans; political consultant Bradley Tusk, who ran Michael Bloomberg's third mayoral campaign; and others.
Throughout a sustained barrage of criticism over The Campaign for One New York, the mayor has unequivocally maintained that he and his team did everything ethically and legally, that no government favors were promised or exchanged for donations; he and his allies have called criticism of his actions unfair. Asked at least twice by reporters since trouble really started boiling up if The Campaign for One New York's formation was a mistake, de Blasio has quickly said "no" and launched into a defense.
Going forward, the mayor has promised to continue to push his equity-building agenda, giving, by his logic, no reason to believe that he will not continue to see pushback from the forces of "a status quo...backed up by a lot of money and power."
If, as the mayor has said, the political nonprofits were essential in accomplishing things like state funding for universal pre-kindergarten and City Council passage of parts of his affordable housing plan; necessary in the face of big-money opposition to his change agenda; and above board ethically, then why shut them down? If a political nonprofit outside of government was needed to help accomplish his goals in 2014 and 2015, then why not in 2016 and beyond?
When asked, de Blasio explained publicly that the groups accomplished their missions. While the reality is that The Campaign for One New York helped build a critical mass for pre-K, de Blasio's crowning achievement thus far, the organization also became a major distraction as allegations of pay-to-play increased and news broke that federal authorities were investigating whether government favors were offered or provided in exchange for money. The group took in more than $4 million, in large part from unions, real estate developers, and others with city business who are far more limited in what they can give to de Blasio's electoral campaign account.
The decision to announce the shutdown of the Campaign for One New York early this year was at least in part due to the related headaches and bad public relations, something the mayor has not publicly acknowledged and that is surely a source of frustration for him and others involved. For several months, it has dominated many question-and-answer sessions the mayor has held with the press, events that have become less frequent. De Blasio has regularly decried selective prosecution and persecution against him - largely the result, he says, of those who do not want to see progressive change. He's repeatedly pointed out that his groups voluntarily disclosed their donors, providing a "road map" for inquiry, whereas other similar groups in the past have not.
"[W]e're trying to make changes that will help everyday people, not reinforce the power of powerful interests, not continue the status quo, but break the status quo," de Blasio said on WNYC's The Brian Lehrer Show at the end of April. "And therefore, we use legal and appropriate means to make big changes, which is exactly what we did to achieve pre-K for all, to achieve a new affordable housing plan."
De Blasio has more to his agenda than those two items, of course, however significant they may be. And even with regard to pre-K and affordable housing, there is more state and federal funding to secure, additional legislation to pass. If everything was above board, why disband? If your opponents are all but certain to attack more, why disarm?
Months after the decision to disarm, de Blasio said again last week that he wants to get all the big private money out of politics, but until that happens, he asked, "Are we only going to allow one side of the equation to be on the playing field?"
Asked for comment about the apparent contradictions in de Blasio's explanations, a mayoral spokesperson said by email, "Campaign for One New York existed for specific issue campaigns that were successful and are now over."
De Blasio's allies say that the Campaign for One New York was never intended to exist into his 2017 re-election year, when it would clearly raise legal questions. But, central to de Blasio's defense of the organization is that it was an issue advocacy group promoting an agenda, not him as an official or a candidate. In a recent determination, the city's Campaign Finance Board did rule that to be the case, but in an advisory opinion looking ahead, the CFB said that there were significant concerns raised by the organization's fundraising and that if it were to overlap with de Blasio's 2017 re-election campaign, it would be subject to fund-raise and spend limits of the city's public-matching program.
"The Campaign for One New York was formed to advocate for New York City's progressive policy agenda," said Dan Levitan, a spokesperson for the group, after the CFB ruling. "It never engaged in any election campaign activity for any candidate and shut down more than a year and a half before next year's election." He expressed pleasure with the CFB not finding any violations.
For his part, the mayor and his allies continue to call The Campaign for One New York essential while dismissing criticisms of it, but also not expressing any public dismay that it is no longer around.
"[W]e are using the tools the law allows," de Blasio said in April on WNYC, "but somehow that is criticized when it wasn't criticized in the case of other people using it."