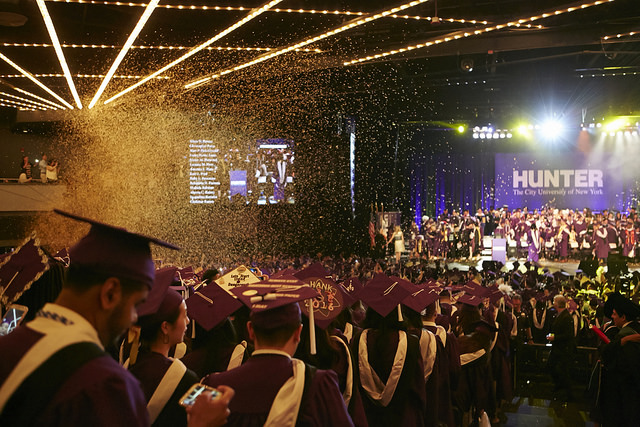 (photo via Hunter College)
---
Members of the New York City Council want the City University of New York (CUNY) to return to providing a virtually tuition-free college education to local students, but major issues stand in the way.
For years, students, teachers, elected officials and education activists have led an on-and-off crusade to reduce tuition at CUNY and reinvest in higher education. CUNY was free for qualifying city students from its inception in 1847 until 1976, when a city fiscal crisis led to change. Recently, these efforts were reignited through a City Council bill that would establish a task force to propose ways to eliminate tuition at CUNY.
Brooklyn Council Member Inez Barron, chair of the Council's higher education committee, introduced the bill in April. The committee held a preliminary hearing on the bill on June 16, during which Barron said, "College should be a right that is part and parcel of a commitment we make to provide free public education in grades K to 12."
It is a "commitment" that was, in fact, extended to college for the majority of CUNY's history - more than 150 years where the city university system has been an engine of opportunity for city residents, especially those from modest socioeconomic backgrounds.
Since 1976 and the institution of tuition at all CUNY colleges, CUNY has depended on a constantly shifting balance of state, city, and tuition funds to operate. Over the years, however, the state's contribution has steadily decreased, tipping more of the financial burden to its 270,000 degree-seeking students in the form of rising tuition costs.
According to the city's Independent Budget Office, state aid accounted for 68% of total CUNY funding in 1989, but only 48% by 2006. Conversely, tuition funding rose by 20% during the same time period. Today, tuition revenue accounts for 45% of CUNY's funding - a far cry from the university's original namesake, the "Free Academy." As of Fall 2016, full-time annual tuition rates are set at $6,330 for CUNY's 11 senior colleges and $4,800 at it's seven community colleges.
Elected officials have made intermittent attempts to reverse the trend of state disinvestment, including a City Council resolution calling for increased state funding and a state Maintenance of Effort (MOE) bill to baseline CUNY financial support. These calls have gone largely unanswered, as CUNY's resources have become more and more strained. Gov. Andrew Cuomo attempted to shift more CUNY costs to the city in his last budget proposal, but was unsuccessful in the final agreement with legislative leaders. The governor is insisting on reductions in administrative costs, which he says are out of control.
Now, Council Member Barron has introduced the ambitious notion of eliminating tuition entirely. Her task force bill has a total of ten sponsors in the 51-member Council. If passed and signed by Mayor Bill de Blasio, a 13-member group would take on the challenge.
Financially, free tuition at CUNY may not be entirely out of reach.
According to University Executive Budget Director Catherine Abata, who also testified at the initial Council hearing on the bill, tuition revenue made up $1.5 billion of CUNY's $3.2 billion 2015-2016 budget. Abata said that excluding state and federal financial aid (which includes loans), students end up paying $784 million of that amount in out-of-pocket tuition expenses. This includes both undergraduate and graduate students. Eliminating tuition at CUNY would essentially necessitate at least $784 million in additional annual CUNY funding from other sources.
At the hearing, City Council Member Jumaane Williams expressed frustration with the reluctance of city and state budget-makers to provide this amount, saying, "look at our budget, and it shows you what's important. Basically for the city and the state and the federal government, $800 million is not important enough for everybody to have free access to education."
One reason for the government's reluctance could be that despite CUNY's lack of funding, affordability is still a major point of pride for the university. In fact, 66% of full-time CUNY undergraduate students already attend tuition-free, thanks to a combination of financial aid and scholarships, according to CUNY's website. Some policy experts warn that a free-tuition policy would only benefit the remaining percentage of students that don't receive any aid; presumably, students who are able to afford their tuition out-of-pocket, though there are several other factors that could disqualify students from financial aid.
Since President Obama first announced "America's College Promise" early last year, the free higher-education movement has gained momentum on a national scale. Vermont Senator Bernie Sanders made free public college one of his campaign pledges when he was seeking the Democratic presidential nomination, outlining on his website how the initiative could be funded by imposing a tax on Wall Street speculation.
Sanders even compared his plan to CUNY's historic period of free tuition. It is unlikely, however, that a tax like Sanders eyed will be used to fund CUNY tuition in New York City, given de Blasio's failure at securing Albany passage of a tax on upper income earners to fund his universal pre-kindergarten program. Eliminating tuition would likely require a budget commitment from the city and the state. To fund pre-K in New York City and around the state, Gov. Cuomo and legislators allocated the money without raising taxes. To fund the MTA capital plan, both the city and the state recently agreed to kick in billions of dollars more than previously planned.
According to Kevin Stump, Northeast Director of Young Invincibles, a national nonprofit focused on empowering young people, "This last [legislative] session made very clear that Governor Cuomo isn't really interested in maintaining his support and investing in CUNY. He doesn't really see it as an anti-poverty tool and an economic opportunity tool, like some of us do."
In early January, Cuomo outlined his Executive Budget plan, which showed that the city was to now cover 30% of CUNY's senior college operating costs, totalling $485 million, with the rationale that city representatives currently make up 30% of the CUNY Board of Trustees (he also said that the city is doing much better financially than it was decades ago). After significant public pushback, Cuomo stated in March that he would work with the city to find "efficiencies" in the budget that would account for the $485 million and "not cost CUNY a penny."
The state has provided the majority of CUNY's senior college funding since 1976. On March 16, Director of State Operations Jim Malatras essentially withdrew Cuomo's budget proposal, saying in a statement that "the $1.6 billion in aid [CUNY] receives has not changed, and will not change under this budget." Nevertheless, Cuomo's shake-up, which many viewed as an effort to hurt de Blasio, left doubts about the state's future commitment to CUNY.
While several hundred million dollars per year is not that significant a portion of the state ($147 billion) or city ($82 billion) budget, the task force established by Barron's bill, should it pass, would face a number of obstacles in restoring free tuition. Any path returning to a tuition-free CUNY would likely be a long one.
History
Since its establishment as the "Free Academy" in 1847, CUNY has strived to achieve its mission of providing all New Yorkers with accessible and affordable higher education. For almost 130 years, CUNY provided full-time students with qualifying academic merit the opportunity to study tuition-free at any of its institutions. At first, CUNY mainly consisted of four-year colleges like Hunter, Baruch, and City College. In 1957, CUNY established its first community college in the Bronx, and continued expanding from there.
Historically, economically disadvantaged New Yorkers, especially those from communities of color, have viewed a degree from CUNY as a tool toward advancement. A college education means career options, higher lifetime wages, and opportunity for socioeconomic mobility. CUNY is home to thousands of first-generation college students; 42% of the student population according to a 2014 CUNY survey.
After multiple student uprisings calling for increased diversity in the CUNY system in 1969, CUNY officially instated an Open Admissions policy, meaning that any student who graduated from a New York City public high school could matriculate for free. This led to a dramatic rise in attendance, coupled with a shift in student demographics that made it more closely reflect New York City's diverse population. This period was short-lived, however, as seven years later, in 1976, the city experienced a major fiscal crisis. After being bailed out by the state, CUNY instituted tuition for all students for the first time, and enrollment slowed.
Tuition Today
According to the Independent Budget Office, "While tuition charges at private institutions generally rise each year, tuition levels at CUNY have followed a less regular pattern, with a sharp increase often followed by several years with no change." In 2011, the New York State Legislature attempted to remedy this situation by passing a bill known as SUNY 2020, which authorized both SUNY (the larger statewide public college system) and CUNY schools to increase tuition by $300 annually for the next five years, while the state guaranteed not to reduce funding for baseline operating costs from the prior fiscal year.
The bill was not renewed during this past state legislative session, expiring July 1 and resulting in a welcome one-year tuition freeze at CUNY, but leaving ambiguity in the state's future level of financial commitment. Currently, annual tuition for those enrolled for Fall of 2016 will remain at $4,800 for CUNY community colleges and $6,330 at senior colleges, according to the university's website. These costs can be mitigated by financial aid.
On top of tuition, there are a variety of additional expenses incurred by students when pursuing a college degree, of course.
Students who attend college full-time, or even part-time, must account for food, books, transportation, and housing. According to the CUNY website, these additional expenses amount to $9,592 for CUNY in-state students living at home, and $20,295 for in-state students not living at home. Federal Pell grants and the State's Tuition Assistance Program (TAP) provide aid to needy students, but they often fall short of covering every necessary expense. Currently, the maximum annual TAP award is $5,165, and maximum Pell Grant is $5,915. While Pell Grants can be used to cover additional expenses, TAP exclusively covers tuition, and is heavily guarded by a host of recipient qualifications.
According to Amanda Roman, a political science major at College of Staten Island, a CUNY school, and member of the New York Public Interest Research Group (NYPIRG), "Programs like TAP don't cover full college costs for many, and have not kept up with the needs of all student types, beyond just the straight-from-high-school-to-college full-time student."
Stump explained further, "While TAP does need serious dollar investment, it also needs some serious structural changes to it as well." For many categories of students, TAP aid is virtually out of reach. This includes undocumented students, which legislation known as the DREAM Act is aimed at reversing - it would allow financial aid to all students. Gov. Cuomo has expressed support for the DREAM Act and the Democrat-controlled Assembly has passed it multiple times, but the Republican-controlled Senate has not consented.
TAP is also withheld from most part-time students, who made up over 100,000 of CUNY enrollment as of Fall 2015. Part-time students must first attend school full-time for one year before being TAP eligible; an often implausible requirement, considering many part-time students are older and returning to school while working.
Significantly, TAP has not kept up with the annual increases in tuition laid out by SUNY 2020, creating what stakeholders refer to as the "TAP gap": the difference between the tuition rate and the maximum amount of TAP aid provided to the neediest students. CUNY has been required to cover this gap, draining its resources even further.
According to Stump, "Last year alone, CUNY lost nearly $50 million because they had to fill the TAP gap," using money that was supposed to be allocated for new programs and academic initiatives at the university.
Along with state and federal grants, students rely on loans and income to cover education expenses. In the Fall of 2014, CUNY reported that 30% of students in both senior and community colleges work more than 20 hours a week to afford school.
James Hoff, professor of English at the Borough of Manhattan Community College, testified at the June 16 hearing that many of his students "struggle to find time to study for my classes because they are forced to work 30 to 40 hours a week at minimum wage jobs just to pay for tuition and books. I have watched students take on huge course loads that they were unable to handle because they could not afford to pay for additional semesters."
As the national student debt bill approaches the trillions, CUNY boasts that 80% of its students graduate debt-free. Council Member Barron, however, argues that the assertion of graduating debt-free "raises the question of what percentage of students never graduate, but nonetheless leave CUNY burdened by student loans." According to an IBO report, "slightly less than a third of students don't enroll in the fall after their first year." Many students either drop out, or at the least, take much longer than expected to complete their degree.
In the Fall of 2015, CUNY reported that students were taking out $202 million in federal student loans. A proposal to eliminate tuition would need to carefully consider how this amount should be factored in.
The CUNY tuition task force bill
At the City Council's full-body Stated Meeting in April, Barron first introduced her bill, Intro 1138, which is summarized on the Council website as such: "This bill would establish a task force to analyze ways to eliminate tuition at the City University of New York and to develop proposals on the role the City can play in working toward that goal. The task force would consist of 13 members, including representatives of the Public Advocate, the Office of Management and Budget and the Speaker, as well as CUNY students, faculty and advocates."
The Committee on Higher Education's first hearing on the bill, on June 16, included a full public seating area and testimony by four different panels of individuals representing a variety of groups and perspectives. According to the bill, the task force's main objective would be to produce a detailed report presenting "an analysis of existing and potential sources of revenue that could replace tuition at the City University of New York, obstacles preventing the elimination of tuition, recommendations for how such obstacles should be addressed and steps the city should take to address them."
The report would be due six months after the creation of the task force, yet speakers and Council members at the hearing wasted no time delving into the many implications that eliminating tuition would have for the future of CUNY. At the hearing, the most hesitant stakeholder appeared to be the university itself. James Murphy, Senior Enrollment Dean at CUNY, presented a host of potential issues that could result from the sudden elimination of what is currently the university's largest source of funding.
What 'Free Tuition' Actually Means
As Murphy said at the hearing, "affordable to different people means different things." Before the city or state can even consider investing in free tuition, the task force would need to nail down exactly which students qualify, what expenses would be covered, and how long tuition assistance would be provided, just to name a few concerns.
Many wonder which CUNY colleges, community or senior, should benefit from the initiative. There are advantages and drawbacks to both.
According to a report prepared by the city's Independent Budget Office, the cost of eliminating tuition at CUNY's seven community colleges would be $138-232 million per year, depending on factors like limiting the number of years covered or exclusively covering full-time students. Importantly, the IBO estimates assume that a tuition-free program would be structured around existing federal and state aid, which comprises the majority of tuition revenue for CUNY's community colleges and is currently awarded to about 60% of students.
Another concern is the low readiness and completion rate of students at CUNY's community colleges.
According to the IBO report, "Two years after initial enrollment, just 4 percent of students have earned their associate's degrees." With such a trend, moving to free tuition may come with a semester limit for students and new efforts at increasing graduation rates.
Lisa Richmond, Executive Director of Graduate NYC, a citywide college readiness and completion initiative, says that college readiness is already "a huge goal of the public school system in New York." According to Graduate NYC's 2016 report, 47% of public high school graduates are college-ready, with the goal of increasing this number to 67% by 2020.
Richmond explains that "The college completion equation is certainly about preparedness, affordability, but it's also about persistence and completion in other ways. In being able to get the classes that you need, and get the advisement to understand what courses you need." It is these resources that may continue to hinder students on the path towards graduation, despite the possibility of free tuition.
At the Council hearing, Murphy, the CUNY enrollment dean, lamented the lack of resources, like academic counselors, for even the current student population.
CUNY's Accelerated Studies in Associate Programs (ASAP) is an oft-cited model of success in speeding up graduation rates, and is the closest initiative to a free-tuition policy that the university currently employs. According to a CUNY internal analysis of the program, the average three-year graduation rate for community college students enrolled in ASAP is 53%, compared to 25% of CUNY students not in ASAP and a 16% national average.
What sets ASAP apart, they found, is the level of resources provided to students beyond free tuition. These resources include subsidized Metrocards, textbooks, and intensive mentoring and career services.
According to the IBO report, "an increase in graduation rates resulting from a more modest program that only offered free tuition could also produce fiscal benefits," however, the report "emphasizes the importance of the full range of services offered" by ASAP that exceed a tuition-free policy.
While solely funding CUNY's community colleges has a more feasible price tag and would benefit the neediest students, concerns mounted at the Council hearing over what Harold Stolper, Senior Economist at the Community Service Society of New York, called "under-matching." According to Stolper, "even for low-income students who are sufficiently prepared to succeed at four-year colleges, the perception that this path is unaffordable reduces the incentives to apply to more selective colleges."
If tuition were eliminated only at community colleges, the city may experience highly unbalanced enrollment rates between CUNY's two- and four-year colleges. Stolper claimed that this trend already exists on a smaller scale: between 2008 and 2014, he said, "enrollment growth among the lowest income aid applicants was relatively slow at four-year colleges where price rose the fastest, while enrollment grew much faster for these students at two-year colleges where price growth was minimal."
Including CUNY's 11 senior colleges in the deal, which, according to Abata's estimates, would increase the bill to around $784 million per year, poses its own challenges concerning enrollment rates.
City Council Member Vanessa Gibson, of the Bronx, said at the hearing, "Many of our colleges are literally bursting at the seams because of enrollment." Even with its cost, CUNY remains the most affordable choice for higher education within the city; many students receive partial tuition assistance, and 66% of full-time undergraduate students attend CUNY tuition free. Should CUNY eliminate tuition for all students, however, people from all across the country may also flock to CUNY schools to take advantage of the chance to live and study for free in New York City.
Murphy explained, "A lot of these individuals come from communities in more affluent parts of the country, where they have one counselor for every 50 students [the rate is much more lopsided in New York City], and they just get their admissions applications out sooner." Many are concerned that these students would effectively shut out local New York high school graduates, for whom the policy is primarily meant to benefit in the first place.
Ideally, a program that eliminates tuition would benefit as many students, in and out-of-state, as possible, without overextending resources from CUNY and the different levels of government contributing funding. This balance may very well be impossible to achieve.
More presently, CUNY has been facing existential crises.
From professors who have gone years without a raise to reports of leaky hallways and rodent-infested classrooms, CUNY has more than its fair share of challenges, in part due to government disinvestment. As the New York Times reported in a May, state government funding for CUNY has dropped by 17% over the last eight years, resulting in budget cuts to many CUNY programs that affect students, professors, and staff. According to the Times, the number of adjunct faculty members, who are paid less and receive almost no contractual benefits, has risen by 23% since 2009.
Stephen Brier, a Professor at the CUNY Graduate Center and co-author of Austerity Blues: Fighting for the Soul of Public Higher Education, cautioned that "those endemic problems cannot and will not be solved by instituting a free tuition policy alone, however desirable that policy would be."
According to Murphy, "Over the past eight years, CUNY enrollment has increased by 30,000 students, and we do not currently have the faculty or space to significantly increase enrollment any further." A free-tuition policy may very well necessitate additional infrastructure, staff, and student resources.
Michael Fabricant, First Vice President of the Professional Staff Congress, the union that represents over 25,000 CUNY employees, recommended that the task force add the goal of examining "existing and potential sources of revenue that could provide resources beyond replacing tuition, given the university's serious and long-term underfunding."
Is Free Tuition the Right Battle?
Some argue that free-tuition initiatives won't benefit students in need, and ultimately gloss over foundational changes that need to be addressed first in the higher education system. Preston Cooper, policy analyst at the Manhattan Institute, said, "I really don't think asking whether we should change who pays for college is the right question to be asking. It's how much we should be paying for college in the first place."
According to Cooper, federal aid and tuition are caught in "a vicious cycle" in which increases in maximum federal aid encourage administrators to raise tuition, inflating the cost of attendance. Cooper worries this cycle could be further inflamed by the establishment of free tuition, with CUNY "tuition" increased to try and capture additional aid from the state and city. The dynamic could prove costly and even prohibitive were a free-tuition program to be introduced that excluded out-of-state students.
Another issue inherent in free tuition is what Max Eden, senior fellow at the Manhattan Institute, calls the "substitution effect," where middle-class students, who may be able to afford college elsewhere, decide to go to CUNY to take advantage of free tuition, edging out lower-income students who view CUNY as their only option. This could decrease socioeconomic and other measures of diversity at CUNY - as of Fall 2014, 39% of undergraduate students had a household income of less than $20,000. Experts stress that it is this specific group, and not the entire population, that a targeted financial investment must be made towards.
According to Eden, "The government is involved in higher education to help solve a problem: that it might not be provided for kids with limited economic backgrounds. If, and when, it goes above and beyond that, to trying to subsidize everybody, that will not only have financial costs. It will have a cost to the reason the government got into it in the first place."
Next Steps
Moving ahead, it is to-be-seen whether the bill to create the tuition-free CUNY task force gains momentum, is passed by the Council and signed by the mayor. If it is enacted and the task force is formed and makes its recommendations, it would essentially then cease to exist, once again leaving the free-tuition discussion with state lawmakers and CUNY administrators.
For now, CUNY has pressing needs. Fabricant, of the CUNY employee union, says, "We need to remember that public higher education is a public good that the State of New York needs to recommit substantial economic resources to."