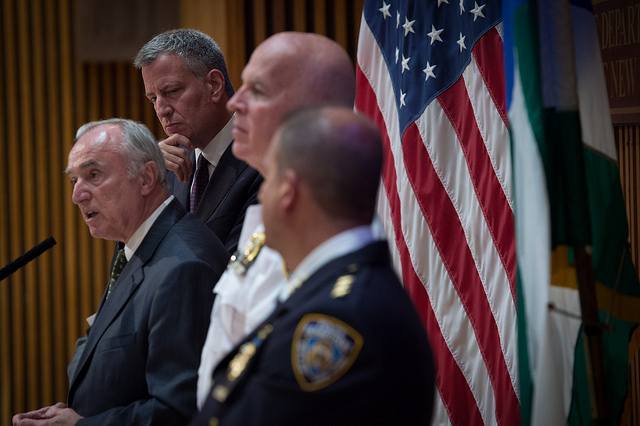 De Blasio, Bratton, O'Neill, & Gomez (photo: Michael Appleton/Mayor's Office)
---
Bill Bratton, commissioner of the New York Police Department, announced his retirement from the NYPD on Tuesday, ushering in new leadership at the department he has shaped over the course of several decades. At a City Hall press conference, Mayor Bill de Blasio announced that Bratton will be replaced by Chief of Department James O'Neill, who has been a long-time member of the NYPD, rising through its ranks to now fill the top uniformed position under Bratton.
Bratton, who first served as NYPD commissioner under former Mayor Rudolph Giuliani between 1994 and 1996, is leaving his post next month for the private sector. The outgoing commissioner is joining Teneo Holdings a "global CEO advisory firm," where, according to a news release from the company, he will be "Senior Managing Director and Executive Chairman of Teneo Risk," "a new division of the firm focused on advising clients on key risk identification, prevention and response."
Although Bratton had indicated at earlier occasions that he would step down at or before the end of the mayor's current term in office, Tuesday's announcement just halfway through the third year of that term came as somewhat of a surprise. His retirement comes as crime in New York City is at or near record lows and amid continued calls for reform of NYPD practices and a federal investigation into corruption at upper levels of the department, although the investigation does not appear to directly involve Bratton. United States Attorney Preet Bharara, whose office has recently brought charges against high-ranking NYPD officials, issued a statement congratulating Bratton on his public service.
At the news conference, de Blasio called Bratton an "extraordinary partner" and said his "contributions to our city and to law enforcement not only here, but across the nation are literally inestimable and extraordinary."
He added, "I know this is a job for a strong man. I know it is a job for someone with a real vision – a vision of change and reform and progress. Like I always said about Bill Bratton, who never has ever rested on his laurels to the benefit of all is, [Chief of Department] Jimmy O'Neill burns with a passion to keep making things betters, to keep finding the next innovation. And he is going to be an extraordinary leader for this Department."
While it is a "bittersweet moment" for him, Bratton said, he explained he is leaving the NYPD in capable hands. "I worked very hard for these last couple of years with the Mayor...recognizing there would be a point in time, whether it's now or a year from now, that I would leave," he said. "Policing is never done, it's always unfinished business, and the issues that we're facing now are going to require years to resolve. There's no quick fixes to them. So, recognizing that, better to leave at this juncture where there is a team that is capable, that is energetic, that is creative, and that wants to engage, and you've met them, you know them, you've been exposed to them over these last 30 months."
Bratton's career as a police officer began in 1970 in the Boston Police Department. In 1990, he became chief of the New York City Transit Police and two years later he returned to Boston to serve as commissioner. Between 2002 and 2009, he led the Los Angeles Police Department. Bratton worked in the private sector before returning to lead the NYPD upon de Blasio's election.
Often viewed as the face of modern policing in the country, Bratton is also a polarizing figure. In his first tenure as NYPD commissioner, under Giuliani, he introduced the CompStat system to statistically track and target crime, and was widely credited with a drastic drop in the city's crime rate. His policies have also defined by the aggressive policing of low-level offenses, a system known as Broken Windows policing, which targets low-level crime and disorder with the belief that such enforcement prevents more serious crime. The practice has earned Bratton criticism from police reform advocates who say Broken Windows disproportionately and unfairly targets communities of color.
Under de Blasio, Bratton has overseen a number of changes at the police department, including to how Broken Windows is practiced - both Bratton and de Blasio have described it as an evolving system. Bratton has explained that because of the significant crime drops ushered in by Broken Windows policing, the NYPD has recently been able to reduce the number of "negative interactions" with civilians. He has called it the "peace dividend" and also compared the need for aggressive policing to treating cancer with chemotherapy.
Bratton has also implemented new use of force guidelines, reduced enforcement of low-level marijuana arrests, and instituted training in implicit bias and de-escalation tactics. He also spearheaded a neighborhood policing program, crafted by Chief O'Neill, designed to repair and build police-community relationships. Crime has been consistently dropping and has been at historic lows while police encounters with civilians have also decreased significantly.
The Speaker of the City Council, Melissa Mark-Viverito, in a statement on Tuesday commended Bratton for "working hard to keep crime low and our city safe." She added, "The City Council looks forward to partnering with incoming Commissioner O'Neill as we work to improve police community-relations, reform practices and strive to create a more fair and just city." In the last two-and-a-half years, Bratton has had a complex and at times combative relationship with the City Council, which has pushed numerous police and criminal justice reforms under Mark-Viverito's leadership. There has often been eventual compromise between Bratton and Mark-Viverito, though, which Bratton mentioned during his remarks on Tuesday.
The City Council also pushed for the hire of 1,300 additional police officers, which de Blasio originally opposed but eventually agreed to and Bratton appreciated. There have also been major funding increases for the NYPD under Bratton, de Blasio, and the Council.
On several occasions, though, Bratton took issue with reforms being sought by the Council, often in harshly worded public statements.
Bronx City Council Member Vanessa Gibson, chair of the Council's public safety committee, acknowledged the challenges of the Council-Bratton relationship on Tuesday and said she expects O'Neill to bring a more conciliatory approach to the top cop position. "I believe that he is someone that we can actually reach and talk to on an everyday basis," Gibson told reporters shortly after the news conference. Gibson said that Bratton was not always easy to talk with and often oppositional to the Council's efforts. She has known O'Neill for years, she said, as he has risen through the NYPD ranks, including as a local commander in the Bronx.
"It was frustrating because I think when you look at a comparison of what we've done at the Council in terms of budget or hiring of more officers," Gibson said about the Council's dealings with Bratton, adding that Bratton "refused to understand why legislation was proposed...because after our administration and after our term, we want the good practices of the department to remain in local law for future commissioners and future Council members."
With O'Neill, she said, "I think he understands the role that we play and the fact that, you know, we introduce legislation for a reason."
While O'Neill has been working directly under Bratton and they go back decades, the new commissioner will bring his own personality and leadership to the position. He does not come into it with the fame that Bratton did when de Blasio hired him for this run, and he is not known for the type of blunt public comments that Bratton often makes.
"Even though O'Neill comes out of the Bratton administration," said Dr. Christina Greer, political science professor at Fordham University, "I still think it's an opportunity to establish his own style of governance and establish his own relationships with communities of color." Like Bratton, O'Neill is white. It was also announced Tuesday that First Deputy Commissioner Benjamin Tucker, who is black, will stay on under O'Neill, and that Housing Bureau Chief Carlos Gomez, who is Cuban, will replace O'Neill as chief of department.
"I love being a cop, I love this uniform, I love what it stands for and want to help make this a better city," O'Neill said in his remarks on Tuesday, during which he was at times emotional as he ascended to his dream job. O'Neill also recognized the need for continued reform at the NYPD.
Bratton said on Tuesday that on July 8 he told de Blasio of his intention to retire from the NYPD and pursue a public sector job. The Mayor's Office told Gotham Gazette that no external search for a replacement was conducted and that only O'Neill and Tucker were considered, with O'Neill getting the nod.
In a statement, the New York Civil Liberties Union praised certain policies under Bratton but criticized his commitment to Broken Windows policing, calling it an "outmoded policing model of the 1990s" and "not effective." The NYCLU wants O'Neill to embrace de-escalation tactics and community-based policing. "We need a new era of policing in New York," the organization contends.