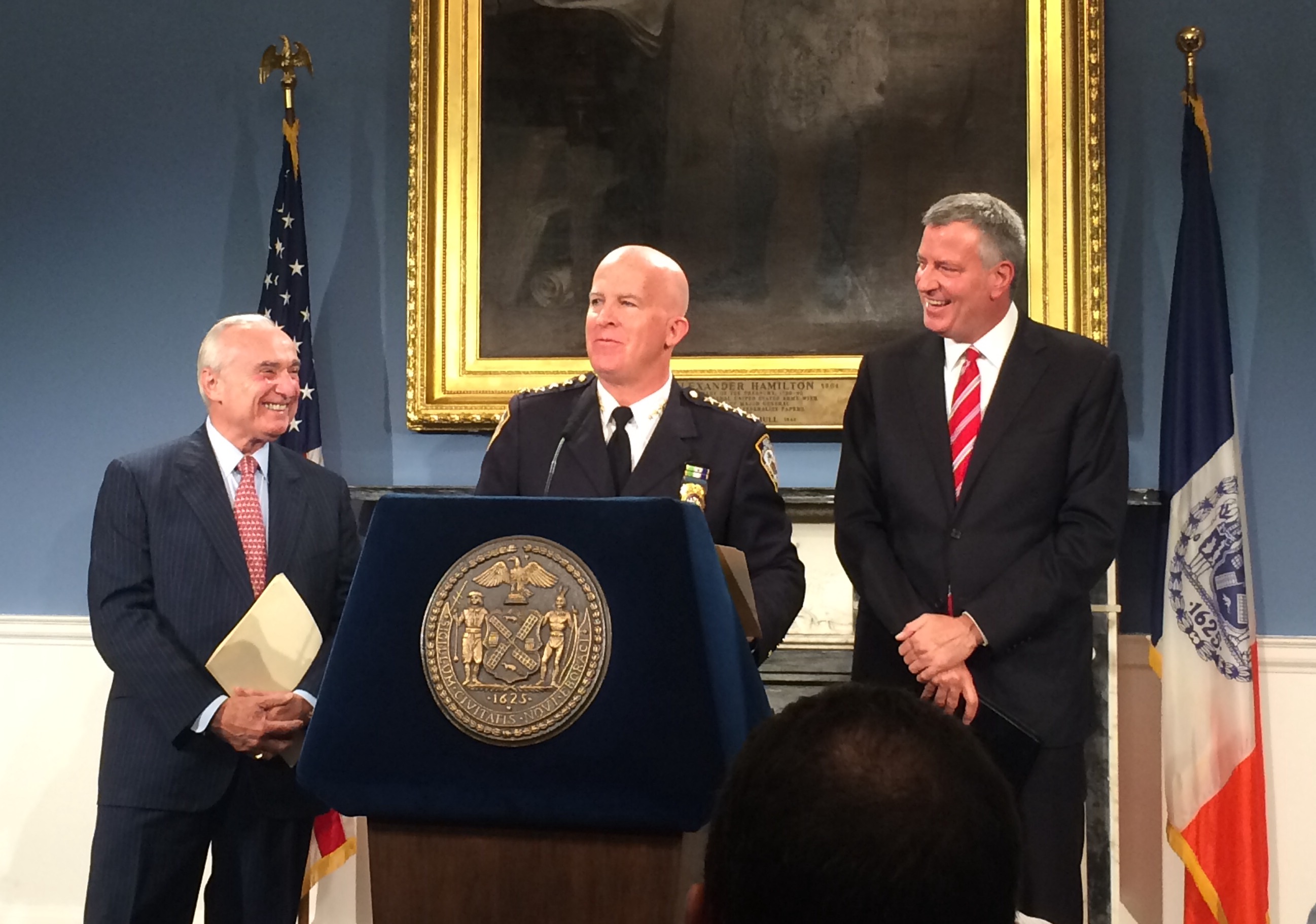 Bratton, O'Neill, de Blasio at City Hall (photo: Ben Max)
---
Mayor Bill de Blasio didn't want Bill Bratton to leave his post as NYPD Commissioner, but his departure comes with a thick silver lining. And just because de Blasio would rather Bratton stay than go doesn't mean the mayor doesn't see it.
As de Blasio stood smiling and shaking the hand of soon-to-be Commissioner Jimmy O'Neill on Tuesday at City Hall, the mayor may have exhaled an inaudible sigh of relief. While we don't yet know what kind of Commissioner O'Neill will be, we do know that he won't - he can't - be Bill Bratton, for better and for worse. The big question, to which de Blasio surely thinks the answer is "yes," is whether O'Neill can be most of the better and almost none of the worse.
With crime at historic lows and the mayor nearing his re-election campaign, O'Neill gives de Blasio his best opportunity at crime-stopping continuity, but also the chance to more clearly highlight an evolving NYPD, one focused on neighborhood policing, and a commissioner who is less likely to say something politically damaging.
The shift from Bratton to O'Neill may make the mayor at least a little nervous and certainly makes him more vulnerable to criticism over any uptick in crime, but O'Neill is set to take the helm at a period of relative calm and there is already little pause for those who see de Blasio as soft on public order.
Bratton is a tenacious, smart, authoritative living legend with immense credibility in key circles. He is also blunt, headstrong, not always politically correct, never deferential, and distrusted by many. Bratton is the embodiment of controversial policing tactics. Over the past two-and-a-half years - since de Blasio took office and Bratton resumed command of the NYPD - crime has continued to drop and Bratton has defended the mayor to many de Blasio critics. On several occasions, though, Bratton has said things de Blasio wishes he hadn't.
Simply put, O'Neill is not as respected or as reviled as Bratton; he's not as tough a defender nor as likely an offender.
Does O'Neill have the leadership chops necessary to take over the department, ensure that crime continues to drop while furthering reform efforts, and navigate all of the tricky politics of the top cop job in the country's biggest city? We'll soon see. Even someone with three decades of experience in the NYPD may have a hard time adjusting to being the boss.
Currently Chief of Department, the NYPD's top uniformed role, O'Neill oversees 34,000 cops, has been implementing the new neighborhood policing model, and offered de Blasio the safest choice. The mayor had no reason to rock the boat with even a search outside the NYPD ranks. What de Blasio needs now - at the NYPD and all around - is stability. Facing law enforcement investigations into his campaign fundraising and his administration (including an NYPD corruption probe that has already resulted in arrests), de Blasio needs a steady drumbeat of good news, with no new fires to put out.
The continuity O'Neill offers was perhaps the number one reason the mayor chose him, but he also gives de Blasio a chance at turning a corner that Bratton may not have been able to navigate. And, not coincidentally, it's a corner where de Blasio's base lives. Polls show that the mayor's strongest support comes from African-Americans, while black New Yorkers see Bratton far less favorably than white New Yorkers see him.
Though Bratton provided de Blasio with a vicious attack dog to bark back at those wrongly saying the city was reverting to the "bad old days," he is not known for staying out the fray or for toeing the company line. O'Neill appears likely to do both.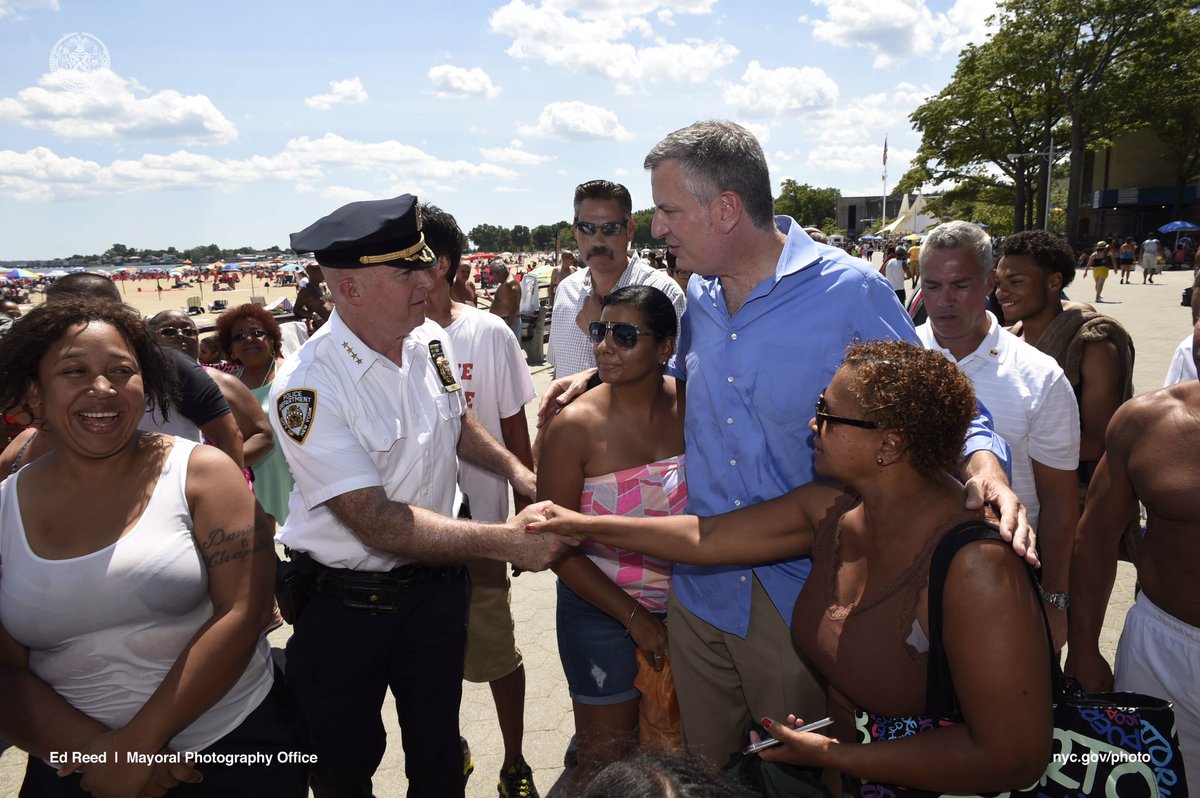 Where Bratton is outspoken and has little concern with political correctness, O'Neill seems content saying as few words as possible and may possess a better understanding of the diverse constituencies of the city and how to talk with and about them. Where Bratton comes with a great deal of authority, but is well-known for his strict adherence to tough enforcement on quality-of-life issues, O'Neill commands respect from many for his body of work, but is not widely known by the public and has the opportunity to define his philosophy and establish relationships.
De Blasio and O'Neill walked a parade in Queens and a boardwalk in the Bronx on Sunday, the mayor beaming and introducing his friendly new commissioner to New Yorkers.
As City Council Member Ritchie Torres put it to Politico NY, de Blasio may be welcoming of "a normal police commissioner who will have a lower profile."
During his current run as commissioner, Bratton has made comments about the City Council, Black Lives Matter protesters, the city Department of Investigations, rappers, and others that have made de Blasio cringe, and contort himself to respond without directly contradicting or criticizing the commissioner. During an interview with ABC-7 that aired on Sunday, Bratton said the sergeants union president, Ed Mullins, had "something bipolar going on." It's hard to imagine O'Neill saying something similar about anyone unless he was reading directly from a medical diagnosis.
At a recent press conference, before Bratton announced his NYPD retirement and O'Neill was named commissioner, O'Neill said that he loves the "apolitical" nature of his job. "I love what I do," he said, "I love being a cop."
O'Neill's initial attempts at outreach will be telling. While the city will not be moving away from Broken Windows policing, its continued evolution under O'Neill will impact how de Blasio is viewed - by supporters and critics of Bratton alike.
Still, police reformers reacted skeptically to O'Neill as the next commissioner, noting that he has learned at the knee of Bratton, whom many blame for over-policing, especially in communities of color. Some who know O'Neill well, like City Council Member Vanessa Gibson, who worked closely with O'Neill when he was a precinct commander in the Bronx, call him a listener and believe the new commissioner will bring a more collaborative spirit to the role.
As de Blasio heads toward re-election in 2017, he needs crime to continue to drop and a police commissioner who stays on message. O'Neill gives him a good shot at both.
inset photo: Ed Reed/Mayor's Office