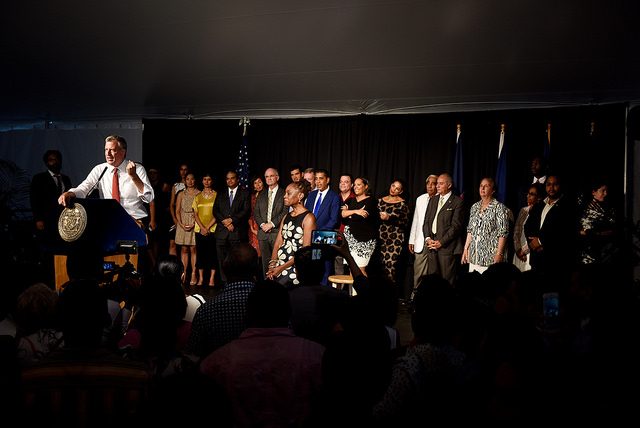 Mayor de Blasio at Gracie Mansion (photo: Demetrius Freeman, Mayor's Office)
---
After several months of what the mayor himself called "relentless negative headlines" around investigations into his administration and campaign fundraising, Bill de Blasio is facing low public approval ratings, strong doubts about whether he deserves to be re-elected in 2017, and a resurrection mission ahead of him.
For the Democrat more than halfway through his third year in office, the upcoming task comes down to solidifying his base and convincing more New Yorkers that he is a good Mayor - good enough that he deserves a second term. Out of his hands is the necessity that the various state and federal investigations end without charges against him or any of his top associates.
The extent to which de Blasio must improve his standing is not completely clear at this point, though in general New Yorkers do not appear to have great confidence in the mayor. Of New York City voters polled by Quinnipiac at the end of July, 51 percent said that they disapprove of the way de Blasio is handling his job; 42 percent approve. Fifty percent said they do not believe he deserves to be re-elected; 42 percent said he does. In this very Democratic city, however, those numbers are significantly better among only Democrats.
Additionally, how New Yorkers view their sitting Mayor in the middle of his term is not necessarily indicative of how they'll treat him at the ballot box come election day and against actual opponents. How vulnerable de Blasio is and the best path to unseat him are both matters of widely varying opinion. There's little doubt, though, that the mayor is not where he wants to be in terms of public perception.
"We fully expect the atmosphere next year to be different than the current one," said Phil Walzak, senior advisor to de Blasio, by email. "And when the people compare this mayor's record of achievement for millions of everyday New Yorkers to those of others who want this office, it won't be much of a contest."
Walzak, de Blasio, and others close to the mayor tout successes on pre-kindergarten, crime, and affordable housing. They point to the fact that the most recent poll shows similar numbers to the prior one, which was released in May, and say that after the hits the mayor took from all those negative headlines and news associated with the investigations, things seem to have stabilized. There is work to do, they know, especially around communicating the mayor's accomplishments to his constituents.
It is evident that many New Yorkers don't see de Blasio as the tough, expert chief executive that they want in a Mayor. This mayor has struggled with projecting the image of a municipal leader focused on city problems, in control and on top of things, despite the fact that many indicators show the city doing well.
"The good news is that he still has a lot of time to turn around the narrative about his administration and his time as mayor," said Evan Thies, a Democratic political consultant who runs Brooklyn Strategies. "The Fall will be a critical time."
One issue, Thies notes, is that "It was never clear New Yorkers thought de Blasio was going to be the manager that New York needs, there was always just the potential for that."
Developments throughout de Blasio's tenure, basic political rules, and conversations with experts make clear the mayor's work ahead. De Blasio must ensure that his accomplishments are clear to New Yorkers, connect directly with as many constituents as possible, shore up and showcase allies, and project a stronger sense of executive command. He must also avoid repeating some of the missteps that have hurt him to date, like taking on political fights he can't win, such as those with charter school supporters and Uber.
A big new policy announcement, either late this year or early next year, could also garner de Blasio the type of positive attention that could help right the ship in terms of public perception and approval.
If news comes that de Blasio and his associates are cleared of wrongdoing in the multiple investigations involving pay-to-play allegations and possibly illegal campaign money maneuvers, potential opponents could be dissuaded from running against the mayor.
The first thing de Blasio must do, Thies believes, is solidify his base, namely black and Hispanic New Yorkers who continue to support the mayor by healthy margins. "I would suggest that he immerse himself in public events and forums, largely in that base, talking about issues important to that base," Thies said.
For de Blasio to regain momentum, dominate the media with positive stories, and convince New Yorkers that he's the leader they want, Thies argues, the mayor should get out more. "He should be doing a half a dozen public events a day. He should be everywhere all the time, always looking like he's in charge," Thies said. "He should be visiting a construction site making sure it's safe, he's cutting a ribbon on a park, he's at a community board hearing on local schools, he's hosting a forum on senior issues - constantly out there."
De Blasio appeared to dabble recently in this type of approach, though it doesn't seem to be one he embraces. Two weeks ago, the mayor seemed to make a spontaneous decision to endeavor a five-borough tour on National Night Out Against Crime, the annual evening of community events put on by the police department. A few days later, the mayor walked a parade in Queens and a beach boardwalk in the Bronx with his next police commissioner, Jimmy O'Neill. Last week, he held another community town hall, this one in the Bronx. He's not doing six daily events as Thies suggests, but it's also not yet the Fall - and the Democratic mayoral primary, for which de Blasio may not have a serious opponent, is 13 months away.
"Our mission is not to get lost in the noise or the day-to-day churn," said Walzak, de Blasio's advisor. Extolling the mayor's "compelling record and vision," Walzak said that "Mayor de Blasio is at his best when he is out across New York City talking directly with the people."
People close to de Blasio expect more appearances at community events, where there are naturally occurring crowds and de Blasio can make a positive showing. There will also be a variety of milestones to celebrate as certain de Blasio programs hit benchmarks or anniversaries. One example is likely to be the two-year anniversary of the city's popular municipal identification card, IDNYC, which will occur in January.
"Along with regular neighborhood town halls, visits to houses of worship and radio appearances," Walzak said, "community hits" like the appearances with O'Neill "will continue, and so will [the mayor's] direct interaction and communication with the people of New York."
Unsurprisingly, Democratic and Republican analysts have different assessments of the path ahead for the mayor and his re-election chances. On a recent segment of NY1's Inside City Hall, Republican consultant Kevin Fullington said that de Blasio is "in a very difficult position" with the administration "trying to change the narrative, but they can't as long as all these investigations are going on."
"Until these investigations are wrapped up, he can't advance his policy agenda and create a compelling reason for him to be reelected," Fullington said, citing a "General growing sense of incompetence and dysfunction in his administration."
Alexis Grenell, a Democratic strategist who partners with Thies, indicated on NY1 that short of indictments, the corruption stories are not really that influential with voters. "Voters typically judge mayors on the economy and well-being of the city, as well as their sense of safety. By those empirical measures," she said, "the mayor has done actually a very good job," but "a very poor job of communicating to those constituencies his record of success there."
Indeed, crime is at all time lows, but 49 percent of those polled by Quinnipiac said they dissaprove of how de Blasio is handling crime, with 42 percent saying they approve.
Perhaps two data sets in the most recent poll indicate de Blasio's struggle most clearly. Among only Democrats, de Blasio received high marks for whether he "understands the problems of people like you or not" with 64 percent saying "yes" and 31 percent saying "no." Yet, also among only Democrats, on "Would you say that Bill de Blasio has strong leadership qualities or not?" the numbers dropped to 49 percent "yes" and 44 percent "no."
"I am very, very proud of what we have done," de Blasio said in April on WNYC's The Brian Lehrer Show after listing some of his top accomplishments on pre-K, crime, policing reform, and affordable housing. "The bottom-line is keep doing it. And, of course it is important to get out to the people, spread the message in every neighborhood. I have been doing town hall meetings and I will be doing a lot more."
The question will be how New Yorkers feel the impact of de Blasio's city government in their daily lives and what they credit, or blame, the mayor for. The Quinnipiac poll shows that 46 percent of voters were either very or somewhat satisfied "with the way things are going in New York City today," while 53 percent were either somewhat or very dissatisfied.
"It's not too late to adjust New Yorkers' opinions," said Thies, "[de Blasio]'s done the most important thing, which is he's achieved some real broad positive changes in New York at a time when New York is arguably in the best shape it's ever been. So now he's just gotta convince folks that it was really him that got us to where we are and project that image that he can run the city and run it well and that we should trust him to keep doing it."