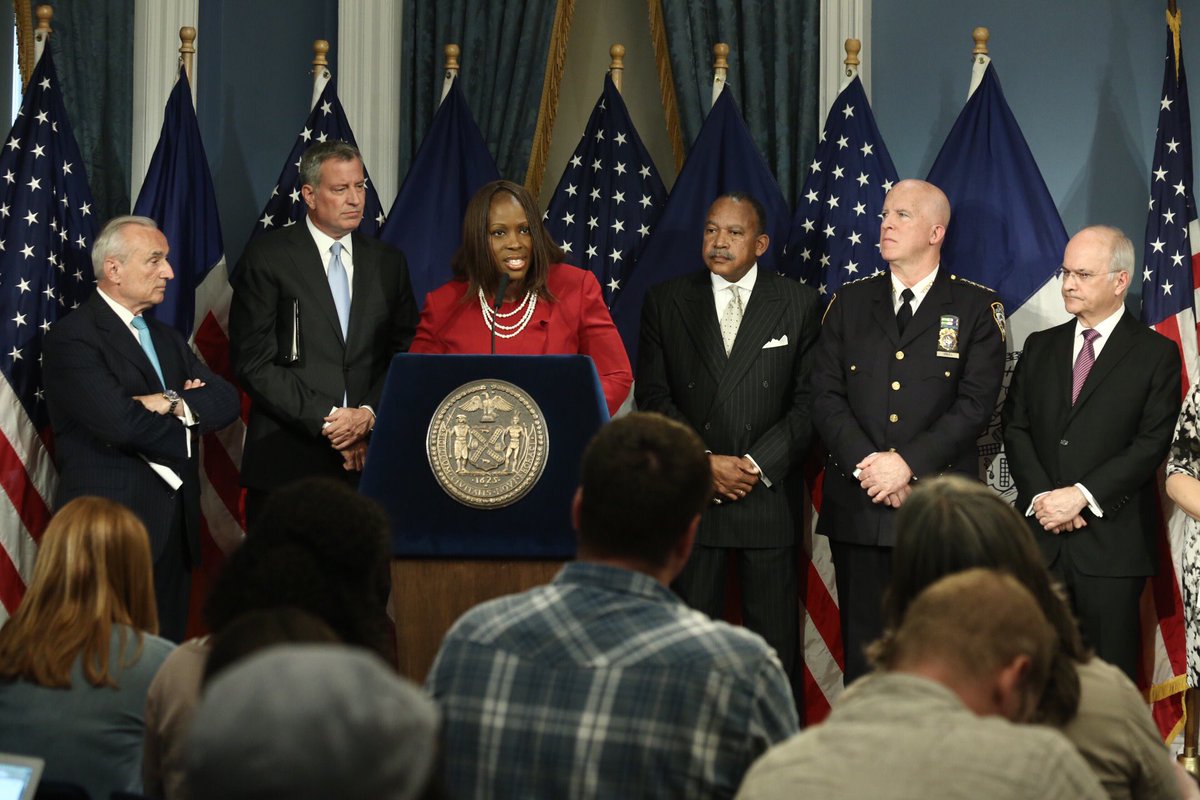 Council Member Gibson (photo: William Alatriste)
---
In trying to avoid a traffic ticket more than two years ago, City Council Member Vanessa Gibson might have jumped out of the frying pan and into the fire.
The New York Daily News reported on Monday that Gibson, chair of the Council's public safety committee, used her influence to get out of trouble when she was pulled over in March 2014 for talking on her cell phone while driving. The details emerged from an unrelated lawsuit filed last week by an NYPD officer, Michele Hernandez, against the city for $75 million.
According to the report, when Gibson was pulled over, she called Hernandez's superiors, who then asked Hernandez to void the ticket. Gibson has not denied that the incident took place although she told the Daily News that she could not recollect it. If she had received the ticket, she could have been subject to a $200 fine or received five points on her license. Instead, she now faces the prospect of an official investigation and possibly greater monetary penalties.
"In trying to avoid a penalty, she's made a minor infraction that much worse, that has now called into question her integrity," said Dick Dadey, executive director of Citizens Union, a government watchdog group.
At a Tuesday news conference, in response to reporters' questions, Council Speaker Melissa Mark-Viverito said that the incident involving Gibson would have to be probed by the relevant authorities. "There are agencies and entities that exist to deal with those issues," she said, citing the Conflicts of Interest Board when pressed for examples.
Mark-Viverito also stressed that Gibson would not face any immediate action. "Vanessa has been a great public safety chair, and she has the respect of a lot, of all her colleagues in that role she has played in that position," Mark-Viverito said. "Overall, she's a respected Council member. So any kind of concerns about having used her position, that has to be taken up by the proper entities in order to look at that. But right now, she's a respected individual and a respected member of this body, and she will continue to serve as public safety chair at the moment."
Gibson was not made available to comment for this article. The next steps around the incident are not immediately clear, but it is unlikely to go away without an investigation.
The city's Conflicts of Interest Board usually begins a probe based on a complaint but in the absence of one it can initiate an investigation based on other sources such as news reports, and it has done so in the past.
"We can't confirm or deny whether we did, are doing or might do anything on this matter because the law requires confidentiality," said Wayne Hawley, COIB deputy executive director and general counsel, in a phone interview with Gotham Gazette. Hawley did not comment at all on the Gibson incident and would not say how the possible violation would be characterized or the potential penalties.
The city's Conflicts of Interest Law prohibits a public servant from using his or her position "to obtain any financial gain, contract, license, privilege or other private or personal advantage, direct or indirect, for the public servant or any person or firm associated with the public servant." A violation can lead to a civil fine of up to $25,000. Typically, instances which are probed by the COIB lead to negotiated settlements if a violation is found. This holds true for City Council members as well. However, COIB cannot enforce a fine on a City Council member even if it finds a violation. It can inform the Speaker's office and the Council, which would then refer the case to the Council's Committee on Standards and Ethics.
Council Member Alan Maisel, chair of Standards and Ethics, said that the committee could "conceivably" look into the Gibson incident, "but it has to be presented to me."
"The Speaker's office or the Council would have to refer it," he said. "I'm assuming that it's being investigated as we speak."
On a report by the standards and ethics committee, the City Council can impose a number of sanctions against an erring member including removal from the position of chair or membership of a committee, a reprimand, a censure, fine or expulsion. Any sanction would require a majority of the ethics committee and then a two-thirds vote of the full 51-member Council.
Maisel said this incident could be "the first potential case" to come before his committee since he took office in 2014, though the committee did examine a case involving Council Member Ruben Wills, who is under indictment, and decided not to proceed until the criminal case is through. "I haven't been very busy with this kind of issue," he said.
Note: Gotham Gazette is an independent publication of Citizens Union Foundation, sister organization of Citizens Union.