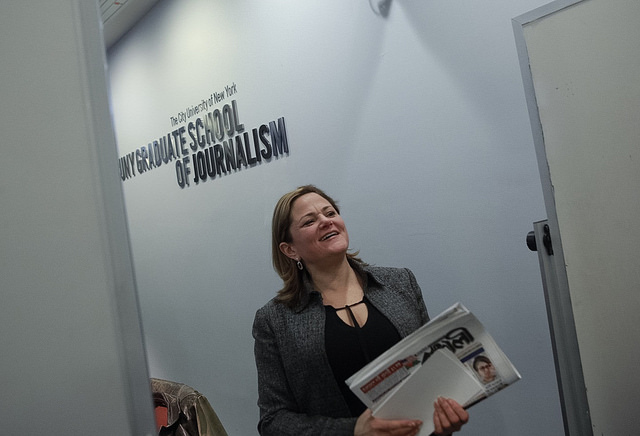 Speaker Melissa Mark-Viverito (photo: William Alatriste)
---
As the calendar hurtles toward 2017, one of the big New York City political questions is what the future holds for Melissa Mark-Viverito, the speaker of the City Council. Mark-Viverito will be term-limited out of office at the end of next year and while she has indicated that she may continue to be active in city politics, there is no clear next step for her, especially in terms of elected office.
Mark-Viverito, a Democrat, told Newsday in an interview last month, "I keep all my options open" - a similar answer to the many other times she has been asked about her future. In keeping her options open, Mark-Viverito has continued to raise money in her city campaign account. She has also continued to spend it, though not directly on a run for office. Over the most recent six-month filing period, January through June, Mark-Viverito raised more than $185,000 and spent nearly $40,000. Over the past two-and-a-half years, the speaker has raised nearly $800,000 and spent about $460,000.
She has not declared any intention to run for another office, like Manhattan Borough President, Public Advocate, or Mayor, all of which are held by Democratic incumbents all-but-certain to run for re-election in 2017.
For politicians to raise and spend money without a particular elected seat in mind is not unusual and does not violate campaign finance regulations, although it can matter if a candidate decides to eventually participate in the city's public matching funds program. Mark-Viverito will most likely not be participating since it's highly unlikely that she'll run for office in the city in 2017.
While she has been coy about any next job, speculation has been rife that Mark-Viverito could either run for Governor of Puerto Rico, where she was born and raised, or take a post in a possible Hillary Clinton administration. She may also return to labor organizing or run a not-for-profit. There has been some talk of her running for Congress. Mark-Viverito has answered repeated questions about her future with little detail, though with the presidential race heating up she has been traveling the country as a Clinton supporter, leading to increasing discussion of a federal post if the Democrat wins.
Campaign spokesperson Eric Koch declined to comment on which, if any, potential future election the speaker would participate in.
Still, Mark-Viverito has been actively raising money and using it for non-campaign related expenditures, including multiple trips around the country. Between January 12 and July 11, the last disclosure period, she spent $39,048. Much of that, nearly $24,000, went to fundraising consultants. Over the same period, she received $186,580 in campaign contributions. Her overall 2017 campaign account balance is $319,911 - after $779,996 received and $460,085 spent.
The speaker has two bundlers who raised funds for her campaign committee. The first, Joe Cayre, raised $19,800 from four donors, who all share the surname Escava, in November last year. The second bundler, Arthur Goldstein, a lawyer with Davidoff, Hutcher & Citron LLP, packaged 22 separate donations totaling $7,100, mostly between May and July 2015. When asked by phone why he raised money for Mark-Viverito even though she isn't running for a seat, Goldstein said, "I believe she's been a good speaker and apparently people we know thought so too."
Since 2014, Mark-Viverito has spent around $8,500 on flights and hotels to attend political events and rallies. She has gone on trips organized by the Latino Victory Fund, a super PAC that she co-chairs, to promote Latino candidates in elections across the country; she travelled to Arizona for the Netroots Nation conference in July of last year, which was her second trip there. She went to the Somos conference in Puerto Rico in November, and will probably do so again this year. She travelled to Puerto Rico with Governor Andrew Cuomo as well.
Mark-Viverito has also campaigned in four states -- New York, New Hampshire, Pennsylvania, and Florida -- for Clinton, the Democratic presidential nominee. In March, Mark-Viverito was an official surrogate for Clinton in the spin room outside the Miami debate, following which she travelled through Puerto Rican areas for two days. The speaker's campaign said all the trips were cleared with the city Conflicts of Interest Board.
While good government groups don't see anything wrong with politicians using their campaign funds liberally, they would like to see certain changes in the rules by which funds can be spent.
"To us the solution is the creation of what we call an office-holder account," said Susan Lerner, executive director of Common Cause New York. "There should be a mechanism to do the sort of things the speaker is doing with her campaign money. It's a perfectly appropriate thing for an elected official to do."
Lerner said that the separate account could help clearly demarcate which funds are spent on broader political activities and which ones are directly related to a candidate campaign. Cities such as Los Angeles and Oakland, California have such systems. "We would urge the City Council to look into setting those up," Lerner added.
Gene Russianoff from New York Public Interest Research Group agreed that Mark-Viverito's spending hasn't been inappropriate. But he said it would be better if any and all campaign money spending came later in the election cycle. "We would prefer that the spending start much later," he said. "There should be no spending the first three years of the campaign cycle."
If the speaker doesn't end up running in a city race, her campaign accounts must then abide by State Board of Elections regulations, which are much more permissive, rather than being audited by the New York City Campaign Finance Board. She would also have to decide what to do with those remaining funds. She could give money to other candidates or political committees. Mark-Viverito could also keep money around for a 2021 run for city-wide office.
"We advocate for a campaign fund to be closed within a reasonable time after an official leaves office or doesn't run again," Lerner said. "The money should either be returned to donors or donated to charity."