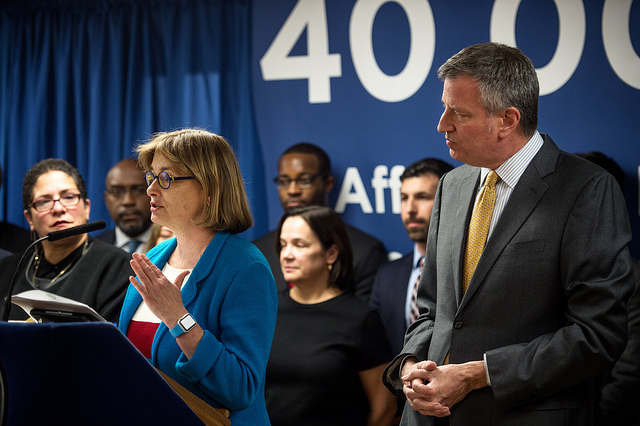 HPD Commissioner Been & Mayor de Blasio (photo: Demetrius Freeman, Mayor's Office)
---
Commissioner Vicki Been, head of the city's Department of Housing Preservation and Development (HPD), is planning to return to teaching at NYU Law School, Gotham Gazette has learned.
According to the school's course offerings, Been will be teaching a Spring semester property law course on Monday and Wednesday mornings, 8:50-10:40 a.m., beginning in January. According to an HPD spokesperson, Been is not leaving the administration. The spokesperson, Melissa Grace, said that Been had no comment on these plans and pointed out that many people in government also teach.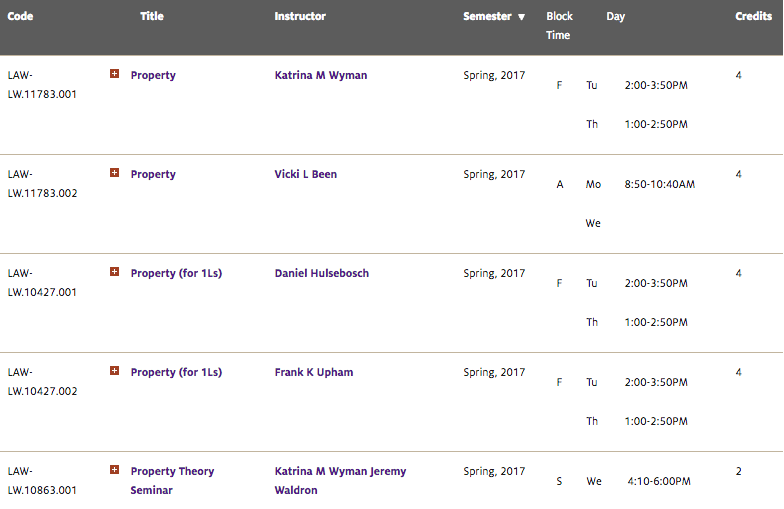 Been has been on academic leave from NYU School of Law and, according to Grace of HPD, the property course is one she has taught many times over a 25 year span. Grace did not comment in response to the point that government employees who teach courses usually do so at night, not during the typical workday, nor in response to the notion that there don't appear to be any other city agency commissioners or deputy mayors who teach courses.
A spokesperson for the mayor also declined to comment on the nature of Been's upcoming schedule, but did also confirm from City Hall that Been does not intend to leave the administration.
Appointed by Mayor Bill de Blasio to lead HPD in February of 2014, Been has been one of the chief architects of the mayor's affordable housing plan, a top de Blasio priority. Along with Deputy Mayor Alicia Glen and City Planning Chief Carl Weisbrod, Been has been spearheading the effort to build or preserve 200,000 units of affordable housing over 10 years. That plan is off to a solid start, with, according to the administration, "52,936 affordable homes financed" through fiscal year 2016, which ended June 30.
According to the press release announcing Been's hire in 2014, she was at that time "the Boxer Family Professor of Law at NYU School of Law," where she has been on leave since (Been also earned her J.D. from NYU Law School). At the time of her hire, she was also "the Director of NYU's Furman Center for Real Estate and Urban Policy" and "Affiliated Professor of Public Policy of the NYU Wagner Graduate School of Public Service."
As the mayor moves further toward completion of his third year in office, he has seen several top officials depart his administration, including de Blasio's counsel, Maya Wiley. NYPD Commissioner Bill Bratton announced his retirement earlier this summer and will depart mid-September. Additional prior departures have included the mayor's press secretary, other agency commissioners, and one deputy mayor.
While the mayor has had an up-and-down term and his administration and campaign fundraising practices are the sources of several law enforcement investigations, there is also normally upper-level staff turnover as an administration moves through a mayoral term. Neither de Blasio nor any of his staff or allies have been charged with a crime, and de Blasio has maintained that he and his associates have acted ethically and will be vindicated once the investigations are completed.
Been is a self-described policy wonk and widely praised by colleagues and other government officials, including City Council members. She has given no public indication of plans to leave the administration.
In a statement at the time of her hire Been said, "We're going to take a much more aggressive approach to protecting and building affordable apartments that responds to the crisis we're in. From apartments approaching the end of their subsidy to homes lost to Superstorm Sandy, we need faster and more innovative strategies that seize every opportunity to keep apartments affordable and accelerate the pace of bringing new ones online."