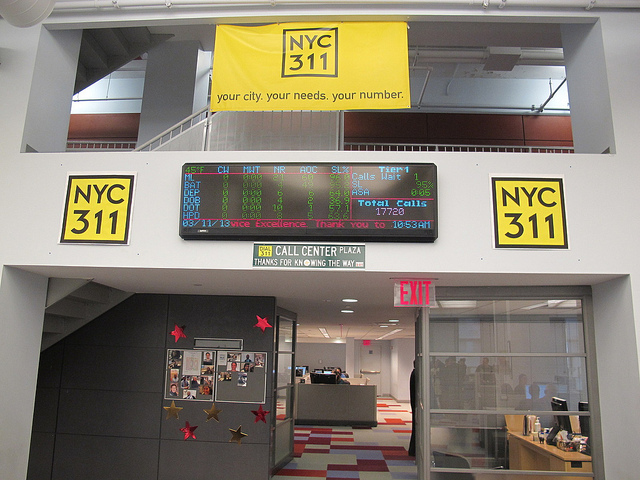 311 in 2013 (photo via the Mayor's Office on Flickr)
---
The vast LED board updated in real-time: 36,529 calls since midnight, it said for a late-afternoon moment one August day. Perched in a high-ceilinged room in Lower Manhattan, the board tallied work done and signified work to be done, with numbers jumping every few seconds as the New York City 311 call center buzzed with the steady hum of staff members speaking into headsets.
"Hello, and thank you for calling NYC 311."
"Did you have a question about bus schedules today?"
"One moment."
It was a relatively slow day for the nation's largest municipal contact center, Call Center Director Joe Morrisroe explained. And, at about 4 p.m. it was not "peak hours," which are generally around 11 a.m., Morrisroe said. At NYC 311, which serves as a "front door" to city government for New Yorkers, an average of 58,000 calls come in daily, comprised of anything from noise complaints to inquiries about city agencies to requests for new trees to be planted.
"In 2015 we handled over 20 million phone calls," Morrisroe said. "If you take all the other municipal contact centers in the U.S., they didn't total 20 million phone calls. And every major city has one."
In addition to being a national outlier by volume, NYC 311 is currently fulfilling unprecedented functions even within the city. While Mayor Michael Bloomberg frequently referred to 311 as a resource for New Yorkers to suggest improvements for their city, Mayor Bill de Blasio has added to that purpose, indicating that callers can - and should - seek information about new initiatives like the city's municipal identification program, IDNYC, minimum wage requirements, and more.
Since it was founded by the Bloomberg administration in 2003, 311's operation has expanded steadily with the addition of 311 Online in 2009; text message and social media support in 2011; and a mobile app that launched in 2013. In 2015, 311 fielded 13 million online requests and over one million requests through its app, a figure Morrisroe says is growing rapidly.
The agency, funded through the Department of Information Technology and Telecommunications, was allocated over $41 million in the new Fiscal Year 2017 adopted budget, which took effect July 1. NYC 311 staffs approximately 400 employees annually, which has remained constant for the past few years, according to the 2016 Preliminary Mayor's Management Report.
"Historically, New York City wasn't the first 311. When they first started in New York, they took cues from other cities," said Morrisroe, who has been the call center director since 2008. "But right now we're the benchmark, and as a matter of fact, other cities come to us."
According to Morrisroe, 311 fits into de Blasio's agenda of equity and financial mobility. In recent months, de Blasio has used press conferences to urge New Yorkers to call 311 for food stamps support, tenant concerns, and immigration services. De Blasio has repeatedly said New Yorkers should use 311 to find the nearest IDNYC center, reiterating this recommendation during an August 18 appearance on WNYC's The Brian Lehrer Show. So far, 311 has already received over 500,000 total requests for information about IDNYC, a relatively new initiative, according to Morrisroe.
The three most common causes that lead New Yorkers to call 311 are noise complaints, complaints about inadequate heating in buildings, and requests for bus and subway information. But call center employees must be knowledgeable about each of the city's agencies, and go through a 10-week training process at the start of employment.
"The customer doesn't need to know how to ask their question or who to ask about," Morrisroe said. "They just get to say, 'Here's what I need, can you help me?'"
When a customer first calls 311, they hear an automated message reminding them to hang up and dial 911 for emergencies. The automated message also lists whether alternate-side parking is in effect that day or the following day, which filters out a large share of callers, according to Morrisroe.
The average wait time to speak to a 311 responder is 14 seconds. In the call center, employees taking calls navigate two desktop computer monitors on which they record complaints, search for information on city agencies, and read results back to customers in real time. That afternoon, close to 100 employees monitored phones at the call center.
If callers have a complaint rather than a request for information, 311 operators will file it with the pertinent city agency and provide the customer with a tracking number. From there, the city agency is responsible for fixing the issue, and customers have the option of checking back with 311 on the progress of their complaint via phone, the 311 app, or the 311 website.
The agency also has a Twitter account, which responds to a constant flow of questions but does not file complaints. On one recent evening alone, the account directed a user to free city-funded sewing classes, listed steps to register a nonprofit, and fielded a complaint from a disgruntled library patron, who wrote, "just saw 3yr old boy pee n street cause rosedale library told him bathroom was broken then said it's 4staff only #smh."
"Sorry to hear this. You can file a complaint about a NYC branch library/employee online," 311 replied, along with a link to the appropriate complaint form.
This process is essentially non-stop. Complaints and requests flow into 311 24-hours-a-day, and the agency acts as a communication network between and among city agencies. Traffic is the heaviest on weekday mornings during the winter, when customers ask about travel conditions and government office closings, and on afternoons in the summer, when storm damage and heat concerns drive requests.
The number of employees in the call center reaches 400 during these peak hours and dwindles to about 20 late at night. The call center office also has a glassed-in manager's office, which can act as a center of communications for the city during a crisis—two white phones are affixed to the wall; one a direct line to the city's emergency management system, the other a direct line to the NYPD.
Although city crises are rare, Morrisroe said NYC 311 has played a crucial role during them. Throughout the duration of Hurricane Sandy, 311 employees slept in the call center on cots to provide overnight service. On the call center's busiest day, during a 2011 blizzard, employees from other city agencies came in as backup to help field nearly 300,000 calls that came into the center in one 24-hour period.
"If there's bad weather conditions and everything's closed, that does not apply to 311 employees," Morrisroe said. "We're always here, we're always open, and our employees are legendary for trudging through the snow if they need to in order to work."
Despite this streamlined system, miscommunications still occur. While 311 is well-equipped to handle day-to-day complaints, there appears to be a lack of clarity for New Yorkers about when an issue should be directed to 311 or directly to another agency. It has also become clear that city agencies don't take complaints or red flags and enter them into the 311 system.
Notably, City Council Speaker Melissa Mark-Viverito exemplified these issues in August when she tweeted a picture of a broken crosswalk sign to the NYC Department of Transportation and asked them to "take care of it." A few hours later, the DOT account responded that crews had been notified, and added, "For fastest response, pedestrian or traffic signal issues should always be reported immediately by calling 311."
Mark-Viverito responded with a tweet of incredulity, starting with "I'm sorry...whaaaat???" and told Gotham Gazette in a recent interview that the incident has made her consider a Council oversight hearing on how the city takes complaints. It is indeed a common refrain from city agencies on social media: call 311 with your issue.
While most agencies outside of NYC 311 do not have a mechanism for filing complaints or connecting customers to 311 directly, Morrisroe said 311 has an Agency Relations department that works to exchange information about trends and public awareness with other city agencies. Other departments do not, however, directly transfer complaints to 311—instead, those with complaints are usually instructed to call 311 directly.
This is an imperfect model, according to Noel Hidalgo, the executive director of BetaNYC, a civic technology movement. Following the Twitter exchange between Mark-Viverito and DOT, Hidalgo expressed frustration that Council members, community boards, and other agencies—like DOT—must refer customers to 311 to file complaints, rather than being able to quickly file the complaints themselves.
"How can we have a 21st century government when #govtech uses 20th century workflow?" Hidalgo tweeted, adding, "Let us not pave a cow path. Let us use service design & open source tech to build better."
Mark-Viverito, the City Council speaker, had a similar thought after her experience. "I think the other issue here was, and that's where we'll probably do a hearing, is: how are complaints being logged from different city agencies," Mark-Viverito told Gotham Gazette. "People use social media very aggressively these days. Other cities have been able to really incorporate that as a way of logging complaints. It seems like we may have some deficiencies in that."
Despite an occasional run-in and perhaps the need for a rethinking of the overall system, the city's ability to provide information and address complaints has been met with consistently high approval from customers - something likely to be touted at a Council hearing, if there is one. A 2015 customer satisfaction survey conducted by CFI Group, Inc., a private consultant, found that 85 percent of callers were satisfied with NYC 311, according to the Mayor's Management Report. Morrisroe lauds his staff as the reason for such high ratings.
"It's the dedication of the women and men who work here are," Morrisroe said. "They live in New York City and they know the person on the other end of the phone is their neighbor, their fellow New Yorker. And I think that does something, I think that allows them to give better quality service than if you're in the for-profit world."