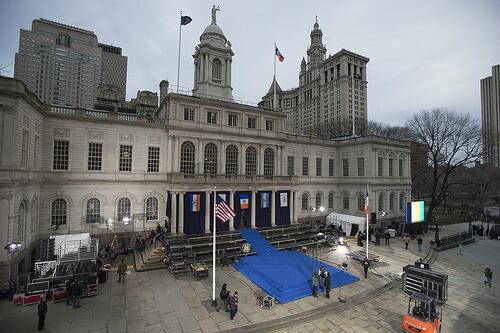 City Hall (photo via @NYCtransition)
---
Ahead of next year's elections, the New York City Campaign Finance Board is considering a number of rules changes that would make the city campaign finance system more efficient and clear, and less onerous. One proposal on the list, however, has raised the hackles of unions, nonprofits, and campaign finance experts.
After every four-year city election cycle, the Campaign Finance Board is busy at work analyzing potential deficiencies in the campaign finance system and taking steps to plug any holes. Part of this is a routine update of campaign finance rules concerning a number of areas including, but not limited to, candidate registration and certification requirements, campaign recordkeeping, disclosure rules, contributions, and expenditures. The CFB tightens the nuts and bolts of the system, issuing clarifications for existing rules and scrapping those that have been rendered obsolete.
Ahead of the 2017 elections, the CFB is undertaking another round of rules updates. The board held a public hearing on Thursday to solicit feedback on a fairly long list of changes, some extremely technical, which were proposed last month.
Some proposals aim at reducing coordination between campaigns and independent expenditure groups (Super PACs), others make it easier for candidates to run campaigns and simplify documentations requirements while also tightening restrictions on how public matching funds may be used. These proposals also have the additional benefit of making the CFB's post-election audit and enforcement procedures more effective.
Some of the more significant changes on the table deal with independent expenditures, which are anathema to the CFB's mission of minimizing the effect of money on elections. In that vein, the CFB put forward three proposals, the first of which is perhaps the most important one in the entire package.
It would add two new factors to determine whether a campaign is coordinating with independent expenditure entities. The board would monitor whether a candidate raised funds for an independent spender or if the candidate and the entity had the same employees. If any of these factors, along with six others that the board already considers, are met in an election cycle, "the Board will assume an expenditure was coordinated unless there is evidence to the contrary," reads a post on the CFB website.
Two other rule proposals would require increased disclosure from independent spenders, including providing information about who owns or contributes to a group's contributors and making that information available on public communications.
Renowned campaign finance attorney Laurence Laufer, who served as general counsel to the CFB and helped formulate many of its policies, testified on Thursday and disagreed with a number of the CFB's proposals. Chiefly, though, he expressed opposition to the one that would lead to a "rebuttable presumption against independence" of an expenditure and a campaign.
Laufer has also worked for the Campaign for One New York, a nonprofit set up by Mayor Bill de Blasio's allies to promote his agenda. The Campaign for One New York and the de Blasio administration are being investigated by federal authorities over whether donors to the former got favorable treatment from the latter. The CFB also recently ruled that spending by the Campaign for One New York would not count toward de Blasio's re-election campaign spending, though the board is aiming the new rule and seeking other changes to alter how elected officials and political nonprofits operate.
Speaking at the hearing, Laufer said the presumption that an expenditure is coordinated based on multiple factors is contrary to the existing law. He stressed that the burden of proof was on the CFB to show coordination rather than on a campaign to refute it. "In addition," he argued, "this proposed presumption against independence is in derogation of First Amendment rights and it will chill the making of independent expenditures. That's subject to strict scrutiny under First Amendment review because it's treated essentially as a spending limit."
Laufer also questioned the basis for the proposal, stating that it contradicts one of the CFB's own past advisory opinions. Laufer submitted about a dozen pages of written testimony to the board as well, pointing out issues with other proposals in the package.
Brent Garin, deputy general counsel for SEIU Local 32BJ, a labor union, said at the hearing, "We fear that these proposed changes, particularly the imposition of the presumption of coordinated expenses, will inhibit our members' participation in the political process." He said the CFB should withdraw its proposal and submit an amended one to allow for an extended period of public comment. "Approving the current proposal would deprive the public of input for changes that drastically and negatively affect how community groups, advocacy organizations and unions can seek to effect social change," he said.
Of the nine pieces of written testimony submitted to the CFB by those present at the hearing and other representatives of unions and nonprofit groups, seven questioned the rule change on presumption of coordination. Alexander Rabb, an attorney, on behalf of five nonprofit organizations, wrote that "issue advocacy activities will be burdened or effectively restrained," by the rule. The New York City District Council of Carpenters and Joiners of America stated, "The new regulations create significant uncertainty regarding the use of independent expenditures and may even lack constitutionality."
Among the other CFB proposals were ones that simplify and clarify rules that candidates in the past have found either onerous or vague. The CFB aims to clarify the rules for hiring volunteers, allowing campaigns to employ former volunteers as paid workers but prohibiting former paid workers to become volunteers. This would prevent campaigns from skirting spending limits.
One rule would eliminate a requirement that campaigns maintain a unique merchant account for credit card contributions, which was outdated and burdensome for campaigns in the 2013 election. Another reduces filing requirements for small campaigns and aligns the definition of a small campaign with state election law.
The board also put forward changes to how public funds provided to candidates can be used. One rule would require campaign communications to explicitly state that they are "paid for by" or "authorized by" a candidate or campaign committee. The board also clarified that claims for matching funds must be reported contemporaneously with contributions or they would be ineligible, and proposed new restrictions on candidates refunding contributions if they participate in the public matching funds program.
One rule, albeit a seemingly insignificant one, would allow candidates to wear pins or buttons in photos and videos that they provide to the CFB for its voter guide. (The prohibition on the accessories was a point of conflict between the CFB and Joseph Concannon, a candidate for a Queens City Council seat last year. Even U.S. Senator Charles Schumer weighed in, saying of the rule, "This is pointy headed bureaucracy at its worst.")
The CFB will now review the feedback it received and will consider adopting the final rules, with any amendments, at its next public hearing, possibly in October. Adopted rules would then be published in the City Record and go into effect 30 days later.