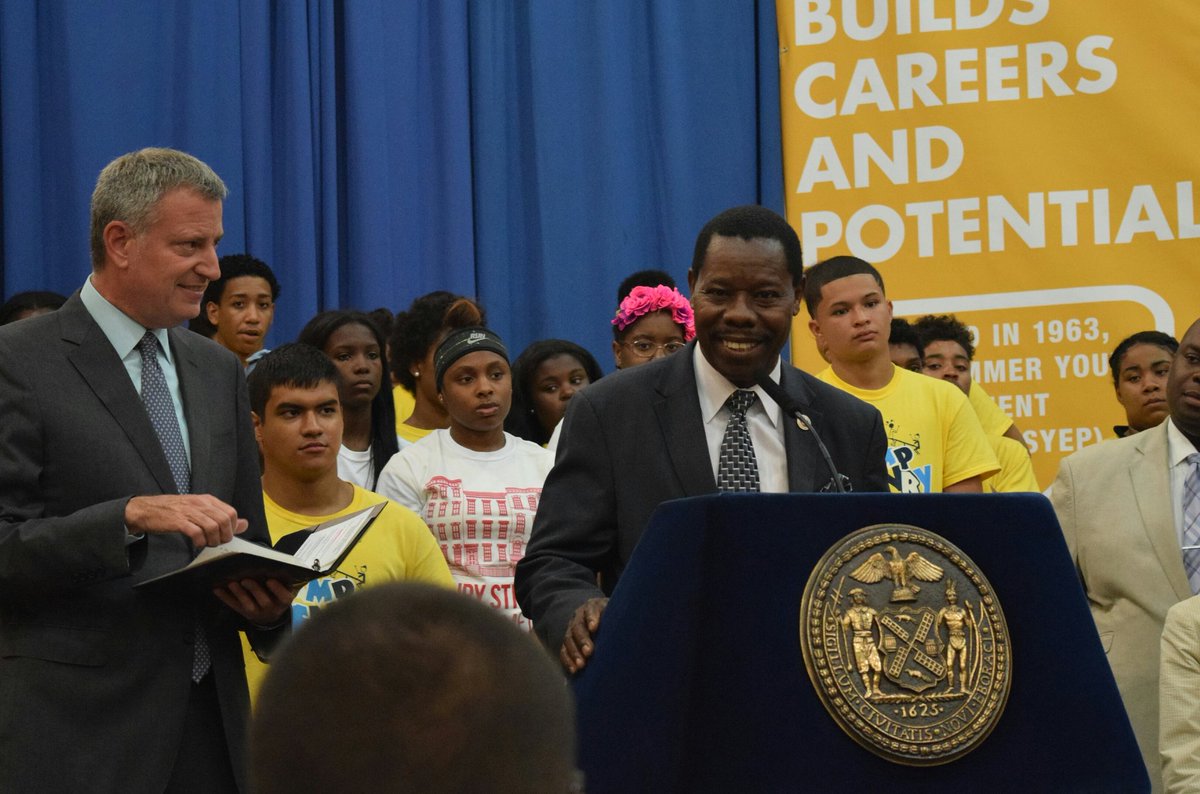 Council Member Eugene (photo: CMMathieuEugene)
---
There was confusion and some angst at the City Council on Wednesday. At an oversight hearing held by the Council's Youth Services Committee, several Council members said they were unaware of the programming of the city's Young Men's Initiative, which was the focus of the hearing.
Council Member Mathieu Eugene chairs the committee and led the hearing. Only one other committee member, Council Member Margaret Chin, was present when Cyrus Garrett, executive director of YMI, gave his opening remarks. Garrett, who has led YMI since being appointed by Mayor Bill de Blasio in late 2014, briefed those in attendance on the history of YMI, which began under Mayor Michael Bloomberg and focuses on opportunities for young men of color; its work under the current mayor; and its most recent partnerships and programs.
As the morning progressed with a question-and-answer session between Council members and Garrett, all of the members of the Council committee, with the exception of Council Member Darlene Mealy, made an appearance, and most asked questions of Garrett.
Garrett outlined changes and progress at YMI since he took over at the start of 2015. "To deepen our impact," he said, "YMI has sharpened its focus and over the last two years, has invested in the support and creation of data-informed strategies aimed at addressing inequities in education, justice, employment and health." Many of these strategies were the focus of the hearing, which also served as an occasionally heated forum wherein Council members pushed Garrett about YMI's lack of communication with them and the rest of the city.
After Garrett's appointment, YMI acquired a new Executive Steering Committee, aligned programs with select goals set by President Obama's My Brother's Keeper initiative, which was in part modeled after YMI, and released a "Disparity Report" in collaboration with the Center for Innovation through Data Intelligence, all under the banner of "YMI 2.0."
The unifying feature of YMI 2.0 is a framework that goes beyond YMI's original 16-24 age demographic, while still focusing on males of color. Aligned with My Brother's Keeper, YMI has made it a priority to engage with younger New Yorkers. YMI 2.0 envisions all youth of color reading at grade level by 2nd grade; citywide completion of high-school, post-secondary education, or training; and safe from violent crime.
In different ways, under Garrett YMI has been both broadened and narrowed. While the goals of YMI 2.0 now target a much wider age group, the neighborhoods and populations it prioritizes have become more specific. The Executive Steering Committee supported YMI 2.0 as it transitioned from a city-wide initiative under Bloomberg to a neighborhood-specific initiative under de Blasio. It now targets the South Bronx, South Jamaica, Brownsville, East New York, East Harlem, and the North Shore of Staten Island.
Before his opening remarks ended and the questions began, Garrett was sure to outline a few programs YMI 2.0 is currently "testing." Readmore Corps, a tutoring service for children in kindergarten through second grade, is one of them. In fiscal year 2016, Garrett said, "YMI's support in 30 schools resulted in an additional 387 first and second graders receiving literacy support. We are well underway to serve 707 students in FY17, and with anticipated private funding, could potentially be in an additional 45 schools by the end of this school year."
Garrett also spoke about a partnership with NYC Service and the Center for Youth Employment on a college and career mentoring strategy for high schoolers, and the Fatherhood Academy, a program that promotes responsible parenting and economic stability for unemployed and underemployed young fathers.
Council Member Eugene asked for more quantitative data on YMI, information which was supplied by the other YMI representative at the hearing, Carson Hicks, the deputy executive director at the city's Center for Economic Opportunity, which does data analysis for YMI and other city programs. According to Hicks, 80,000 young people were served by YMI 2.0 in 2016, which is an increase from when the program started, though she didn't say by how much.
Hicks also informed Council members that the current budget allocation for YMI is $30 million, including an increase in the amount of city funds devoted to the initiative from under Bloomberg, but a decrease in total funding from its early years. (In 2011 Bloomberg and George Soros donated $30 million each to the inaugural YMI programs over the course of three years.)
Eugene was also curious about how YMI advertises its programming, to which Garrett said that YMI programming largely is promoted through YMI itself, partner community-based organizations, and through word of mouth. Garrett listed organizations like Make the Road, the YMCA, Big Brothers, Big Sisters, Goodwill, and the University Settlement Society of New York, and clarified that the YMI has 300 to 400 CBO partners in the city, located in every borough.
"A French philosopher, I think Rousseau" Eugene mused at one point, "spoke about the importance of family when raising children." Eugene asked Garrett if YMI 2.0 was positioning itself as an intergenerational resource that could help parents reinforce the work that YMI does with its own programming. He said his own Brooklyn district has parents who would benefit from this kind of two-pronged programming, and also said that he would have gladly partnered with YMI, if the city had tried.
This was a common theme throughout the hearing. In fact, all Council members who spoke either chided Garrett for YMI's lack of communication with their offices, or expressed surprise that they hadn't heard more extensively about YMI and its work. "We have 51 Council members," Eugene said. "And you've only partnered with six of them? You could have allies with all 51 members." (None of the six partner Council members are on the Youth Services Committee, which has seven members including Eugene, the chair.)
When Council Member Chin spoke, she expressed shock that this was the first time her committee was getting a report about the initiative. She said the Council "should have been a partner."
Council Member Laurie Cumbo asked about how YMI approaches the problem of neighborhood gang violence. She said that before the annual Labor Day parade, J'ouvert, in her Crown Heights district, over 20 different gangs were identified, and asked if YMI had any anti-gun initiatives. Garrett replied that YMI looks at gangs as a part of the community, though he did give an anecdote about "Chuckie," a member of the Crips gang who brought members of the gang to ARCHES, a group-mentoring YMI program designed to help men on probation get out of the criminal justice system. He recalled that the sessions were therapeutic.
Cumbo suggested that some of her own initiatives, like Art as a Catalyst For Change, were also good models, and that YMI might want to think about introducing more arts programming.
Council Member Andy King, seizing on an excerpt from the City Council briefing paper that was distributed before the hearing, also asked Garrett about what YMI was doing to help relationships between young men of color and the NYPD. King pointed out that "you never have to tell white boys how to act around the police. But you do have to teach black boys." While the briefing paper, which is prepared by the committee staff, pointed out that "stop and frisk has been greatly reduced, from 700,000 stops in 2011 to 47,000 stops in 2015," it also said that "the legacy of distrust continues to endure and many stakeholders have called for a continued engagement between the community and the NYPD."
Garrett said that as a former advisor in the Department of Homeland Security, law enforcement is an area he is particularly attuned to. He said YMI is working with the NYPD on speaking with frontline officers, to see if there are systems officers can follow for crime and arrest deterrence. The NYPD is in the middle of implementing a new neighborhood policing model is that focused on building community relationships.
Another theme throughout the hearing was how YMI measures successes and phases out programs that appear to be ineffective.
Garrett gave the example of the Justice Corps, a job-coaching program for young men involved in the criminal justice system. The program was launched in 2008 and was re-tooled for expansion this year, after evaluation from the current YMI. However, an education program for former inmates, the Justice Scholars, is being phased out because it was found that people's levels of education varied too widely to have a consistent positive impact.
Many of Garrett's talking points from the hearing are laid out in more detail through the YMI section of the Mayor's Management Report for Fiscal Year 2016, which was released earlier this week.
At the conclusion of the hearing, Council Member Eugene asked Garrett to estimate the success of YMI 2.0. "Would you say you're at 90%? 70%? 50%?" Eugene asked. After a second of hesitation, Garrett said that he'd estimate YMI was 55% of the way to success. Earlier in the hearing, Garrett conceded that YMI is in a place that it wanted to be three years ago, but after discontinuing unsuccessful programming, he thought that YMI is heading in a better direction. The hearing closed with Garrett agreeing to send all Council members updates on the progress of YMI, and pledges from all there that there would be more collaboration between YMI and the City Council going forward.
Note: this story has been updated to remove question about the estimate from Hicks, which was verified by the mayor's office.