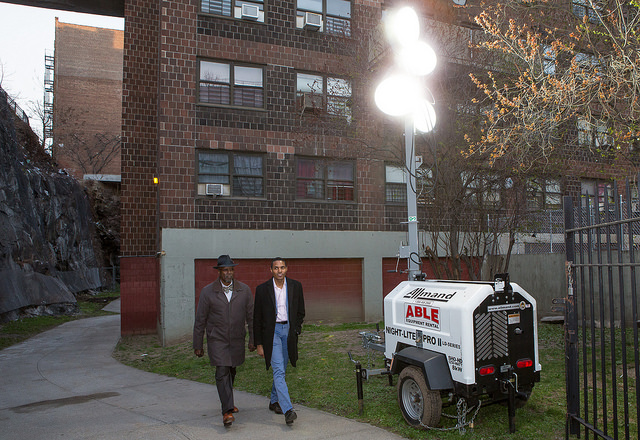 Council Member Torres, right (photo via NYCHA on Flickr)
---
A new report by City Council Member Ritchie Torres' office found a vast backlog in necessary repairs of sidewalks outside New York City public housing, particularly developments for senior citizens. Torres, a Bronx Democrat who chairs the Council's Committee on Public Housing, believes this is a serious issue of public safety and will introduce a bill on Wednesday that would require the Department of Transportation to prioritize sidewalk reconstruction at senior-only developments within the New York City Housing Authority (NYCHA).
At the end of the fiscal year, NYCHA provides DOT with a list of sidewalks to be repaired outside housing developments. DOT has access to limited capital funds for these repairs, which leaves many sidewalks broken for years. Last year, in an effort to expand repairs, the DOT increased its annual commitment to NYCHA sidewalks from $1 million to $3 million. Torres' report, which was previewed by Gotham Gazette, points out that senior-only developments tend to be low on the priority list provided by NYCHA.
"The city's policy to senior citizens, concerning sidewalks, is essentially, 'break a leg,'" Torres said in a phone interview. He stressed that seniors are particularly susceptible to trip-and-fall hazards, and at greater risk from the resulting injuries, and that NYCHA needs to give special consideration to senior housing developments when determining which sidewalks should be repaired.
Currently, there are more than 61,500 New Yorkers, age 65 and older, living in NYCHA developments. Of the city's 328 total public housing properties, 41 are senior housing developments and 15 are senior-only buildings within mixed population developments. "Common sense would dictate you give special consideration to senior citizens who have special needs," Torres said. "The city's policy is basically a rejection of common sense."
The report notes recent increases in DOT's budget for NYCHA property reconstructions that should first go to senior developments. It is estimated that roughly $327.2 million of DOT's $8.9 billion ten-year capital budget is meant to be allocated towards sidewalk and ramp repair for approximately 28.6 million square feet of citywide. The eight-page document from Torres' office also includes pictures (left) of sidewalks from senior developments across the five boroughs and estimated costs for repair, with some of them relatively easy fixes. Only one senior development, Cassidy-Lafayette Houses on Staten Island, was ranked at the top of DOT's priority list for repairs.
So far this year, the DOT has repaired sidewalks outside 11 NYCHA developments, nine of which have on-site senior centers, according to a NYCHA spokesperson. These nine include Melrose Houses in the Bronx, Reid Apartments in Brooklyn, Vladeck Houses in Manhattan and South Jamaica Houses in Queens. The spokesperson also said the DOT was aiming to complete repairs at three more sites with senior centers before the end of the construction season.
"NYCHA and DOT maintain a strong partnership – and we are committed to working together with the Council Member to address these issues, ensuring improved quality of life and safe sidewalks for all of our residents," read a joint statement emailed to Gotham Gazette. "We look forward to reviewing the legislation."
Torres will introduce his bill at Wednesday's City Council meeting, it may then be heard in committee.
The de Blasio administration has not weighed in on the proposal yet. "We'll review the bill upon introduction," said Aja Worthy-Davis, deputy press secretary in the mayor's press office.
Note: this article has been updated.