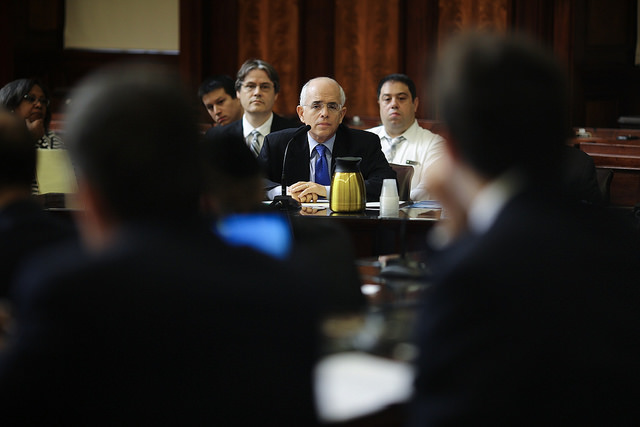 First Deputy Mayor Shorris testifies (photo: William Alatriste)
---
Over the course of a Thursday oversight hearing lasting more than six hours, top officials from the de Blasio administration attempted to explain to the City Council all the missteps that led to a Lower East Side AIDS hospice being sold to a luxury condominium developer with virtually no public benefit.
Council Member Ben Kallos, chair of the governmental operations committee, said early in the hearing, "Something went very wrong here and we must address issues of mismanagement, indecision, communication failures, the role of outside influence, and what we can salvage from this mess to improve things moving forward."
The sale of the facility, known as Rivington House, has dogged the administration for months after news broke that the property owner was able to make a massive profit from the deal, facilitated by a deed change approved by the city's Department of Citywide Administrative Services. Two city entities have investigated the deal and troubling released reports, while the offices of both Attorney General Eric Schneiderman and U.S. Attorney Preet Bharara have ongoing investigations.
Before DCAS removed two deed restrictions on the property, the home was limited to use as a nonprofit health care facility. The city Department of Investigation and City Comptroller Scott Stringer separately investigated the transaction and found multiple systemic failures and miscommunication involving top agency officials and deputy mayors. Neither report found any malfeasance, however, and did not fault Mayor Bill de Blasio, who has maintained throughout that he was unaware of the deal until afterward. The DOI and comptroller reports did, however, paint a picture of dysfunction and mismanagement at City Hall that First Deputy Mayor Tony Shorris was tasked with explaining in front of the City Council on Thursday.
At a joint hearing of the City Council's Committees on Governmental Operations and Oversight and Investigations, Council members finally had a chance to ask the administration about its glaring mistakes, problems with deed restriction removal procedures, and proposals to reform the process by which the city allows deed changes.
Largely setting aside the deceptive conduct of one key player in the transaction, Joel Landau of the Allure Group, the hearing went into the minutiae of the city's process in the Rivington deal and also looked at the broader picture of management in the administration, coming away with little new information, but extended discussion about who was to blame and how to fix the system. There was also discussion of, but little closure on, whose head would be on the chopping block.
Council Member Vincent Gentile, chair of oversight and investigations, in his opening statement said assigning responsibility for the Rivington deal "is a little like playing the game of 'whack-a-mole.' Just when you think you've hit that line of responsibility, it shifts and seems to move someplace else." He faulted all the city agencies and officials involved in the lifting of the deed restriction -- DCAS, the Mayor's Office of Contract Services, the Law Department, Shorris, and other deputy mayors. "It is almost as if each of these entities were all passengers on the same bus that was headed straight for lifting the deed restrictions but ignoring the stop signs," he said, adding that he still wants to know who was "driving the bus."
First to testify, and perhaps most importantly, was Shorris, de blasio's second-in-command who featured prominently in the comptroller's report on Rivington House. Shorris was composed and apologetic, and took sole responsibility for the snafu, refusing to scapegoat anyone within his staff or at agencies under his purview for the widespread miscommunication in the process and disastrous outcome. Throughout his testimony, he drove home the point that Rivington was simply an isolated case that didn't reflect the overall administration which has been a successful and efficiently run operation.
"I want to state from the outset," Shorris said, "that I recognize that what happened here was not the right outcome for the community and taxpayers, nor was it consistent with the policy goals and values of the de Blasio administration."
"We execute on our policy goals in the administration extremely effectively," Shorris said later in his testimony. "The record I think demonstrates that in agency after agency. Doesn't mean there are not cases where we have made a mistake. This was a case where we made a mistake."
Shorris admitted that the administration, and he himself, had made multiple errors on Rivington. He was sent weekly reports from agency heads and he only reviewed a sampling, missing the references to Rivington House. He conceded that he believed the property was going to continue to be a nursing home and had communicated that preference to his staff, which failed to effectively relay that message to DCAS. He also said that no one, within his staff or at DCAS, flagged for him that the property may be converted to luxury housing. But, he emphasized that all those slip ups were limited to Rivington. It's an assertion that Mayor de Blasio has also made, crediting Shorris with excellent management overall.
Shorris said he had two goals following the Rivington failure -- to attempt to rectify the issue and to prevent such issues in the future -- and laid out the city's progress since the deal happened.
As part of the solution, the de Blasio administration announced on Thursday that it is investing the $16 million it received for lifting the deed restrictions (and likely more) into building affordable senior housing to replace most of the beds lost at Rivington House. The second effort involves a larger evaluation of the process by which deed restrictions are lifted. The administration is currently soliciting public review on new rules proposals, which include increased community outreach.
He also promised that in the future, the city would most often consider amending deed restrictions instead of lifting them altogether and the people applying for deed changes would have to provide affirmation of the purported use for a site, which could be legally enforceable. The city has also established an internal review committee, which includes the Office of Management and Budget and the Law Department, to assess any application for a deed change. Once the Rivington scandal was brought to light, de Blasio quickly moved to freeze other deed restriction appeals and then ensure that City Hall would have final say on any moving forward.
As with most of the Council members at Thursday's hearing, Speaker Melissa Mark-Viverito demanded more clarity on how the administration lost focus on an issue that has ramifications for affordable housing across the city, which is a top mayoral priority. "You say that you were very clear about your priority," she said to Shorris, "yet it was not implemented…That sounds like some level of mismanagement."
Shorris fell back on a similar refrain throughout. The city's policy for deed restrictions, he stressed, was a narrow, financial-based, "mechanistic" policy and process that did not apply the administration's values. "It was a failure on our part…to introduce our values into that process," he said.
One Council member who seemed exasperated by Shorris' testimony was David Greenfield, who wanted to know precisely who was to blame for Rivington. "There's accountability and there's blame, they're two different things," he said. "So you're accountable, but I think it's fair to say you're not to blame. Is that correct?" Shorris yet again fell on his sword, and informed Greenfield that he was ultimately responsible and that no one on his staff had been disciplined in the aftermath of Rivington.
Things turned a bit more tense when controversy emerged over the length of Shorris' testimony in front of the Council. From the start of the hearing, it was announced that it would be limited to two-and-a-half hours. Because of an apparent miscommunication between the City Council and the mayor's office, Kallos, who had agreed to the time restriction, thought Shorris was scheduled to leave town. As Shorris was wrapping up his testimony, it became clear to everyone in attendance that Shorris was not going to Oklahoma for the U.S. Conference of Mayors, but staying put as acting mayor with de Blasio on his way to the conference.
Shorris was confused about the confusion. Kallos briefly expressed outrage.
In a statement, City Council Communications Director Eric Koch said, "The administration misled the Council and the Speaker's Office into believing that First Deputy Mayor Shorris' availability for the hearing this morning would be limited because of events related to the U.S Conference of Mayors in Oklahoma City. This turned out to be false. At a hearing which focused on government honesty and transparency this is particularly shocking and unacceptable."
Not long after, the mayor's office put out its own statement, with de Blasio spokesperson Eric Phillips saying, "Ben Kallos said the administration said Tony Shorris would be going to Oklahoma. That's false. The Administration has always been crystal clear that Tony Shorris' time today was limited due to his role as acting Mayor in New York City during Mayor de Blasio's short trip to Oklahoma. Mr. Shorris testified for two and one-half hours, answering dozens of questions on this matter. The Council owes Tony Shorris an apology."
While that distraction from the essential matter at hand was brewing, the hearing resumed after a brief break.
Shorris was followed by Corporation Counsel Zachary Carter, who heads the city's Law Department, and DCAS Commissioner Lisette Camilo, who took over two months before the Rivington deal became a public spectacle through a news report in the Wall Street Journal. Carter faced particularly tough questions about the Law Department's apparent interference in the DOI's probe into Rivington. DOI claimed in its report that the Law Department had failed to cooperate and had blocked access to necessary documents and electronic records of the administration.
Council Member Rory Lancman criticized Carter for trying to circumvent DOI's legal authority as laid out by past mayoral executive orders that give it unrestricted access to documents as an investigative body. Carter repeatedly emphasized that the Law Department had been forthcoming and that any redaction of documents, as the DOI claimed, was standard practice for irrelevant information rather than a deliberate attempt to obstruct the investigation. Lancman was not pleased and released a statement to the press after his protracted exchange with Carter. "Instead of acknowledging the administration's blatant overstepping of its boundaries by refusing to cooperate with the Department of Investigation, the administration doubled down on its wrongdoing," Lancman said.
Camilo's testimony was less controversial since her involvement in the deal was relatively minor. She was director of MOCS when the Rivington deal was approved by former DCAS Commissioner Stacey Cumberbatch, who left her post in December to take a position with New York City Health + Hospitals. Cumberbatch has since retired, according to Shorris. (Ahead of Thursday's hearing, the US Attorney's Office and the Attorney General requested that the Council only call current city employees to testify, so Cumberbatch was not present.)
It became evident during Shorris' testimony that he or someone close to him had encouraged Cumberbatch to leave DCAS, but all Shorris would say was that he approved of her transfer to H+H when she found that opportunity.
Council members peppered Camilo with questions about the deed restriction process as it stands now and how the city aims to improve it. She echoed much of Shorris' testimony, pointing out that a "flawed process" focused on revenue led to the Rivington deal. She promised an updated and more rigorous review process for deed restrictions in the future, one that would take into account public comment, prioritize community benefit, and formally seek opinions from multiple city agencies and stakeholders.
Camilo also expressed the administration's support for a bill, introduced by Council Member Margaret Chin and Manhattan Borough President Gale Brewer, which would require the city to maintain an online searchable database of properties with deed restrictions imposed by the city. Many of these properties were once city-owned. The bill also requires the city to provide notice to the Borough President, the local Council member, and community board any time a proposal is made to remove or modify a deed restrictions.