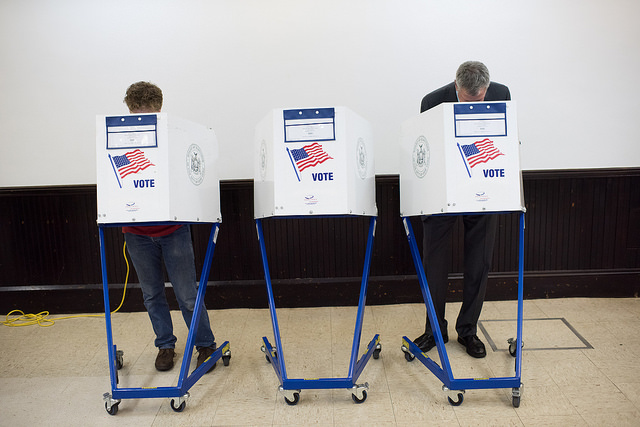 Bill de Blasio voting (photo: Michael Appleton/Mayor's Office)
---
New York State is home to roughly 2 million people who are eligible to vote but are not registered. The number is a rough estimate using numbers from the state Board of Elections and the American Community Survey. The November 8 general elections, including for President and a variety of state and local elected offices, are just under a month away. This Friday, October 14, is the deadline for New Yorkers to register to vote and many efforts are being made to encourage people to register so they are eligible to cast a ballot in November.
According to an American Community Survey one-year estimate for 2015, New York has about 13.7 million people who are eligible to vote, out of a total state population of 19.7 million. Of those, 11.7 million people were registered to vote as of April 1, per BOE records; leaving about 2 million unregistered eligible voters. New York City represents about 40 percent of the state's population, and may be hope to about the same percentage of unregistered voters -- if so, it would mean there are 800,000 unregistered eligible voters in the city.
It is not clear at this point how many New Yorkers have registered ahead of the deadline, though the number could be substantial. Registering to vote does not ensure casting a ballot, of course, and New York often ranks toward the bottom nationally in voter turnout. This week, Mayor Bill de Blasio launched a voter registration effort that pairs with food trucks around the city.
Friday is not only the deadline to vote this November, but it is also the deadline for New York City voters to declare or change their party registration in order to vote in the 2017 city primaries, including for Mayor. Aside from the unregistered, there are also about 700,000 registered voters in New York City without a party affiliation. (There is another deadline next year for new voters to register to vote in the 2017 city elections.)
Of the 11.7 million registered voters in New York State, about 10.7 million were "active" registered voters, while another 998,094 were "inactive" voters. Inactive voters are those who fail to respond to notices from the Board of Elections to confirm their residence. Following that, if they do not vote in two consecutive federal elections, they are purged from the voter rolls in the fifth year. For instance, a voter who did not respond to a residence confirmation notice, and then did not vote in the 2012 presidential or the 2014 midterm elections, would be dropped from the rolls in 2015. They must re-register to cast their votes.
The 2016 presidential election has been the first in decades where New York has been a prominent, if not competitive, battleground. Republican nominee Donald Trump is a native New Yorker and Democratic nominee Hillary Clinton considers the state her adopted home, serving as a U.S. Senator for New York. In the party primaries, Clinton faced a tough challenge in the state from Vermont Senator Bernie Sanders. The final debate of the Democratic race even took place at the Brooklyn Navy Yard in New York City.
While Trump and his supporters had initially indicated they planned to make New York competitive in the general election, polls have shown that to not be a likelihood and the GOP has not concentrated efforts in the state, which has been a long-time Democratic lock. Both of New York's Senators are Democrats, one of whom, Charles Schumer is up for re-election this year and is facing a challenge from Republican Wendy Long.
New York has consistently ranked low on voter turnout for decades. In the April 19 presidential primary elections, only about 19.7 percent of eligible voters showed up at the polls, with 27 percent of the electorate on the sidelines because they are registered to vote but not with one of the two major parties. In the 2012 general election, New York had a turnout of 53.6 percent, down 8.9 points from 2008. However, in a presidential election cycle, voter registration and turnout tend to be higher than in other years.
"People in New York turn out in higher numbers in the presidential election when one could argue that the impact of your vote is greater for a local election," said Steve Romalewski, director of the CUNY Graduate Center's Mapping Service, which analyzes voting trends and maps them. "It's kind of an odd irony there."
Over the last year, the city has been attempting to increase voter registration through election guides and voter education initiatives. On Tuesday, the city held a voter registration drive, in partnership with street food vendors at 12 locations across the five boroughs, promoted on Twitter with the hashtag #NoshTheVote and through other channels.
New York residents can also register to vote online through the Department of Motor Vehicles if eligible. The City now provides registration forms in 16 different languages -- English, Bengali, Chinese, Korean, Spanish, Arabic, Haitian Creole, French, Russian, Urdu, Polish, Greek, Italian, Tagalog, Albanian, and Yiddish.
Romalewski said every voter needs to register, considering the stakes of the current election. "Given the uncertainty and unexpected turns and twists this election has taken," he said, "it's especially true that every vote will matter and New York will be important in this election."
Jerry Skurnik of Prime NY, a consultancy known for its voter files, points out that the state is not likely to play a prominent role in the presidential race given its usual shade in the Electoral College map. New York is largely a blue state, with twice as many Democratic voters enrolled as Republican voters. As of April 1, there were 5.26 million active Democratic voters, compared to 2.55 million active registered Republicans. Another 2.25 million are unaffiliated with any political party.
In New York City, the difference in enrollment is much more stark. About 2.75 million active registered Democrats live in the five boroughs compared to only 414,478 active Republican voters and 694,420 active unaffiliated voters. These nearly 700,000 registered New York City voters have until Friday to choose a major party if they want to be able to vote in that party's September 2017 primary. Mayor de Blasio, a Democrat, is planning to run for re-election. It is not yet clear what the rest of the Democratic field or what the Republican primary field will look like.
As for the upcoming November Presidential election, Skurnik downplays New York's significance in the outcome. "I don't think it's going to be important at all," Skurnik said."1976 is the last time that New York was really important in a presidential election." Polling data indicates that this will hold true. As of Tuesday, a RealClearPolitics average had Clinton up by 20 points in New York.
Nevertheless, Skurnik said it was necessary that New Yorkers register and increase their participation in elections. "It's not just in New York, it's a national trend," he said of lower registration numbers and the lack of turnout for elections at all levels, including municipal and state elections. "But it's a bit worse in New York than in the rest of the country."
Unlike several other states, New York holds closed party primaries so voters can only cast their ballot for a candidate if they're registered along party lines. The 2.25 million unaffiliated voters across the state cannot vote in party primaries. The closed system and the far in advance party enrollment deadline were strongly criticized around and after the presidential primary elections in April, particularly by Bernie Sanders supporters. State and local legislators and voting reform advocates have long called for the state to establish open primaries, allowing increased voter participation and less confusion at the polls.
New Yorkers can check their voter registration status via the Board of Elections here.
Note: this article has been updated.