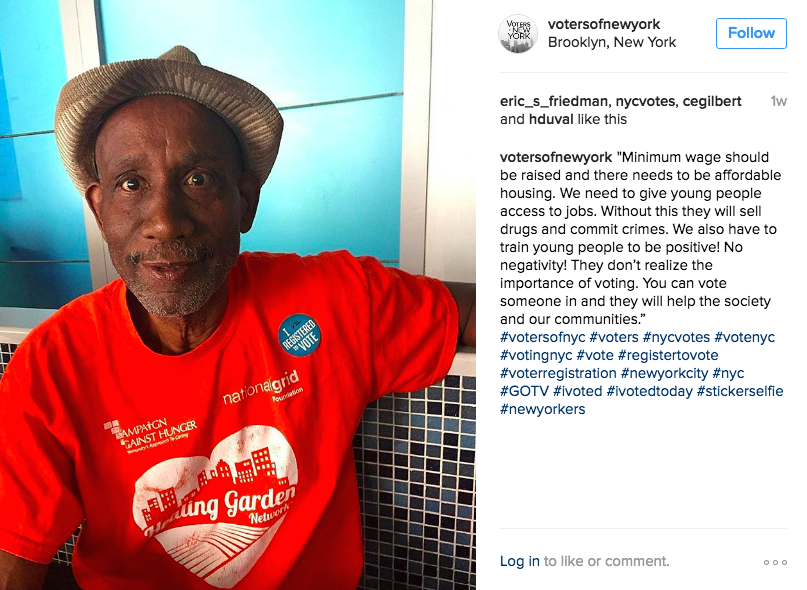 (photo: Voters of New York on Instagram)
---
On October 14, the deadline for online voter registration in New York, NYC Votes announced the launch of a new project, "Voters of New York," "which highlights stories from everyday New Yorkers sharing their personal thoughts about voting and why they plan to vote in this election." An ongoing series of portraits of New Yorkers with their first-person explanations, Voters of New York is meant to spur civic engagement and boost voter turnout.
NYC Votes is the voter engagement arm of the New York City Campaign Finance Board (CFB). Its work includes helping people to register to vote, educating New Yorkers about elections, candidates, and civic life; and encouraging them to get to the polls.
"We were inspired by the "Humans of New York" portrait series to provide a platform where New Yorkers can share their feelings and stories about voting. We hope that their words will inspire more New Yorkers to take part in the election on November 8," said CFB's Public Relations Officer Katrina Shakarian.
With Election Day less than three weeks away, efforts to increase New York's dismal voting rates are in full swing, with political parties, advocacy groups, and others trying to encourage their members to cast a ballot. The recent state legislative primaries, held September 13, saw very low voter turnout, though it was fairly typical for New York in such party primaries. General elections, especially for President, typically bring out more voters, and that is certain to be the case again this year. How many voters is to be seen, but NYC Votes hopes that Voters of New York will contribute to an uptick.
According to the Board of Elections Annual Report 2012, in that year's presidential election, 58% of registered New York City voters cast ballots. In the 2013 New York City mayoral election, turnout was just 26%. Voter turnout is typically higher for presidential elections than any others.
"Asking a voter on the streets of New York the simple question, 'Why is voting important to you?' opens up so many different stories and opinions," said Jessica Su, a high school student who interned at CFB and collected the interviews, writing in the program's blog. "My favorite moment from the Voters of New York project was attending a naturalization ceremony and seeing so many joy-filled new citizens celebrating their citizenship. Getting to talk to them and see the enthusiasm they have for their new life as citizens is something I will never forget," Su added.
The testimonies of the interviewees, which are anonymous, are posted on different social media platforms, including Facebook, Twitter, and Instagram, all using the hashtag #votersofnewyork. The interviewee's picture is featured each time, all wearing a sticker that says "I Registered to Vote."
The testimonies showcase people who appear to see voting as not only a right, but a responsibility: "I believe in electing people that are going to fight for our communities. If we don't vote then we can't complain. We can't complain, we have to step up," says one.
A missing sense of responsibility is among a variety of reasons that many New Yorkers do not vote. New York is also known to have antiquated voter registration and voting laws, something some public officials have been fighting to change, but thus far without luck in Albany, the state capital. Right before this year's deadline to register to vote in the November elections, Mayor Bill de Blasio helped register a few voters in Brooklyn and then held a press conference calling on state lawmakers to pass a series of reforms like same-day voter registration and a period of early voting.
Just nine days before the registration deadline Public Advocate Letitia James and a variety of other officials and organizations held a rally at City Hall to push for emergency action by the United States Citizenship and Immigration Services (USCIS) to help clear a massive citizenship application backlog. Nearly 60,000 applications were still pending in the New York City area before the voter registration deadline.
"This year especially we have a presidential election that will change the course of history. So many of these immigrants are soon-to-be citizens, some of them most impacted by this election," James said during the rally. Extended voter registration at the Board of Elections is available until October 29 for those who became naturalized citizens after the initial deadline on October 14.
In efforts to raise awareness on the importance of voting, another program has also sought to gain more voters. Student Voter Registration Day (SVRD), a one-day program, visited 125 New York City high schools on October 6, with the goal of registering 10,000 eligible students as new voters. To make sure these newly registered voters actually use their voice, NYC Votes recruits volunteers for their Get Out The Vote campaign to call new registered voters before Election Day encouraging them to to vote.
***
by Milka Nissinen for Gotham Gazette
@GothamGazette