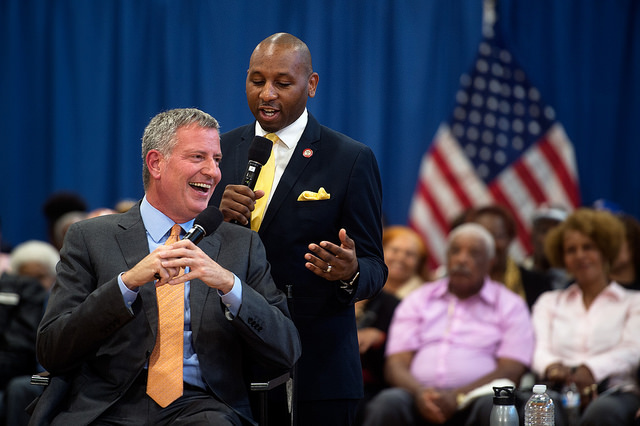 Richards, right, & de Blasio (photo: Demetrius Freeman/Mayor's Office)
---
On Tuesday, November 15, City Council Member Donovan Richards will host a re-election campaign fundraiser for Mayor Bill de Blasio in Rosedale, Queens. Richards, who has been one of de Blasio's staunchest supporters in the Council, where some of the mayor's goodwill has frayed, said that he's generally supportive of de Blasio, appreciates what the mayor is doing for his district, and wants to give locals a chance to support de Blasio at a small-dollar event.
"I think the mayor, for my particular district, he delivered for my community," Richards told Gotham Gazette by phone on Friday. Richards said that while he's not yet making an "official endorsement," he plans to vote for de Blasio next year and that he is hosting the fundraiser because of the good work the mayor has done and to give his community the opportunity to show its support.
"He got a great reception here," Richards said of the mayor's appearance at a town hall meeting in June, "because he's finally paying attention to our community -- for decades we couldn't get people to pay attention. The mayor has been consistent in paying attention to Southeast Queens."
In one major example, the de Blasio administration has pledged $91 million toward the "revitalization" of Downtown Far Rockaway.
"I talk to my constituents all the time and they are happy with the progress they see," Richards added, "more affordable housing, more commercial opportunities, more streets being paved, more investment, infrastructure being put in. These are things we look for in a Mayor."
The mayor is "not perfect," Richards said, but "when you're looking to support any candidate, you look at their values, and you look at where their mission is going -- am I happy with the direction this administration is taking."
The event, Richards said, will be an opportunity for him to further gauge the support de Blasio has in the area, but also for him to show his constituents that he's behind the mayor's re-election. "Doing a fundraiser for the mayor signals this is someone I think highly of," Richards said, "and the community is going to listen closely to where I stand and my take on what the mayor has done, particularly for this district." Several other City Council members, including Helen Rosenthal and Ydanis Rodriguez, have hosted fundraisers for de Blasio as the mayor's campaign has kicked into gear.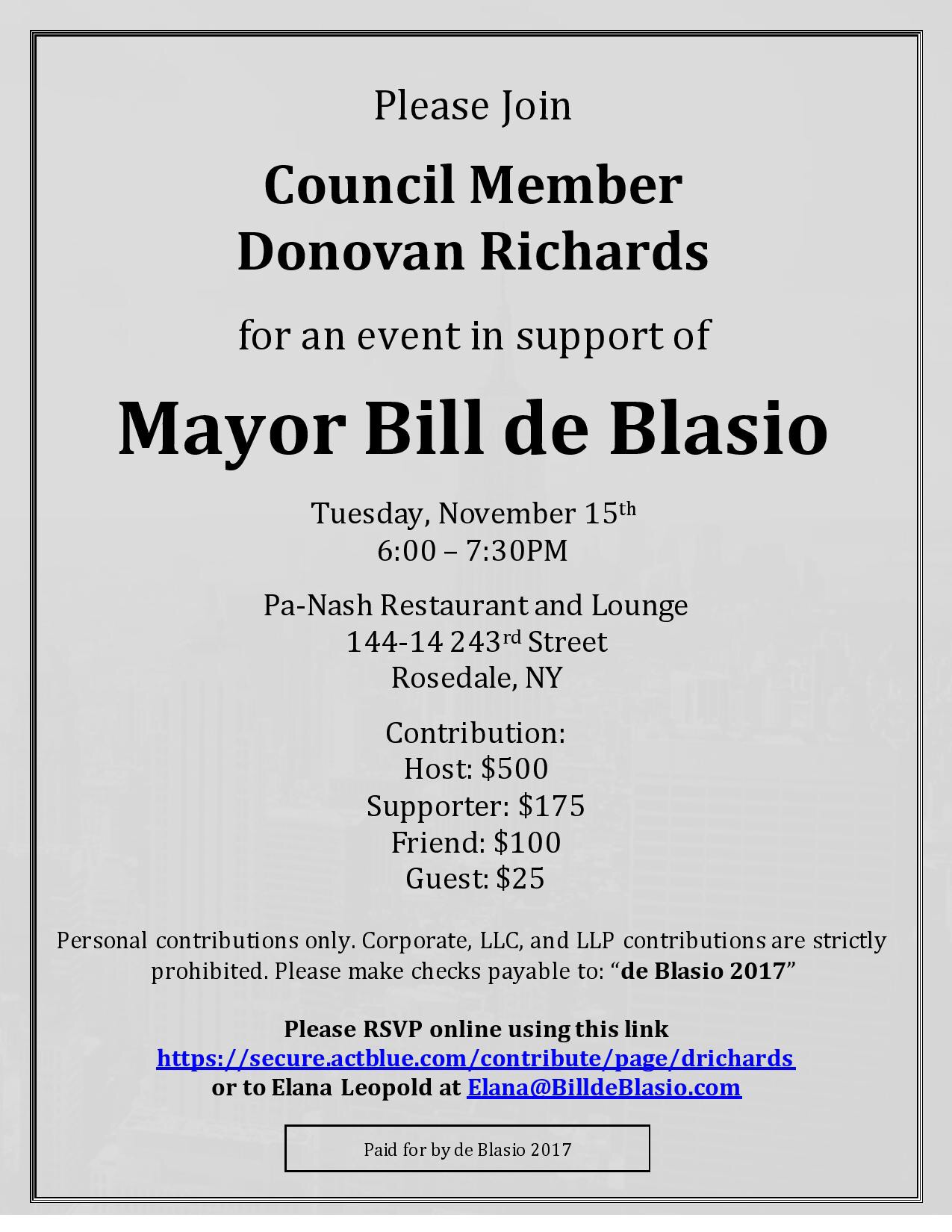 According to an invitation for Richards' event, which the Council member said he just started to circulate, to be listed as a "Host" requires a $500 donation. A "Supporter" kicks in $175; a "Friend," $100; and a "Guest," $25. Checks should be made out to "de Blasio 2017," the invitation (left) says. The event will be at Pa-Nash Restaurant and Lounge. Under the city's public matching campaign finance system, donations up to $175 or the first $175 of a larger donation are matched six-to-one by the city. The maximum individual contribution to a mayoral candidate is $4,950.
Asked how much he plans to donate to the mayor, Richards laughed and said "I'm not saying that, I've got a kid!" Richards, who became a first-time father earlier this year, added, "We'll see as we get closer, we're being supportive of the mayor, I'll say that. Hosting itself is being helpful!"
"I'm not bundling," he said, when asked.
Richards and the de Blasio administration have worked closely on two major initiatives over the past three years, including the Downtown Far Rockaway revitalization plan and the passage of two significant changes to the city's zoning rules that moved through the subcommittee that Richards chairs in the Council. The changes are essential to de Blasio's larger affordable housing plan.
"We're grateful and proud to have his support, and we're looking forward to the event," said Dan Levitan, spokesperson for de Blasio's campaign, of Richards, who said that he expects other Queens elected officials at the fundraiser.
The event comes as de Blasio's relationship with the City Council and its individual members has hit a choppier stretch. There's frustration among a number of members that the mayor is not as communicative as they think he should be and there are at times issues around credit-taking. Meanwhile, as is inevitable, over the nearly three years de Blasio has been mayor, a variety of local issues and battles have popped up, most recently around affordable housing projects and the siting of homeless shelters.
De Blasio maintains many allies in the Council. Even though she has her frustrations and disagreements with the mayor, Council Speaker Melissa Mark-Viverito remains one; and the most important one at that. Mark-Viverito told Gotham Gazette in August that the mayor deserves to be re-elected, and she attended a May fundraiser for the mayor in Brooklyn that was headlined by comedian Louis CK.
Some critics in the Council, however, have become louder over time, and some of de Blasio's relationships have frayed, such as that with Queens Council Member Jimmy Van Bramer. In May, when de Blasio was under fire on several fronts, including around law enforcement investigations, Richards and City Council Member Antonio Reynoso -- who co-chair the Council's Progressive Caucus -- were among the Council members who came to the mayor's defense: Richards and Reynoso co-authored an op-ed that appeared in Gotham Gazette outlining the progress achieved under de Blasio and the current City Council. It was part of what Politico New York reported at the time as a rallying of the troops behind the mayor.
"I can't speak for every member," Richards said on Friday. "Is the Mayor perfect? No. Generally speaking, for me, I can say that many of the issues - whether they're dealt with in perfection or not - affordable housing, community development, fair share - are things important to me. But in my eyes they're moving in the right direction. Still a lot of work to do, but I also don't expect them to fix all the city's ills so quick."