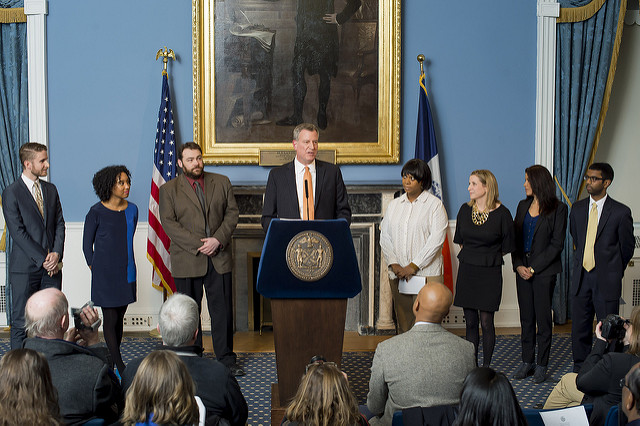 De Blasio, center, & Walzak, to the mayor's right (Rob Bennett/Mayor's Office)
---
There are few people Mayor Bill de Blasio trusts when there is a lot on the line. One of those people, Phil Walzak, has been a top aide to the Democratic mayor since de Blasio's 2013 campaign, for which Walzak was communications director. This past week, de Blasio's reelection campaign announced that Walzak is moving from City Hall -- where he had been de Blasio's press secretary then senior advisor -- to the campaign.
When it comes to a Mayor seeking a second term, there is certainly a lot on the line, and Walzak will be "overseeing the 2017 campaign's communications planning, and developing and implementing the strategy that will drive the re-election effort," according to the campaign.
But, the move comes somewhat early in the campaign cycle -- the Democratic primary is 11 months away and no candidate likely to pose a significant threat to the mayor has yet declared a run -- and de Blasio said on Wednesday that he does not plan to replace Walzak at City Hall. This combination of facts shows de Blasio prioritizing the work of his campaign over the work of his government.
Over his nearly three years as Mayor, de Blasio has himself repeatedly cited a need to improve his communication, which has been criticized from in- and out-side government. Walzak is one of three press secretaries and two top strategic advisors de Blasio has employed as he has attempted to find the right approach to both the media and direct outreach to New Yorkers.
Early in his term, de Blasio's press office was slow and timid, and the mayor was criticized for talking too infrequently to local outlets and to New Yorkers -- he relished national media attention and it took him nearly two years to hold his first town hall as Mayor.
Recently, de Blasio has taken heat around how infrequently he holds press conferences, for limiting the topics during the ones he does hold, for being confrontational with reporters, and for lashing out at the New York Post while refusing to take one of its reporters' question.
At the end of his second year in office, de Blasio held a December 2015 roundtable with reporters to discuss the first half of his term. During the wide-ranging discussion, at which he took dozens of questions, the only error de Blasio would admit to was in communicating. Promising more town halls and other appearances, de Blasio said he would do better. "I'm not in the business of dwelling on the past," he said. "I've clearly said I need to communicate better and I need to get out to the grassroots more."
Walzak and other top advisors to the mayor -- some in government, some outside -- have influenced de Blasio's approach to communications, though the mayor is known for trusting his own instincts and overruling the advice of others. When Gotham Gazette asked de Blasio if Walzak had served him well in light of the mayor's admitted communications challenges, de Blasio was vehement in the affirmative.
"I absolutely think he served me well, and his role grew over time as you saw," de Blasio said. "And I am very, very happy that he is going to be leading the charge in terms of our message and our communications on the campaign side because, as you know, our campaign cycle is already happening, obviously, but it will be fully engaged by the people of this city in just a couple of weeks. So we wanted to get him over there and get that work going. Look, I will always try and be better. I take the first responsibility on myself in all things. I think we've done a lot of good. I think some of it has gotten through better than others and I've got to do better all the time as a communicator and the team has to do better. But, I think Phil did a really fine job."
Asked if he planned to replace Walzak at City Hall, de Blasio told Gotham Gazette, "Right now, the group we have, I think, is able to continue doing the work well and we'll stick with the group we have."
It may be that de Blasio currently feels better about his press office and communications by City Hall -- the office became more organized and responsive to reporters under de Blasio's second press secretary, Karen Hinton; the communications team has been creating more original content and focusing on social media; and the mayor has been more regularly holding town hall meetings across the city. De Blasio's current press secretary, Eric Phillips, is the sharpest of the three he's had, possessing strengths of Walzak and Hinton as well as others.
However, it is not clear why de Blasio feels at such ease moving Walzak to the campaign at this stage and not replacing him -- two follow-up emails to Phillips seeking further explanation of the move were not returned. Last week the Wall Street Journal reported that one reason for the timing of the move was to help dissuade potential challengers from running against de Blasio.
"We are going to take a very aggressive approach and it's the simplest way to say it," de Blasio said when a reporter from the Wall Street Journal asked him to outline his campaign strategy. "Phil's going over there to start the communications engine up strong. And you are going to see a very energetic campaign and a very grassroots approach."
With Walzak gone from City Hall, it is not immediately clear who will step into the void, if anyone. Walzak is one of few people often involved in the mayor's biggest decisions and most sensitive matters. He speaks to members of the media, both on and off the record, for de Blasio, including occasional appearances on television and at public forums. De Blasio is in the midst of major governmental strategic and communications efforts, essential to his record: assuring New Yorkers that he is truly reforming the NYPD; convincing elected officials and communities to accept land use rezonings and new development in an effort to build more affordable housing; gaining more support for his education agenda; and more.
De Blasio has other top political and communications aides -- Emma Wolfe, Andrea Hagelgans, Phillips -- and advisors not on the city payroll, including several individuals so close to the mayor that his administration has determined them to be extensions of City Hall, and their communications with the mayor shielded from public disclosure. They include several people who, along with Walzak, helped the mayor win his 2013 campaign, such as former campaign manager Bill Hyers and consultant Jonathan Rosen.
The City's determination to withhold de Blasio's communications with those outside advisors, termed "agents of the city" by de Blasio's former counsel Maya Wiley, is the subject of a lawsuit filed against the City by NY1 and the Post, which sought the mayor's emails with those 'agents' through the Freedom of Information Law.
Gotham Gazette asked the mayor if Walzak would immediately fall under that same category. "It's a different situation," de Blasio said on Wednesday in City Hall's Blue Room. "He is, because he is going to be on a leave from City Hall, obviously in a position to keep communicating with us. We haven't talked about that specific matter that you're referring to. What we obviously were dealing with in the past with people I had long, long history with who were very close to me and personal advisors. This is someone who has been an employee at City Hall, now going on leave. We will seek guidance, of course, as to how to handle anything in terms of disclosure, etc."
As de Blasio approaches the final months of his third year in office and then his reelection year, both his government work and his campaign will be under intense scrutiny, though that is nothing new. "City Hall is a meat-grinder" according to a top strategist who knows de Blasio well and spoke about his communications approach on the condition of anonymity. "The mayor is under immense media pressure, unlike any other mayor," the strategist said. "The market is different than it's ever been," the strategist explained, referencing the competition, social media, and the speed of news cycles.
According to a former de Blasio aide who also spoke on the condition of anonymity, de Blasio's communications struggles have been acute. "Probably his biggest failure as mayor is how he's done with getting his own message out," the former aide said. "From the beginning, there have been so many errors -- how many good press weeks has Bill de Blasio had since he became mayor?"