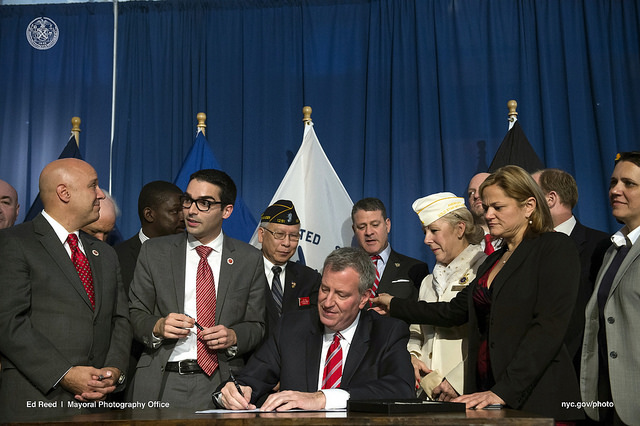 de Blasio, seated, & Ulrich, to his right (photo: Ed Reed, Mayor's Office)
---
He's not sure he'll take the plunge, but City Council Member Eric Ulrich is beginning to raise money and test the waters for a possible 2017 mayoral run. The key motivator for Ulrich, a Queens Republican, is his belief that "Mayor de Blasio is destroying and dividing our beloved city."
That is how Ulrich is framing a fundraiser he is holding Tuesday evening, adding of Bill de Blasio, a Democrat, "I believe he can be beat in 2017 but I need your help" on the Facebook event page. For the fundraiser, a $1,000 donation puts you on the "dump de Blasio" level.
Ulrich, who calls himself a "moderate Republican," supported Ohio Gov. John Kasich in the Republican presidential primary and readily talks about working across the aisle. He's holding Tuesday's event "to raise some money and have a discussion with my supporters and my friends about running next year," he said during a Monday interview. "I'm seriously considering a run for Mayor," he said.
Explaining that he wants to launch a campaign that is both "a referendum on the mayor" and an opportunity to put forward a different vision from current city leadership, Ulrich said he would model himself after former Mayor Michael Bloomberg's "bipartisan, independent" approach. Ulrich heaped prasie on Bloomberg during the interview, calling the former mayor "a friend," and said, "I should hope that I would be half as good as Mike Bloomberg was."
In that vein, Ulrich said he has met with Howard Wolfson, a top Bloomberg aide, and other Bloomberg administration veterans, and that he plans to meet with Bradley Tusk, Bloomberg's 2009 campaign manager who has launched an independent effort, "NYC Deserves Better," to find the right candidate to defeat de Blasio.
While Tusk has declared he's looking to back a Democrat in 2017 because he thinks the best path to defeat de Blasio is through the primary, Ulrich said he hopes to get him "to change his theory" and explained what he sees as his wide-ranging appeal: he is fiscally conservative, but also pro-choice, pro-marriage equality, pro-labor, and always ready to work with people of all viewpoints and party affiliations, he said.
"I've met with Howard Wolfson privately," Ulrich said of Bloomberg's top political advisor. "I'm not going to divulge everything we discussed. We talked about next year's race, and I was very encouraged by the conversation."
Ulrich represents neighborhoods including Breezy Point, Ozone Park, and Rockaway Beach, and is the chair of the Council's veterans affairs committee. He said Monday his plan is to bring in several hundred donors and launch a significant fundraising haul with a series of events between now and the next Campaign Finance Board filing in January. Admitting he has hurdles to clear before declaring a run for Mayor and an uphill battle if he does run, Ulrich said he wants to test the waters and, hopefully, take on de Blasio, who is mostly seen as a heavy favorite to win re-election. A key, Ulrich acknowledged, is raising solid early money and showing he can qualify for the city's public matching funds program.
He's been meeting with political, civic, business, and faith leaders across the city, Ulrich said, "on my own time" (as opposed to when he's performing his City Council duties). Democrats, Republicans, and independents included, the 31-year-old Council member said, many of whom are supportive, though interested in what kind of campaign he can begin moving before endorsing him or offering concrete help. Ulrich said he hasn't hired a political consultancy yet, but has had several show interest.
Ulrich acknowledges the steep challenge for a Republican in an overwhelmingly Democratic city, but also believes that a strong enough candidate could convince the city's Republicans, most of its unaffiliated voters, and some of its Democrats to change course from de Blasio. He predicts a good likelihood of major independent expenditure money flooding the race in order to remove de Blasio from office.
"Some of the people rumored to run for Mayor, both on the Democratic side and the Republican side, have missed the mark," Ulrich said. "It's going to be a referendum on de Blasio -- whether or not people want Bill de Blasio to be a one-term mayor. If you like the direction of the city...vote for Bill de Blasio. If you want to put the city on a different direction...then you've got to vote for somebody else."
While he said that "The big albatross around the mayor's neck is the homeless crisis -- this is an issue that he's failed to address," Ulrich listed a few specific issues that he thinks the mayor has not performed on, but appears more focus on pointing to something less tangible, but important.
"I think that we're facing a crisis of confidence," Ulrich said. "I believe people simply don't have confidence in the mayor's ability to do a good job...People just don't like the guy, and that's important to being in public office." Ulrich referenced the investigations into the mayor's fundraising practices.
Allies of the mayor are quick to point out that Ulrich doesn't have the resume, gravitas, name recognition, or money that Bloomberg had when he won three citywide elections as a Republican or independent.
Dan Levitan, a spokesperson for de Blasio's re-election campaign, said in a statement, "Under Mayor de Blasio, crime just hit another all-time low, jobs are at record highs, the City is building and preserving affordable housing at a record pace, while graduation rates and test scores continue to improve. We are happy to match that record against anyone."
Speaking on Monday, Ulrich gave de Blasio credit for his universal pre-kindergarten program, but said state funding made it possible and that he otherwise doesn't have anything positive to say for the mayor. He pointed to questions around de Blasio's education agenda, his mismanagement of the city's Build It Back Sandy recovery program; said there is low morale in the NYPD, and criticized the mayor for "his combative relationship with the press and the governor."
Ulrich admitted he has big questions to answer, with the fundraising near or at the top. "I'm not going to run to get embarrassed," he said. "Am I going to give up my seat on the City Council, where I could run for reelection one more time...do I want to give that up to run for Mayor? Only if I really thought there was a path to victory and I could get the support that I needed."
Most experts believe de Blasio has a very strong chance of winning another term. He is popular among Democrats and has many advantages of incumbency. But, he is much less popular among Republicans and unaffiliated voters, and he is deeply unpopular among white New Yorkers, polls show. One question for any de Blasio general election challenger is whether there are enough votes out there to be captured in a city that is heavily Democratic and increasingly made up of people of color.
According to the state Board of Elections, as of April 1, there were just over 4 million active registered voters in New York City: 2.76 million of them Democrats; 460,000 Republicans; 785,700 unaffiliated; and about 162,000 registered with other parties, like the Independence, Green, Working Families, and Conservative parties.
Short of viability against de Blasio, unknown for Ulrich is what the Republican primary field will look like. Real estate executive Paul Massey has declared a run, and there are other rumored candidates, but it's not clear what the city and state GOP leadership are doing in terms of cultivating candidates. Ulrich said he's had some encouraging conversations with county and club leaders; some people have told him he'd give de Blasio "the best fight," he said.
Ulrich added, "Some of have said, 'Eric's a good guy, but we want another rich white guy...a billionaire.'" But, Ulrich said he's not sure that Bloomberg-like figure is out there -- a strong candidate who can also self-finance. "If we're tied with CFB funds," Ulrich said of himself and de Blasio, "I can't imagine powerful business and civic folks not getting involved" with independent expenditures.
"Eric has a lot of talent," said City Council Member Joseph Borelli, a Staten Island Republican. "The mayor is unpopular in many parts of the city where Eric's voice could resonate, but it's early in the process and there are a number of Republicans who've expressed interest, and we should be careful with who we nominate."
Borelli and Ulrich come from different wings of the GOP -- Borelli has been a major supporter of Donald Trump's candidacy, while Ulrich has been in the "never Trump" category and backed Kasich. Ulrich has regularly voted for City Council bills that Borelli and the third Republican in the City Council, Minority Leader Steven Matteo, vote against. Still, if Ulrich is the Republican nominee for Mayor in 2017, it's all-but-certain that Borelli and other Republicans back him. The question is how much money and enthusiasm Ulrich or any Republican nominee for Mayor can attract -- de Blasio's 2013 opponent, Joe Lhota, was not the beneficiary of a major rallying of the troops. De Blasio won in a landslide.
One place Ulrich could be looking for support is through Tusk and his ambition to unseat de Blasio, who he has called corrupt and incompetent. Asked about the prospect of meeting with and supporting Ulrich, Patrick Muncie, who works at Tusk Strategies and is a spokesperson for NYC Deserves Better, sent Gotham Gazette a statement saying, "While we like and respect Council Member Ulrich, and are happy to meet with him to discuss our shared belief that New Yorkers deserve honest, competent leadership in City Hall, we're confident the most realistic path [to defeating de Blasio] is through the Democratic primary."