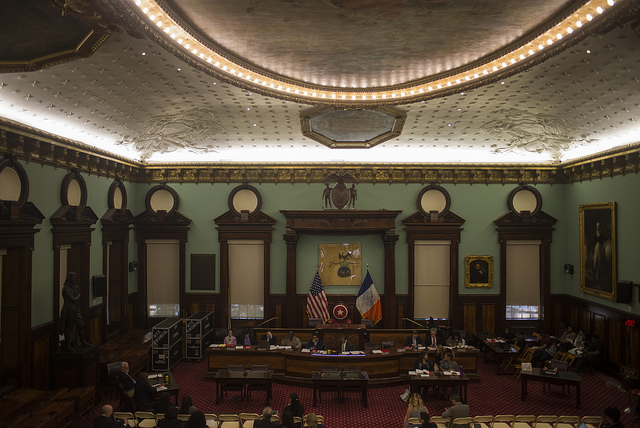 City Council chambers at City Hall (photo: Sofie Hecht/Gotham Gazette)
---
The New York City Board of Elections is well prepared for the upcoming general election save for minor hiccups, its executive director testified on Wednesday at the City Council.
At an oversight hearing held by the Council's Committee on Governmental Operations, BOE Executive Director Michael Ryan laid out the board's preparations for the November 8 Election Day and fielded a variety of questions from Council members on topics like voter fraud allegations, helping homeless New Yorkers vote if eligible, and modernizing the voting process.
It'll be a herculean task for the board as it installs 68,001 individual pieces of equipment at 1,205 poll sites across the city, manned by more than 36,000 poll workers armed with 2,952 tablets to quickly and effectively communicate issues as they come up as well as results at the end of the day. The tablet pilot program, Ryan said, is now a full-fledged unit that has been integrated into election management.
It's been a busy year for the BOE, which has been dogged for years by issues related to staffing, cronyism, and incompetence. There have been multiple elections this year already -- the presidential primary in April, the congressional primary in June, and the September state level primary. It also managed a special election for a City Council seat in February. Taking lessons from those elections, the board has stepped up efforts to ensure the November 8 general runs smoothly. It has focused on making poll sites comply with the Americans with Disabilities Act, hiring ADA coordinators for the election. The board has also increased its outreach and recruitment efforts, according to Ryan. Nearly 5,000 poll workers were recruited just through ads on the city's mass transit system.
So far, across the five boroughs, between 79 and 93 percent of poll worker positions have been filled, Ryan said. The BOE has also taken steps to make certain that polling sites do not run short on ballots, printing more ballots than the number of voters registered and also providing ballot-on-demand printing machines at certain sites in case of emergencies. The board also distributed 34,145 absentee ballots for federal and military personnel, of which 11,432 have already been returned.
Ryan did point out one setback, and made a public plea for help, as the board has a shortage of Korean and Chinese interpreters.
Although the hearing was primarily intended as a briefing on the upcoming election, it was inevitable that Council members would bring up a recently surfaced video in which a Manhattan Democratic BOE Commissioner said there was voter fraud in the city, in part, through the use of IDNYC municipal identification cards (which have no relationship with voting). The commissioner, Alan Schulkin, called for some form of voter identification and also made unsubstantiated claims of fraud against certain communities of color.
Council Member Ben Kallos, chair of the committee, posed questions aimed at debunking Schulkin's claims about voter identification requirements. Ryan, in response, reiterated that New York State does not require any identification for voting, only a signature. Only in rare instances, first-time voters may be required to produce identification if their voter registration is incomplete.
When Kallos asked if Schulkin's claims about voters being bussed to multiple polling sites held any water, Ryan said, "Those issues have never come to my attention, not during my time as a commissioner going back to 2010 or in the three-plus years that I've been the executive director." The state attorney general's office also told Gotham Gazette earlier this month that the AG's office has not received complaints of widespread voter impersonation fraud that Schulkin mentioned.
Schulkin's comments, however, triggered a larger discussion at the hearing on how the BOE holds its employees and commissioners accountable for their words and actions. Ryan told the chair that Schulkin's personal views as expressed in the video have not had an impact on the execution of elections. "We have been proceeding with business as usual," he said. But he also could not confirm whether any action had been initiated against Schulkin by either the board or outside authorities. The New York Post reported on Tuesday that Schulkin had been subpoenaed by the state Board of Elections' investigative unit. Under questioning, Ryan told Council Member Joe Borelli, a Republican from Staten Island, that it would be inappropriate for him to comment.
"With respect to issues related to any of my superiors," Ryan said, "I would prefer not to engage in that discourse back and forth because at the end of the day I still answer to the ten commissioners...I'm not trying to be evasive, but I don't think it's my place to answer those questions." (The BOE has one Republican and one Democratic commissioner from each borough, named by county party heads, per a state law that many want to see changed.)
Asked directly by Borelli if the board stood by Schulkin's comments, Ryan said, "The Board of Elections is a quasi-legislative body. It takes official positions when six commissioners vote on official positions. So I'm not going to comment on the musings of any one individual." He cited two studies, though, one by a Loyola Law School professor and another by the Presidential Commission on Election Administration, that have shown that instances of in-person voter fraud are almost nonexistent.
Council members also questioned Ryan on the board's actions taken against two Brooklyn BOE clerks involved in the massive voter purge before the presidential primary. Ryan said the two remain on suspension without pay, but the board had yet to file a formal report. He promised to share the report once the board's commissioners have concluded the process. The board attempted, however, to at least partially rectify the mistakes the clerks made by restoring 117,656 voters back to the rolls in Brooklyn ahead of the June congressional primary.
The line of questioning also got to details of how employees are disciplined. Ryan explained to Council members that the BOE, much like any other agency, has internal processes in place for termination. A commissioner, he said, could only be removed by the governor with good cause. An employee, depending on whether they are part of a union or not, would go through a disciplinary hearing and then the ten commissioners would vote on a final determination. Ryan said he himself holds no executive authority to fire an employee.
"Right now it seems to me that the lines of accountability...are totally unclear," said Council Member Brad Lander, a Brooklyn Democrat, "and that's not a good system for having people do the job."
The hearing was collaborative, however. Ryan promised to work with Council Member Ruben Wills on helping homeless residents in his district vote and told Lander that the board would look at improvements to it's voter notification processes.
"Our staff has been running ragged basically from February, March," Ryan said. "We're gonna lift our heads up after November 8, we'll get through certification. I'm hopeful that there won't be any specials between January and September. That'll give us a window of opportunity to look at all of these additional improvements."