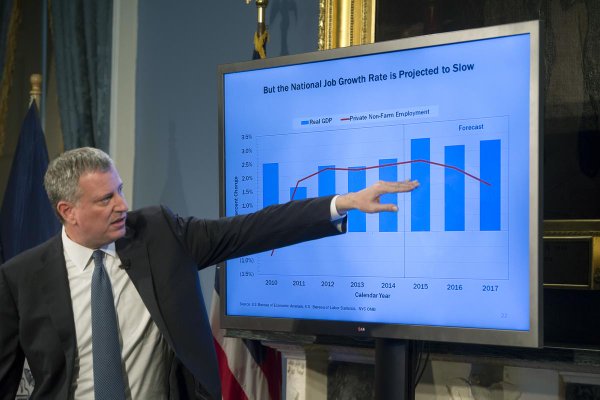 Mayor de Blasio in a budget presentation (photo: NYC Mayor's Office)
---
Reading the tea leaves and heeding calls to be more prepared for an inevitable recession, the de Blasio administration has formed a new unit in its budget office tasked with coordinating additional agency savings, a move expected to be more formally announced in conjunction with the coming November budget modification.
City tax revenue growth has slowed, but a recession is not yet here, and may not be imminent. Though alarm bells have been ringing of late, city tax revenue shows modest growth of about 3.8 percent for the first quarter of fiscal 2017 compared to the same period in fiscal 2016 (July-September), which is in line with forecasts. Still, as the budget update session for the current fiscal year arrives, the de Blasio administration, the City Council, and outside budget watchdogs see warning signs.
The key questions are what exactly the City is doing to fortify finances and whether it will be enough when the city's financial picture is indeed more bleak. Mayor Bill de Blasio, a Democrat, and this City Council have been exceedingly fortunate over their three years in power, as the city has been "flush with cash," as one City Council Member memorably said at City Hall.
While the mayor has taken significant steps to build reserves, de Blasio has also overseen a drastic increase in city spending, with an operational budget now over $82 billion in the current fiscal year. And while he is taking additional steps -- like the formation of the new Citywide Savings Unit at the Office of Management and Budget -- it is not yet clear to what extent de Blasio will follow the advice of budget watchdogs like the Citizens Budget Commission and city Comptroller Scott Stringer.
"It's the first quarter, so it's hard to see to the end of the fiscal year," said Maria Doulis, vice president at Citizens Budget Commission, an independent watchdog. Doulis said she is eager to see the November budget modification from the City, but that previous forecasts appear apt and it is not time to panic.
"We're not yet in a recession, but there's reason to be cautious, because non-property tax revenues are not growing strongly," Doulis said. Indeed, property taxes are buoying several other flagging avenues of tax intake (see chart below). The city is in a solid place despite the increased budget spending, Doulis said, because of good reserves. Still, "Looking at [Q1 tax revenues], this argues very strongly for an increased PEG program, or savings program," Doulis said. "The revenue figures argue for caution and restraint in spending."
In brief, watchdogs want to see de Blasio identify additional savings and limit new spending. The big question for the November modification to the fiscal 2017 budget, Doulis said, is, "Will there even be a savings program?"
A PEG, or program to eliminate the gap, calls on city agency heads to identify a certain percentage or amount of agency spending for potential cuts, then leaves up to the Mayor and his budget office which recommendations to accept. Despite calls for such a program, de Blasio has resisted, instead encouraging his commissioners to find savings. The Citywide Savings Program that de Blasio has touted has been bolstered by re-estimates of hefty expenditure projections, not enough by real agency savings, watchdogs say.
There is still time to build up the city's fiscal cushion to have resources necessary if revenues don't meet projections, Doulis said. "It's hard to call these things, but the last time around, Mayor Bloomberg started to issue calls for a very strong PEG before the recession had officially hit New York City," Doulis said. "That's the way you want to do this. That's the way you want to approach this. You don't want to hack away when you're in freefall."
City Comptroller Scott Stringer has said the city should have a "budget cushion" of 12-18% of its operational budget in reserves -- the current number is about 10%.
The de Blasio administration has steadfastly defended its approach to budgeting. At the announcement of the adopted fiscal 2017 budget in June, de Blasio told Gotham Gazette he was quite comfortable with the budget cushion in place, but that the City would continue looking for additional savings.
"At this year's FY17 Adoption, the Mayor promised to find areas of savings and we are making good on that promise," de Blasio spokesperson Freddi Goldstein said in a statement. "We found savings in the preliminary, executive and adopted budgets and there will be additional savings in our upcoming November Plan. As always, we remain cautious with our forecasts and confident that NYC is in strong fiscal standing."
De Blasio and his representatives regularly say that reserves are at "historically" high levels, which is true, but the city budget is also higher than it has ever been, city personnel hiring has been expanded significantly over the past three years, and city pension obligations are greater than ever before.
The city general reserve is at $1 billion, far higher than past levels, and there are other savings set aside for the city's capital plan ($500 million) and retiree health benefits ($4 billion).
The de Blasio administration is eyeing additional savings to be able to show the City Council and others at the November budget modification, the new Citywide Savings Unit, with a headcount of four, began its work in September.
"There's nothing that suggests the overall forecast is at risk," said Ana Champeny, Citizens Budget Commission director of city studies. OMB was fairly conservative with projections, she said. A de Blasio administration source noted that OMB's forecast was more cautious than the City Council's.
The Council recently raised its eyebrows in public fashion, a seeming warning shot ahead of the upcoming release and reaction to the November budget modification. A Wall Street Journal article published October 26 cited City Council data showing slumping tax revenue and citing a 1% drop in those revenues for April through August 2016 compared to the same period the year before.
This report prompted warnings about the city's finances from the New York Daily News editorial board and New York Post columnist Nicole Gelinas, a budget expert. On the other hand, Greg David of Crain's New York Business, another columnist and budget expert, wrote in response to a string of Journal stories on the city economy that no, a recession is not in fact setting in. David pointed out that after such robust growth over the past several years even a slight drop in revenue could be expected and is not cause for alarm.

According to a representative from the City Council's finance division, it used April-August data because that was what was available at the time; the Q1 data -- which shows a better picture of 3.8% revenue growth year over year -- was not yet in.
At Gotham Gazette's request, the de Blasio administration provided Q1 data (see below) on October 28.
Regardless of which tax revenue data is used (though experts agree a Q1 comparison is preferable), the story is generally the same, especially in conjunction with recent unemployment numbers, which show a slight rise: economic growth is slowing. While property tax revenues are strong and increasing, other streams, like personal income and sales taxes, are virtually flat, and transaction taxes have decreased (all Q1 FY17 over Q1 FY16). But, the difference between 'tax revenues are down 1%' and 'tax revenues are up 3.8%' is not insignificant, both in real economic meaning and political narrative.
The Council finance representative said that the office is currently performing its typical November forecast for the rest of the current fiscal year and beyond. This year's forecast has been about the same as last year's, the representative said, for about 3-3.5% growth in tax revenue. A Council spokesperson did not respond to a request for comment about the Q1 numbers or the new OMB savings unit.
A key risk factor identified by voices like The Daily News editorial board, Gelinas, CBC, and others, is de Blasio's expansion of the city payroll by thousands of employees. "Instead of being on notice to demonstrate efficiency, agencies have been encouraged to spend," the News wrote on Monday.
Gelinas has been warning about growing personnel costs over the course of de Blasio's tenure, especially with regard to healthcare and pension bills. There is less risk for the City in the short-term on this issue, but big obligations will be due in the future. As mentioned, the city has retiree health benefit reserves, but in the case of a recession, Doulis of Citizens Budget Commission warns that that money should not be touched to fill operational budget gaps.
That's part of why Doulis wants to see a PEG from de Blasio to boost general reserves, which can be tapped during recession. CBC also wants to see other cost-savings measures taken. "There is so much to do on procurement in terms of savings," Doulis said.
"The City is really behind on procurement practices -- they're not following general best practices in the ways the City buys things in general," she said. The purchase of goods and services is "decentralized at agencies" instead of being under the watch of the Department of Citywide Administrative Services, or DCAS, where it should be, Doulis said. The City could be much more efficient, saving time and "$100 million right off the bat," she said.
Goldstein, the de Blasio spokesperson on budget matters, did not respond to a request for comment on Doulis' call for procurement reform.
TAX

FY17 Q1

FY16 Q1

%Y/Y

Property

12,767

11,930

7.0%

PIT

2,220

2,206

0.6%

Business

1,137

1,092

4.1%

Sales

1,652

1,659

-0.4%

Transaction taxes

651

775

-15.9%

All other*

696

755

-7.9%

TOTAL >>>>

19,123

18,417

3.8%




*All other includes CRT, Utility, Cigarette, Hotel, Other, STAR, Audits
Numbers are in the millions.