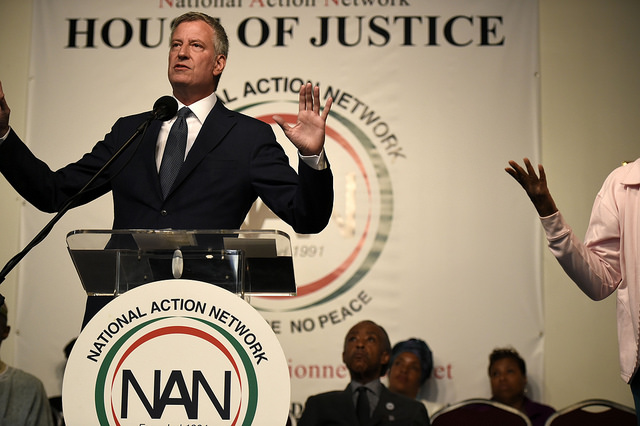 De Blasio at NAN (photo: Ed Reed/Mayor's Office)
---
New York City's municipal party primary elections are ten months away, and though he does not yet have a formidable challenger in the race, Mayor Bill de Blasio is not sitting back unprepared. De Blasio, a first-term Democrat, has kickstarted his reelection campaign, raising funds and formulating a campaign message around his achievements. In part, he is trying to preempt a significant challenger from entering the fray. But, as de Blasio himself has said, being Mayor is a 24/7 job and throwing an electoral campaign into the middle of it presents challenges.
One major challenge de Blasio faces, and in unique fashion to his three-term predecessor, is balancing his time spent governing versus campaigning, while also adhering to conflicts of interest rules for all city employees.
Answering questions recently, the mayor has given a glimpse at the balancing act involved in persuading people that he deserves to remain the city's chief executive and performing the very duties that come with the position. At an unrelated October 26 news conference, Gotham Gazette asked the mayor about his approach to the issue. "We're trying to figure out a balance," de Blasio said, stressing that the job of the mayor "begins in the morning, it ends in the night, and it never goes away."
De Blasio explained the challenge of finding time in his nonstop workday, one that begins around 5:30 a.m., he said, and includes consistent emails and calls until he goes to bed around midnight.
"Because we're in a democracy and there's campaigns and you have to do all the things around a campaign," he said at the news conference. "As a campaign year is emerging...you've gotta put more time into building up the apparatus. We try to find a way to carve out time, it's not always easy, but we do the best we can."
Asked if he was dedicating any specific blocks of time, de Blasio said it wasn't really possible to do so.
De Blasio is the first incumbent New York City mayor seeking re-election without self-financing his campaign since 1997, when Rudy Giuliani won a second term. Former Mayor Michael Bloomberg bankrolled all three of his campaigns, thus needing to dedicate far less time away from his government duties during his two reelection bids, given that fundraising is both time-consuming and essential.
On that front, de Blasio has emphasized a return to his roots, shifting to a small-dollar fundraising operation akin to what Vermont Senator Bernie Sanders employed in the race for the Democratic presidential nomination. De Blasio has hired the same digital fundraising firm, Revolution Messaging, that ran Sanders' operation, famous for the $27 average contribution that the senator liked to boast.
It is also an apparent attempt by de Blasio to diminish the negative attention he received for his fundraising for the Campaign for One New York, a political nonprofit that promoted his agenda while taking unlimited contributions, that has since become the subject of multiple local, state and federal investigations, and is in the process of shutting down. Neither the mayor or any of his allies involved have been accused of wrongdoing and de Blasio has insisted they acted legally. The mayor has repeatedly said he sought and followed appropriate guidance from the city's Conflicts of Interest Board.
It is that same board that provides guidance around separating government and campaign activities.
On radio and television appearances soon after the press conference at which de Blasio discussed balancing his time, he elaborated further on the subject when asked. During his weekly segment on WNYC's The Brian Lehrer Show, two days after the news conference, a caller asked about the time he spends fundraising. "I can't give you an exact percentage," de Blasio said. "I mean, obviously, governing is the vast majority of the time...I think most people who are decent human beings, in public life, would like to tell you we would like to spend zero percent of our time on fundraising."
As he so often does when asked about fundraising, de Blasio stressed the need for campaign finance reform, advocating for full public financing of elections that would not only pull big moneyed interests out of politics but would also focus, "all that time that goes into fundraising now back into public service." He promised, though, that "governing has to come first and I will just have to do the best I can with limited time in terms of fundraising."
Without more clarity on the mayor's schedule, it is unclear how well he is limiting his fundraising time.
But, it is apparent that the mayor is making many fundraising calls and attending a variety of fundraising events already -- he appeared at a small-dollar young professionals fundraiser for his campaign in Harlem Wednesday night; on November 15, he'll appear at a fundraiser in Southeast Queens hosted by City Council Member Donovan Richards. Previously, de Blasio has attended a variety of other small fundraising events and had a large fundraiser at Brooklyn Bowl, at which comedian Louis CK, an outspoken supporter of the mayor, performed.
Closer to reelection, de Blasio has stepped up his public outreach from a government perspective, too, hosting a number of town halls across the city. He also recently added a new weekly appearance on NY1's Inside City Hall to his schedule. On the inaugural show, on October 31, anchor Errol Louis also asked the mayor about his fundraising schedule.
De Blasio's answer was similar to what he said at the news conference and on WNYC, although once Louis pressed him he added that he spends on average a few hours a week raising campaign funds. "I want to emphasize that it varies so intensely by week," he said. "The next big campaign filing is in the middle of January, so there'll be more energy getting close to that," he added. "But my goal is to keep it limited each week and if it can be just a few hours each week that's certainly what I prefer."
De Blasio's campaign spokesperson said questions about the mayor's time management should be directed to City Hall. A spokesperson at City Hall then referred Gotham Gazette to the NY1 interview.
Amid any concern that the mayor may lose focus on the job is wariness about the line between official business and campaign activity. "I think he should seek very specific guidance from the Conflicts of Interest Board and the Campaign Finance Board to ensure that he doesn't cross the line because he has been suspected of crossing earlier lines," said Dick Dadey, executive director of Citizens Union, a government reform group. "He should be very careful about the use of government resources for his reelection campaign, which is not permitted."
The city's campaign finance laws and the City Charter place restrictions on when, where, and how an elected official might indulge in campaign activities, to ensure a separation from their official duties.
The Conflicts of Interest Board also issued a general advisory in 2012 after receiving numerous questions from elected officials on how they and their subordinates may engage in political activity. By law, no elected official is allowed to use city resources for campaign purposes or work on a campaign while on the clock. For instance, in the mayor's case, he would be prohibited from making campaign-related calls out of City Hall.
There has already been one possible indication of that separation being tested. A few weeks ago, after the mayor hurriedly took a helicopter from Prospect Park in Brooklyn to an event in Queens to avoid being late, his city spokesperson would not confirm the purpose of the meetings that delayed him in Brooklyn. As has been widely reported, the mayor frequents Bar Toto nearby for political meetings and to make fundraising phone calls. The Wall Street Journal reported that the mayor often spends his Fridays at the restaurant.
"Any incumbent who is running for reelection needs to find time within the day to do the politics of this and the mayor is no exception to that," said Dadey of Citizens Union. Although, the mayor is the first citywide elected to have begun to campaign outright for the 2017 cycle. The other two citywide electeds, Public Advocate Letitia James and Comptroller Scott Stringer, have not been especially active on the campaign trail, though both are raising some money. A spokesperson for James declined to comment for this article. Inquiries to Stringer's office went unanswered. James has a fundraising event coming up November 16 at a Manhattan restaurant.
For incumbent mayors, Dadey added, "The political activities are almost hidden from view…because they want to be seen as doing their job as Mayor, not necessarily their job as a political figure. So it's very important that they not be seen as a regular activity because that's not what we're paying the Mayor to do."
What also puts de Blasio in somewhat challenging territory is that his situation is again so different from his predecessor, and many New Yorkers weren't around for Rudy Giuliani's tenure and re-election campaign.
"Mayor Bloomberg spent no time dialing for campaign dollars or hosting fundraisers," said Patrick Muncie of Tusk Strategies. Muncie worked on Bloomberg's 2005 and 2009 campaigns and served as deputy press secretary in the mayor's office. He is also involved with NYC Deserves Better, a group aimed at unseating de Blasio next year that is run by Bradley Tusk, who ran Bloomberg's 2009 campaign. Bloomberg spent over $100 million that year to narrowly win his third term.
"Of course Mayor Bloomberg campaigned in 2005 and 2009, but his passion was for governing and running the city, not politics," Muncie said. He cited many of the criticisms of the mayor, including his mornings spent at the gym in Park Slope and his Fridays, as the Journal has reported, spent away from City Hall. "New Yorkers expect their mayor to go to work," he said, "and to spend the majority of their time focused on their concerns."
Note: Gotham Gazette is an independent publication of Citizens Union Foundation, sister organization of Citizens Union.