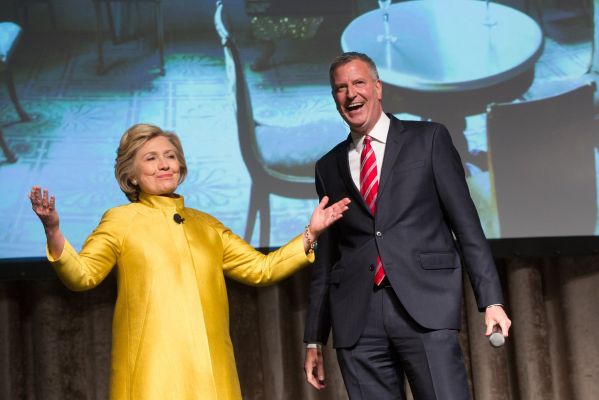 Clinton & de Blasio at Inner Circle (photo: Michael Appleton/Mayor's Office)
---
Just two weeks before Vermont Senator Bernie Sanders stepped into the 2016 presidential election with his uber progressive proposals that would eventually pull the Democratic Party to the left, Mayor Bill de Blasio stuck his foot in the door. The mayor's attempt to seize the moment for national change was borne from his own electoral success in New York City and began in earnest with a policy announcement outside the Capitol building in Washington D.C., where de Blasio and his allies unveiled an agenda meant to influence the presidential race.
Fashioning himself a national progressive standard-bearer, de Blasio embarked on what would become a largely humbling journey in which he was at times a political pariah, a strong voice for liberal policies, a non-factor, and a loyal Hillary Clinton surrogate. It ended this week as de Blasio led get-out-the-vote rallies on New York City college campuses, cast his vote for Clinton and spoke in support of Clinton at the beginning of a rally outside her election night event, which itself turned from an optimistic coronation to a political funeral.
The journey took de Blasio from glowing appearances on the Sunday political talk shows to humbly door-knocking in Iowa; from an unglamourous afternoon speaking slot at the Democratic National Convention in Philadelphia to late-game weekend appearances at swing state churches where he vouched for Clinton in front of largely black audiences, representative of his base. And then to several CUNY schools where he rallied young voters in Clinton's adopted home state, a voting booth at a Park Slope library, and the Javits Center on Manhattan's West Side, where Clinton supporters expected a big night that never came.
With the 2016 election now behind him, the mayor may be relieved to next focus on his own reelection campaign. His first term, much like his involvement in the presidential election, has been defined by a lurching series of setbacks and accomplishments. He has been lauded for achieving key progressive policy goals, including the implementation of universal pre-kindergarten, expanded paid sick leave, and more affordable housing.
But among de Blasio's failures, one that stands out -- and foreshadowed his 2016 efforts -- is his unsuccessful 2014 attempt to influence state elections and flip control of the New York State Senate to Democrats. Not only did de Blasio-backed candidates lose and the Senate, which stifles the mayor on policy matters, remain in Republican hands, but de Blasio's efforts are under law enforcement investigation because of the campaign finance tactics used.
After the 2014 election cycle, de Blasio also went national, expressing his disappointment with results around the country in a Huffington Post op-ed, urging Democrats to stiffen their backbones and commit to "a bold, new approach" that acknowledged the need to address income inequality. The missive landed with a thud, somewhat like de Blasio's efforts to influence the 2016 conversation and his delayed endorsement of Clinton.
It is widely acknowledged that de Blasio's progressive credentials are indeed strong, but his attempts to push his principles at the national stage faltered, even while his preferred policies took center stage in the Democratic debate. It would be Sanders, not de Blasio, who was the left-wing star of 2016. The mayor's past proximity to Clinton, whom he once served as a political operative and who attended his 2014 inauguration as Mayor, seemed to encourage his audacious attempts at influencing her policy positions.
The highs and lows that followed de Blasio's initial non-endorsement of Clinton, over 18 trepidatious months, also captured the relationship, which has since been placed under the microscope following the release of stolen emails from the hacked account of Clinton's campaign chair John Podesta.
The first blow to the mayor and New York City's role in the presidential election came early, in February 2015, when the city lost its bid to host the Democratic National Convention in Brooklyn. Some said that although logistics and security were stated reasons why the Democratic National Committee chose Philadelphia, which is in a swing state, part of the problem was New York's status as a heavily liberal haven, and a sure thing for any Democratic nominee.
That April, in an interview on NBC's "Meet The Press," de Blasio declined to officially endorse Clinton's presidential run. "I think like a lot of people in this country, I want to see a vision," he told host Chuck Todd, insisting that he wanted to first gauge Clinton's policies on income inequality. What followed was not surprising. The Clinton campaign, already keeping the mayor on the periphery, shunned him almost entirely.
De Blasio's initial offers of unsolicited advice went largely ignored, the emails revealed by WikiLeaks showed, and the campaign's attitude turned almost hostile as the race continued. In private, campaign staffers derided him, with one aide even calling him "a terrorist" for his refusal to attend Clinton's kick-off rally on Roosevelt Island and a compliment paid to Sanders, her chief primary opponent.
In May, as the mayor continued to hold off on his endorsement, he unveiled the Progressive Agenda to Combat Income Inequality, a nonprofit organization and 13-point policy platform, at a news conference outside the Capitol. Signatories included former and current elected officials at various levels and a number of advocates and celebrities, but not the Clinton campaign. "It's time to listen to the people all over this country, to listen to their hunger for a change," de Blasio said at the announcement, according to the New York Times. "It's up to us to answer their call — their strong demand, in fact — that we create a more just nation."
Prior to the announcement, the mayor travelled to a number of states to promote a conversation around income inequality, earning him much criticism at home for focusing his attention away from the city -- he had been in office a year and a half.
The Progressive Agenda group made no concrete difference and slowly faded away, particularly after a failed attempt to host a bipartisan presidential forum in Iowa. The forum, slated for December, was called off in November after none of the candidates committed to attending.
De Blasio's official endorsement of Clinton had come in late October, six months after his initial refusal, and was met with shrugs, the expected development that it was. Politico New York reported at the time on the mayor's coordination of the endorsement with the Clinton campaign. Emails recently revealed by Wikileaks showed this and more, with communication around the mayor's press appearances before the endorsement.
"The candidate who I believe can fundamentally address income inequality effectively and has the right vision and the right experience and ability to get the job done is Hillary Clinton," de Blasio said on MSNBC's "Morning Joe" talk show. "I have seen her vision and her platform develop over five months, I am extremely pleased with what she has put on the table," he said.
Besides the reception from Clinton's team -- the two did not appear together and Clinton's team released a lukewarm statement -- the mayor was peppered with questions over the reasons for his delayed endorsement and the apparently failed calculations involved.
The weekend before the February 1 Iowa caucus, the mayor sought to make amends by personally travelling to the state, with no invitation from the campaign, to knock on doors and urge people to support Clinton. Clinton and de Blasio did not appear in public together and the trip seemed to have little political payoff for either. It played more as a symbolic mea culpa on the mayor's part, particularly after the New York Times reported that the Clinton campaign had rejected a previous offer by him to campaign in the state.
The relationship slowly thawed in the next few months. The mayor's effort to push Clinton left was virtually over, though since she did take more liberal positions on a number of issues, the mayor saved some face and later took some credit. He also regularly praised Senator Sanders, and continues to do so -- acknowledging, at least tacitly, that the Vermont senator had the impact the mayor was aiming for when he organized the Progressive Agenda.
In April, Clinton and de Blasio finally made a joint appearance at the annual Inner Circle dinner in New York City. But even that event turned sour after the two participated in a racially-tinged joke that referenced de Blasio's reticence in endorsing Clinton. After a week or two of critical headlines, however, both emerged unscathed.
Clinton went on to debate Sanders for the last time in the Democratic primaries at an event in Brooklyn that de Blasio attended, then won the New York primary on April 19. At her victory celebration, the mayor was among those who spoke to the crowd -- months before stolen emails were released that showed him critiquing some of her debate performance.
De Blasio eventually became an active Clinton surrogate, taking to the road to campaign for her across the country. He went to Pennsylvania, Ohio, Michigan and Wisconsin in just the last few weeks of the general election campaign.
"I'm very comfortable with the fact that I pushed the Clinton campaign to take a more progressive stance," de Blasio said on WNYC's The Brian Lehrer Show on October 14. "And even if that meant holding out for a while I think that is part of the political process and that is how I am going to comport myself."
This past weekend, the mayor visited multiple churches across the five boroughs to stump for Clinton. And on Monday, he rallied with college students at Medgar Evers College in Brooklyn, LaGuardia Community College in Queens, Baruch College in Manhattan, and Hostos Community College in the Bronx.
On Tuesday morning, amid a five-borough get-out-the-vote blitz, the mayor arrived with First Lady Chirlane McCray in their old neighborhood to cast their ballots at the Park Slope branch of the Brooklyn Public Library. Speaking to reporters outside the polling site, they took stock of the "historic moment." "I signed in my bubble slowly to savor the moment," said McCray.
"There's something amazing happening today," said the mayor, who was on his way to several rallies across the city before attending Clinton's election night event at the Javits Center. "I really believe this is the day we're going to elect the first woman president of the United States of America. And as a Democrat I'm particularly proud. Just eight years ago we elected the first African-American president, today we'll elect the first woman president. This speaks volumes about the values of the Democratic Party…It's a powerful day for change in America."
But, it was not to be. Clinton lost to Republican Donald Trump in one of the most stunning moments in United States history -- seemingly putting de Blasio's hopes for more progressive federal policy on hold, and inserting in the White House someone who has forcefully criticized the mayor's leadership.
De Blasio was scheduled to discuss the election results on WNYC radio Wednesday morning, but his appearance was bumped due to Clinton's concession speech.
Instead the mayor addressed the election results at City Hall, where he expressed his disappointment in the results, but said, "I congratulate the New Yorker who won the election, Donald Trump, and I honor the New Yorker who won our city's vote and the popular vote nationally, Hillary Clinton."
De Blasio called on New Yorkers to "move forward together, resolute and determined to protect and preserve the city we love and the values we cherish." He listed some of the key policies that he's implemented in New York and wants to see nationally.
"It's no secret that I have profound political disagreements with President-elect Trump," de Blasio said, before promising to work with the new administration "positively and constructively."