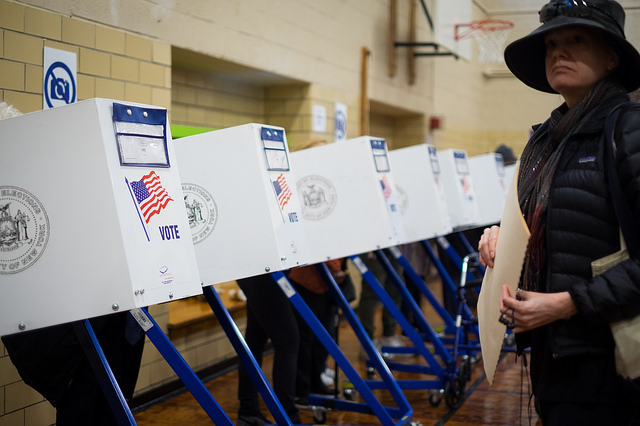 Voting (photo: Edwin J. Torres/Mayor's Office)
---
A week after Election Day the votes are still being counted, but we know a lot about what happened nationally and here in New York. While the Empire State went decidedly for Hillary Clinton for President, the margin was mostly due to New York City's overwhelming support for the Democratic nominee over now President-elect Donald Trump. And as we dissect the numbers and watch as Trump's transition operation unfolds, New Yorkers are watching Long Island, where two state Senate races have yet to be called and could determine party control of the chamber -- which is Republicans' last statewide stronghold.
There's much we do know about how New York voted in 2016, and a few things we don't. An initial look inside the numbers, based on 99% of the vote being tallied in New York as of Tuesday, November 15 (the city Board of Elections is due to certify results Nov. 29):
1. About 7 million people across New York State cast ballots in the presidential race:
Democrat Hillary Clinton won about 58.8% of the vote, with 4.1 million votes.
Republican Donald Trump 37.5%, with 2.6 million votes
Libertarian Gary Johnson 2.3%, with about 162,000 votes
Green Party's Jill Stein 1.4%, with about 100,000 votes
2. Turnout in New York State was about 56.4% of registered voters, of which there are about 12.5 million.
3. Turnout in New York City was about 51% of registered voters, of which there are about 4.9 million.
4. In New York City, Clinton won four of the five New York City boroughs, losing only Staten Island to Trump.
In Brooklyn, Clinton won 595,000 votes to Trump's 134,000.
In the Bronx, Clinton won 318,000 votes to Trump's 34,000.
In Manhattan, Clinton won 516,000 votes to Trump's 59,000.
In Queens, Clinton won 473,000 votes to Trump's 139,000.
On Staten Island, Trump won 96,000 votes to Clinton's 68,000.
That's a total New York City tally of about 1.97 million votes for Clinton and 462,000 votes for Trump.
5. Across the state, there are 62 counties: Trump won 46, including Staten Island (Richmond County); Clinton won 16, including four in New York City.
Clinton's other wins included counties of major population centers: Albany, Buffalo, Rochester, Syracuse, and suburbs bordering the city: Westchester, Nassau, and Rockland. She also appears to have won Clinton County, along the state's northern border, though the margin stands at under 300 votes. Trump won dozens of more rural counties and some more suburban, like Suffolk, Orange, and Putnam.
6. According to a Press & Sun Bulletin analysis, outside of New York City, the margin between Clinton and Trump was virtually nonexistent, with Clinton leading by about 760 votes in initial tallies.
7. The balance of power in the New York State Senate is still unclear, in part because there are two races still too close to call, both on Long Island where incumbent Republicans are attempting to hold onto their seats.
Senate District 5: Incumbent Republican Sen. Carl Marcellino leads Democrat James Gaughran by 2,425 votes as of 5 p.m. on November 14. Marcellino has 50.9% while Gaughran has 49.1%.
Senate District 8: Democrat John Brooks leads incumbent Republican Sen. Michael Venditto by 33 votes as of 5 p.m. on November 14. Both candidates have 50% of the vote.
Republicans have held a slight edge in the 63-seat chamber in part because Brooklyn Senator Simcha Felder, elected as a Democrat, caucuses with the GOP. The margin is razor thin, and the mainline party with the most members when the two Long Island seats are determined will be in better position to negotiate a power-sharing deal with the seven-member Independent Democratic Conference. Stay tuned!
8. Incumbent Democratic U.S. Senator Charles Schumer won re-election with 70% of the vote across the state, defeating Republican challenger Wendy Long. Schumer will be minority leader in the Senate.
9. The 27-member U.S. House delegation from New York will consist of 18 Democrats and 9 Republicans.
10. The State Assembly continues to be heavily Democratic. While there are still a few seats where the vote is too close to call, the Democrats will hold about 107 of the 150 seats.