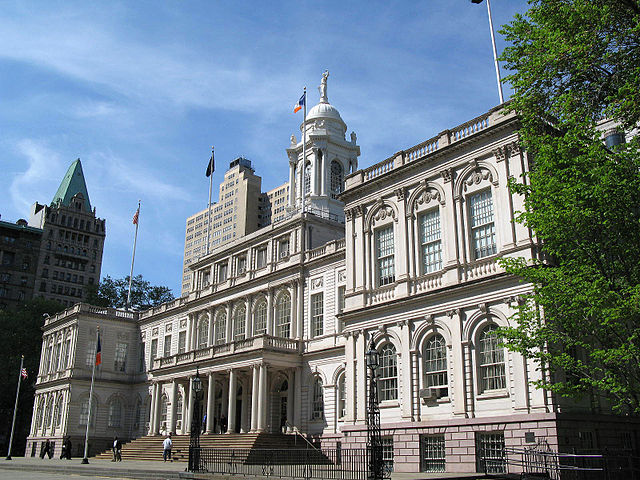 New York City Hall
---
What to watch for this week in New York politics:
It's a short Thanksgiving week, but there's a lot going on, starting with Mayor Bill de Blasio giving a major address on Monday morning -- details below. There are several other things happening before the holiday, including a few City Council hearings -- see our rundown below. Including de Blasio's remarks, the week is sure to continue to be focused on President-elect Donald Trump and the reactions to his election and early actions as president-elect.
The weekend was dominated by such responses to the election of Trump as President and the wave of hate crimes and racist actions that have accompanied it in New York and elsewhere. Elected officials and others have been expressing objections to Trump naming Steve Bannon as a senior advisor, nominating Senator Jeff Sessions as Attorney General, and other planned or considered nominations. Bannon, Sessions, and others that Trump has named or is considering have been criticized for past behavior that has included racist, white nationalist, anti-Semitic, and other problematic actions.
In New York, elected officials have received threats, Swastikas have been painted around the city, and other acts of bias and hate have been on the rise. At a Friday press conference led by Mayor de Blasio that was focused on plans to protect President-elect Trump while he is in Manhattan and related traffic concerns in midtown, NYPD officials also addressed the spike in hate crimes around the city. The Chief of Detectives, Bob Boyce, noted the spike, connected it to the timing of the election, and said the NYPD is investigating, but he did not identify causation. While he said investigations are ongoing, Boyce also expressed his opinion that there is not a direct connection between Trump's campaign and election and the rise in bias and hate crimes. "I don't think he has anything to do with these Swastikas, to be perfectly honest with you," Boyce said. Mayor de Blasio sought to clarify, saying it wasn't yet clear, but that Trump's campaign was full of concerning rhetoric.
For his part, Trump has sent out several Twitter messages criticizing the New York Times for its reporting and the cast of Hamilton for Friday evening remarks to Vice President-elect Mike Pence, who was in their audience, asking Pence and the new administration to protect all of their diverse constituents when they take office. Trump has not sent out tweets admonishing those drawing Swastikas or committing hate crimes. Pushed on 60 Minutes last week, he did tell anyone doing such things to "stop it."
On Saturday, Queens City Council Member Jimmy Van Bramer, who has received hateful messages, led a march of hundreds from Queens to Trump Tower to respond to hateful actions. City Council Speaker Melissa Mark-Viverito and other elected officials and activists participated. On Sunday, Brooklyn elected officials and others gathered at Adam Yauch Park to denounce hateful actions in response to Swastikas that were drawn on the playground there, alongside the words "Go Trump."
On Sunday, City Council Member Ydanis Rodriguez and Assemblymember-elect Carmen De La Rosa, both born in The Dominican Republic, spoke out to repudiate "racist remarks from Attorney General nominee Jeff Sessions regarding Dominicans." With Sessions' nomination by Trump, past Sessions remarks on the floor of the Senate resurfaced in which he said Dominicans coming to the U.S. did not possess "provable skills" to contribute to society.
Gov. Andrew Cuomo spoke at Abyssinian Baptist Church in Harlem on Sunday, calling on New Yorkers "to unite in the fight for tolerance and justice." Cuomo "announced several actions to protect civil rights and combat hate crimes in New York, including the creation of a State Police unit to investigate reports of hate crimes, an expansion of the state's human rights law to protect all students, and the establishment of a new emergency legal defense fund for immigrants."
For his part, Mayor de Blasio spoke at churches in Brooklyn and in Harlem on Sunday. He also received endorsements for his re-election from former Mayor David Dinkins and Brooklyn Borough President Eric Adams. On Sunday evening at The LGBT Center in Manhattan, City Council Member Corey Johnson hosted a discussion, "Rise Together: the American Majority Against Trump," at which both Mayor de Blasio and First Lady Chirlane McCray were scheduled to speak. De Blasio also spoke Sunday evening at at Ohel Children's Home and Family Services' 47th Annual Gala in Manhattan.
On Sunday afternoon in Jackson Heights, Queens, Public Advocate Letitia James held a rally and laid out "a legislative, policy, and legal agenda to protect progress. Her multi-point agenda will address concrete ways to protect fundamental rights (such as reproductive choice, public education, immigrant rights, stop & frisk reforms, and more) through legislation, policy changes, and litigation." James took these actions "In response to New Yorkers who have expressed concern that they will lose some of their basic rights following the election," according to her office.
Much of these actions pushed to the backburner Friday news that Trump had settled a fraud lawsuit against him over Trump University, a deal that was announced by Attorney General Eric Schneiderman on Friday. Trump agreed to pay a total of $25 million to the plaintiffs and the state of New York to settle the matter.
Several events to be aware of this week - see our day-by-day rundown below.
***Do you have events or topics for us to include in an upcoming Week Ahead in New York Politics?
e-mail Gotham Gazette editor Ben Max: This email address is being protected from spambots. You need JavaScript enabled to view it.***
The run of the week in detail:
Monday
Mayor de Blasio has three public events Monday: he will deliver a public address at Cooper Union at 11 a.m. Later, at 7 p.m., the mayor and City Council Member Andy King will host a town hall with Bronx residents. Also at 7 p.m., the mayor's taped appearance on NY1's Inside City Hall will air.
At the City Council on Monday:
The Subcommittee on Zoning and Franchises will meet at 9:30 a.m.
The Committee on Standards and Ethics will meet at 10 a.m. to discuss proposed laws related to the city's campaign finance system, campaign contributions, and conflicts of interest for elected officials.
The Committees on General Welfare and Mental Health, Developmental Disability, Alcoholism, Substance Abuse and Disability Services will hold a joint oversight hearing at 10 a.m. on mental health services in the DHS Shelter System, and to discuss a proposed law on mental health services in shelters.
The Subcommittee on Planning, Dispositions and Concessions will meet at 1 p.m.
At 8 a.m. Monday, the Food Bank for New York City will hold a breakfast. This breakfast feature release of "a new report on need at NYC food pantries and soup kitchens," honor Congressman Charles B. Rangel with the Food Bank's "Freedom From Want" award, and hold an "expert panel discussion on the most effective solutions to ending hunger and poverty."
On Monday at noon, "Brooklyn Borough President Eric L. Adams will unveil the details of his arts and cultural institutions capital budget for Fiscal Year 2017 (FY17), an investment of more than $7.8 million in facilities across Brooklyn. He will make the announcement at Bedford-Stuyvesant Restoration Plaza, home to the Billie Holiday Theatre."
At 1 p.m. Monday in Albany, "With this coming week marking the one-year anniversary since people in Hoosick Falls were first informed of the dangers of drinking water contaminated with Perfluorooctanoic acid (PFOA), residents will release a #1YrCheckup report card which grades Governor Cuomo and state government on four key areas: PFOA Advisory Levels; Bio and Medical Monitoring; Identification of New Water Source; Government Actions and Transparency."
At 2:30 p.m. Monday at City Hall, First Lady Chirlane McCray and NYPD Commissioner James O'Neill will be recognized by UN Women for "the City of New York's commitment to preventing domestic violence."
At 4 p.m. Monday, the Center for Community and Ethnic Media at CUNY Journalism School will have its "Post-Election Panel on Legal Protections and Rights of Immigrants." This panel is being held in the wake of post-election concerns about the status of immigrants, particularly undocumented immigrants, and will include Nisha Agarwal, Commissioner, Mayor's Office of Immigrant Affairs; Camille J. Mackler, Director of Legal Initiatives, New York Immigration Coalition; Alina Das, Co-Director, Immigrant Rights Clinic, New York University School of Law; Alizabeth Newman, Director, Immigrant Initiatives, CUNY Law School; and Jojo Annobil, Executive Director, Immigrant Justice Corps.
On Monday evening, Manhattan Borough President Gale Brewer and Hunter College President Jennifer Raa​b are hosting a memorial for Maggi Peyton. Comptroller Scott Stringer will speak.
At 6:30 p.m. Monday, the CUNY Rising Alliance will have a Call to Action Meeting for its campaign to have free and quality CUNY education everywhere. The Alliance will have another such meeting on Tuesday night as well.
Tuesday
At the City Council on Tuesday:
The Committees on Public Safety and Courts and Legal Services will hold a joint meeting at 10 a.m. to discuss oversight on the city's plans for the provision of indigent defense trial-level services for homicides.
The Committees on Finance and Housing and Buildings will hold a joint meeting at 10 a.m. to discuss oversight on 421-a enforcement, two proposed laws related to the 421-a tax exemption, and one proposed law related to "an online database for registered dwellings."
The Committee on Youth Services will meet at 10 a.m. to discuss oversight on "disconnected youth: out of work and out of school," and to discuss a proposed law on "a disconnected youth task force" and a proposed law on workforce development.
The Committee on Land Use will meet at 11 a.m.
The Committee on Education will meet at 1 p.m. to discuss several proposed laws including ones that call for school uniforms and for establishing Diwali as a holiday in the New York City Public Schools.
At 10 a.m. Tuesday, the Center for New York City Affairs will hold "Growing Up NYC." This event will discuss how today's young children in New York are faring, and how conditions for young children could improve. Deputy Mayor Richard Buery will present how the city is tackling the issues of young children today, and the speakers include Cecilia Clarke, President and CEO, Brooklyn Community Foundation; Paul Forbes, Director, Expanded Success Initiative; Jeremy Kohomban, President and CEO, The Children's Village; Benita Miller, Executive Director, The Children's Cabinet; Kristin Morse, Executive Director, Center for New York City Affairs; and David Van Zandt, President, The New School.
On Tuesday at noon at City Hall, "NYC Council Members Mark Levine and Rafael Espinal, as well as advocates from the education and business communities will call for a robust expansion of foreign language education and financial literacy programs in New York City public schools. The press conference comes ahead of an education hearing chaired by Council Member Daniel Dromm and will focus on City Council Resolutions 845 and 890, introduced by Council Members Espinal and Levine respectively."
At 2 p.m. Tuesday at City Hall, "there will be a "press conference and rally announcing historic endorsement by city leaders of Home Stability Support, a proposal to address New York's growing homeless crisis" through state adoption of the "proposal to increase the state's outdated rental assistance subsidies and prevent New York families from becoming homeless." The rally will be led by "New York City Public Advocate Letitia James, Council Member Barry Grodenchik (D - Oakland Gardens), Council Member Stephen Levin (D - Brooklyn), Council Member Donovan Richards (D - Far Rockaway), State Assembly Member Andrew Hevesi (D - Forest Hills), Members of the City Council, Home Stability Support coalition members and homelessness advocates."
Wednesday Through The Weekend
No events on our radar for Wednesday and Thursday is Thanksgiving -- happy Thanksgiving!
We'll be back with our next Week Ahead on Sunday, November 27. In the meantime, read our latest reporting here.
***
Have events or topics for us to include in an upcoming Week Ahead in New York Politics? E-mail Gotham Gazette executive editor Ben Max any time: This email address is being protected from spambots. You need JavaScript enabled to view it. (please use "For Week Ahead" as email subject).
***
by Brendan Birth and Ben Max
@GothamGazette