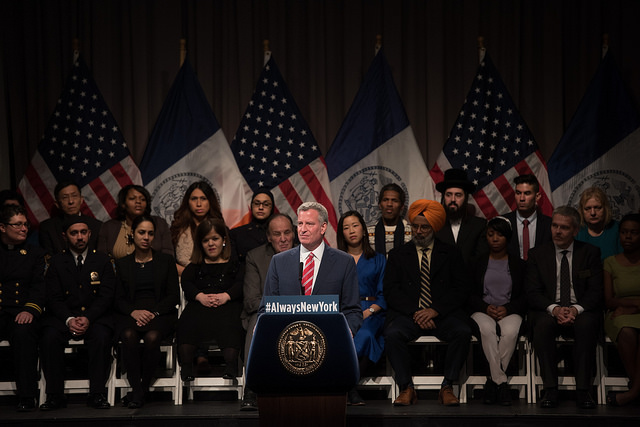 Mayor de Blasio (photo: Michael Appleton/Mayor's Office)
---
"We have a special obligation in New York City," Mayor Bill de Blasio told New Yorkers from The Cooper Union on Monday, giving a formal speech to reassure and rally the city after the election of Donald Trump as the next President of the United States.
De Blasio indicated that he had decided to give the speech because of all the fear that Trump's campaign and election had created. More than two years ago, in April 2014, de Blasio spoke from the same Cooper Union stage, delivering remarks "on New York City's future" to mark his first 100 days as mayor.
Monday's speech had a far less celebratory tone, though the mayor hit similar points. This time, the organizing theme was "Always New York," with de Blasio highlighting the city's place as a world leader and its long-time progressive principles.
In essence, de Blasio attempted to do three things with what was a 40-minute speech Monday: define New York values; promise certain steps from his administration in the face of potential policies from a Trump administration; and call on New Yorkers to take specific actions to help lead the resistance.
Citing a "sense of foreboding," the mayor promised unity and New York City as a beacon of what is good and right in the world. De Blasio said he was deputizing New Yorkers to fortify the city against what he described as threats of division from President-elect Trump.
"We New Yorkers will stand together," de Blasio said. "We're going to stand up for the needs for working people. We're going to stand up for the right to organize. We're going to stand up for our immigrant brothers and sisters. And we know that so many in this city fear being affronted, and we will stand with each and every one."
The mayor made clear that he was responding to Trump's election and referred to "the president-elect" several times, though only said Trump's name once from the hall that has been host to many famous orators and speeches. "I always believe the people will help to correct the mistakes of leaders," de Blasio said.
"I'm going to stand up to anything that affronts our people," that mayor promised, standing in front of about 20 diverse New Yorkers seated on the stage behind him and addressing about 300 in the audience and others watching the video feed. "Our city government will stand up, but the greatest power is in you – the strength and the resiliency of New Yorkers."
"Now, there are things we have to do – real and specific things," he said, recommending the following:
1. Sign up for IDNYC, the city's municipal identification card program, which has been highly popular and is available regardless of immigration status. De Blasio promised that the city "will never turn over the paperwork to the federal government."
2. "We need you to help your friends and family members sign up for health insurance under the Affordable Care Act right now," the mayor said. Earlier in the speech he acknowledged concern among New Yorkers who are registered under the ACA, or Obamacare, of a repeal of the law and loss of health insurance.
De Blasio did not explain why this is important to do, but it appears the thinking is that the more people insured through the ACA, the harder it would be for the federal government to justify repealing it.
3. "We need everyone to register to vote," the mayor said. De Blasio highlighted that his preferred presidential candidate, Hillary Clinton, was ahead in the popular vote by about 1.5 million votes, but that Trump had won through the Electoral College.
The mayor has recently taken up voting and election reform in New York, calling on the state government to pass early voting, same-day registration, and other changes. The mayor says he was spurred to get more vocal about the issue by the Bernie Sanders movement and problems with the city's election administration, including long Election Day lines. It is not lost on anyone who watches closely that the mayor is up for re-election next year.
4. "We need to pray," the mayor said, "But not just in our own house of worship, we need to go to a different faith's house of worship in solidarity."
De Blasio, who is not religious himself, regularly speaks at churches and other houses of worship and at religious events. He spoke at two churches on Sunday, in fact, and at Ohel Children's Home and Family Services' 47th Annual Gala. During his Monday speech, the mayor discussed a recent trip to a mosque, which he said gave him hope.
5. "It's so important in this moment to volunteer, to help your city, to help those in need," de Blasio said, directing New Yorkers to "nycservice.org."
6. New Yorkers must speak up against acts of hate and bias, the mayor said. He connected it to "If you see something, say something," the call to keep an eye out for possible criminal or terrorist activity.
"The NYPD is ready to act. The Human Rights Commission is ready to act. If you see someone in danger because of a bias attack, call 911. If you have information about acts of hatred and harassment and hate speech, call 311. But whatever you do, call, so we can get to work stamping out all hatred and bias in this city," de Blasio said.
There has been a wave of hate crimes across the city since Election Day, prompting a variety of rallies, marches, and other actions in response. Governor Andrew Cuomo gave a speech at a Harlem church on Sunday and outlined new steps the State was taking, including a new hate crimes unit in the state police. Cuomo had already announced a new hotline to report hate crimes.
7. The mayor implored New Yorkers to listen to and talk with children. De Blasio cited examples of children worried about being deported, or having loved ones deported, and said that adults should "Let them bring out their fears and concerns. Help them to understand that we, every day in this city, reject division. Show them by your example that you are doing something in the face of this challenge. Show them it can get better because you are acting now."
"I don't say this to burden you. I say it to deputize you," de Blasio said Monday. "From this point on, what we do matters even more because people are watching everywhere. They're looking for an antidote. They're looking for something that works. They need to be reminded there is a better way."