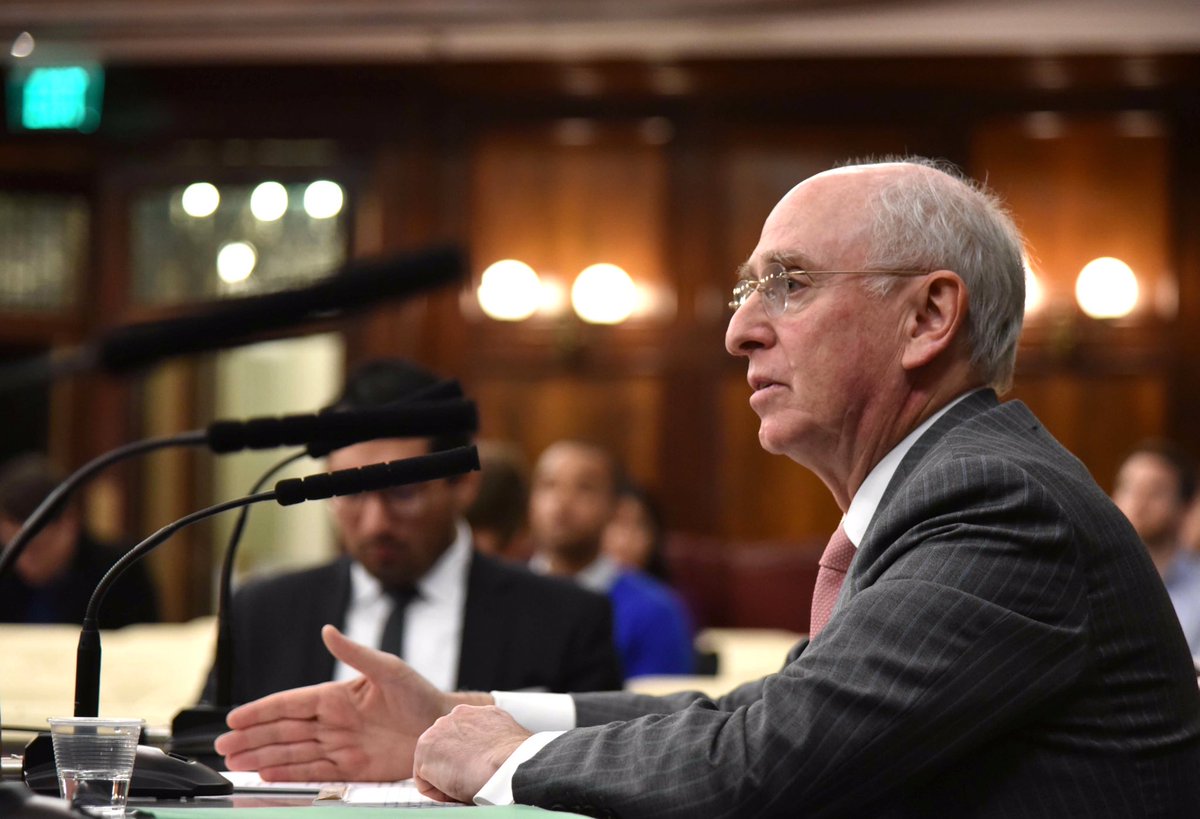 Henry Berger testifying (photo: John McCarten/City Council)
---
The City Council heard testimony Monday on a broad package of bills that would prevent conflicts of interest between elected officials and political nonprofits, limit the electoral influence of those who do business with the city, and make it easier for first-time candidates to navigate the city's campaign finance system.
The Council's Committee on Standards and Ethics heard 14 bills on Monday in what was the current Council's first hearing of the committee focused on legislation. Of the 14, the headlining bill, Intro. 1345, was the Council's direct response to Mayor Bill de Blasio and the Campaign for One New York, a nonprofit formed by the mayor's allies to promote his agenda that has been at the center of controversy, criticism, and law enforcement investigations.
The Campaign for One New York, since disbanded, skirted the city's campaign finance law, in part by raising major sums from entities with city business. Federal investigators have been looking at whether government action was exchanged for donations. The mayor has maintained that he, his administration, and the organization followed the law and sought guidances from the Conflicts of Interest Board throughout. His activities were probed by the city Campaign Finance Board, which let him off with a slap on the wrist but stressed the need to close the loophole in the law that he took advantage of in fundraising for his group.
The bill at hand is sponsored by City Council Speaker Melissa Mark-Viverito, a de Blasio ally. It takes aim at that exact loophole and limits donations from those who are lobbyists or have business before the city to nonprofits created or controlled by elected officials or their agents. The limit of $400 currently applies to donations made by such categories of donors directly to candidate committees. Under the bill, if an organization spends more than 10 percent of its annual budget on "public-facing communications that feature the name or picture of the elected official who controls them" contributions to the nonprofit would be limited and it would have to disclose its donors to the Conflicts of Interest Board.
Mark-Viverito did not attend the hearing, which was led by Standards and Ethics Committee Chair Alan Maisel. Mark-Viverito's spokesperson, Robin Levine, said in an email that Council staff was monitoring the hearing and will brief the speaker as she reviews the testimony.
While there was broad support for Mark-Viverito's bill, there were questions about its language and the implementation that it requires. As it currently stands, the bill seeks to prevent actual and perceived conflicts of interest by preventing business interests from donating large sums of money to a nonprofit to ingratiate themselves with an elected official. But concerns were raised that the bill paints with a broad brush and would include nonprofits that are affiliated to an extent with public officials but aren't involved in public fundraising to benefit those officials. The bill also doesn't include high-ranking public officials in city agencies, only elected officials. Council Members sought feedback on how they could amend and improve the proposal, and agency heads suggested more clear definitions of the organizations that would be covered.
The rest of the bills being heard Monday aim at streamlining campaign finance disclosure requirements and tweak certain aspects of the city's campaign finance law. These bills would usually be heard by the Committee on Governmental Operations, which has heard another package of campaign finance reform bills that awaits a vote, but were lumped together with the first proposal concerning conflicts of interest, which is under the standards and ethics committee's jurisdiction.
"All these bills are designed to ensure we streamline the process of running for office without sacrificing the safeguards that ensure integrity of our democratic process," said Council Member David Greenfield, sponsor of five of the bills, in his opening statement.
The campaign finance bills cover a lot of ground. One bill shortens the deadline for candidates to choose a hearing before the Office of Administrative Trials and Hearings for alleged campaign violations and penalties. Currently, most candidates go through a more informal hearing before the Campaign Finance Board. Another bill requires campaign contributions to be deposited within 20 business days, and cash contributions to be deposited within 10 business days.
A bill sponsored by Council Member Brad Lander would allow non-public campaign funds to be used by public officials for their official duties. One of the proposals that the CFB particularly opposed would prohibit CFB staff from being present at an executive session of the board where campaign finance violations are being adjudicated. This bill would prevent the CFB's own executive director from attending such a session.
The main bill, Intro. 1345, received support, with certain caveats, from the de Blasio administration, the Conflicts of Interest Board, the Campaign Finance Board, and private government reform organizations that favor more transparency in campaign finance.
Henry Berger, special counsel to the mayor, testified in support of all the bills but expressed certain doubts about the scope of Intro. 1345 and about one provision in Intro. 1355, one of Greenfield's bills.
On Intro. 1345, Berger said the administration was "generally supportive of the intent of this bill," but said the definition of an organization affiliated with an elected official was "overbroad and may be problematic." He warned that it could also raise legal concerns over free speech of private entities. "These concerns would need to be addressed in future discussions at a staff level," he said.
Berger cited the precautions that the mayor's team took for the Campaign for One New York, including the willing disclosure of donors, which the new bill would require, and he agreed that limits should be placed on nonprofits that create a perception of helping a particular candidate. "[Intro. 1345] provides very strong assurances that would avoid the appearance of conflicts of interest," he said. "And that's important. Confidence in our government requires that."
But he worried that the bill would also apply to nonprofits that don't raise funds and are already subject to extensive reporting requirements, such as the Economic Development Corporation, or programmatic organizations that don't benefit an individual but may raise funds such as the Metropolitan Museum of Art or the Lincoln Center for the Performing Arts. "We're looking for some tightening but....we think this bill comes very close to drawing the line," he said.
Once a bill is heard in Council committee, behind-the-scenes negotiation usually occurs to tweak bill language, before a bill is voted on in committee and then, if it passes, the the full Council. At times, like the other package of campaign finance reform bills that was heard months ago by the government operations committee, bills do not receive a committee vote soon after a hearing, if at all. Council sources do indicate, though, that they plan to move the bills heard today quickly, while also moving the other campaign finance bills.
Changes to the campaign finance system would already be late in the four-year election cycle as the election year of 2017 is fast-approaching and candidates have already been raising money.
The political nonprofits bill also expands the definition for those who do business before the city to include family members, which, Berger said, would create logistical and technical issues for the Mayor's Office of Contract Services, which maintains the city's doing business database. MOCS would need time to adjust to the bill, he later told Council members.
Addressing Intro. 1355, which relaxes certain documentation requirements for campaign contributions, Berger said there was a potential for fraud since the bill removes the obligation for a candidate committee to collect contributor cards if they receive a check or money order with the name and address of a donor on them.
Berger's biggest complaints, however, were that certain necessary proposals were not included in the package of bills. He said the Council should consider legislation that would overhaul the process for post-election campaign audits, to ensure they are concluded faster; proposed that legal fees for responding to campaign finance issues should not be counted against a campaign's expenditure limits; and suggested that candidates who must raise money for a general election during primary season be allowed to attribute fundraising expenditures to their general election spending cap instead of the primary one.
Representatives of the Conflicts of Interest Board commended the Council on Intro. 1345, but said they are unsure about being charged with implementing it. Executive Director Carolyn Lisa Miller said the board "remains uncertain whether we are the right agency to administer the legislation," but expressed willingness to work with the Council and the administration.
Miller listed 20 possible issues arising from the legislation, ranging from the definition of the nonprofits covered to the substantial penalties levied and the timeframe of disclosures required by organizations. She also cited issues with enforcement and investigation. COIB is a small city agency, with 26 full-time employees, and has no investigators of its own, relying instead on the Department of Investigation which is an independent agency. Miller said COIB would likely require additional staff and funding to comply with the legislation.
What might complicate things further is that COIB cannot enforce fines on City Council members, if one should choose not to accept a violation found and penalty assessed by the board. In such a situation, which Miller said has never arisen to date, the board could only make recommendations to the Speaker and the Council which would have to decide to refer the case to the standards and ethics committee.
Council Member Lander, co-sponsor of Intro. 1345 and a prime sponsor on another one of the bills, pushed back against Miller's uncertainty. "To me the reason to put this legislation and its enforcement with you is it is an issue of conflicts of interest," he said. "Even though we are concerned about the public-facing communication, what we're guarding against here is public corruption. That's the goal, making sure that people who have business interests with the city don't have an avenue into giving that influences public officials. That's not primarily campaign finance. That's primarily conflicts of interest."
With 13 bills out of the package dealing directly with the Campaign Finance Board, much of the hearing focused on testimony from Amy Loprest, CFB executive director. Loprest, like COIB's Miller, praised Intro. 1345 but had strong apprehensions nonetheless. "We note the several concerns regarding the bill's drafting and implementation raised by our colleagues at the Conflicts of Interest Board," Loprest said in her opening statement. "We urge the Council to take those into account, and we will be available to assist in any way they or the Council deems appropriate."
She also criticized the legislation's accompanying "poison pill" measures which would "significantly weaken the CFB's oversight of the matching funds program."
"These measures should not be the cost of implementing a commendable and necessary reform," she said, taking issue with the timing of many of the proposals, saying they would be disruptive to the board's preparations for the 2017 city elections.
In a cordial back-and-forth with Council Member Greenfield, who argued that the Council's proposed changes to CFB procedures were warranted, necessary, and justified under its jurisdiction, Loprest attempted to explain her broader concerns.
"It is important for us to review how we do operate, how we do our audits, how we do our procedures," she conceded. "I do however think that this kind of piecemeal, finger in one part of a complicated process will have unintended and unwelcome consequences and will make things more complicated when our goal is to try and make things less complicated."
Greenfield pushed back. "I think that's where we're going to come to agree to disagree," he said. "Just like your job is to audit candidates, our job is to audit the CFB, for lack of a better term."
Good government groups testified in support of the bills, but had reservations about both the timing and the manner in which they were drafted and introduced. Gene Russianoff, senior attorney at the New York Public Interest Research Group, approved of the bills but said it was late in the game to consider changes to the city's campaign finance system, with the next election so close.
Dick Dadey, executive director of Citizens Union, applauded the Council, but insisted that the bills should have included more public discussion when they were being drafted. Intro. 1345, in particular, addresses concerns that Citizens Union raised earlier this year in a proposal to regulate nonprofit organizations affiliated with elected officials. "We believe the proposed bill can effectively bring needed oversight to these organizations," Dadey said at Monday's hearing.
The only testimony that rejected most of the proposals outright came from Dominic Mauro, staff attorney for Reinvent Albany, an advocacy organization. Mauro said his organization supported the intent of Intro. 1345 but questioned how it could be implemented. The entire package of bills, Mauro said, "add up to a huge step backwards." Admitting that the CFB is "imperfect, he said, however, that his organization thinks "Many of these bills seem like petty retaliation and an expression of irritation by Council members who are annoyed with CFB nitpicking."