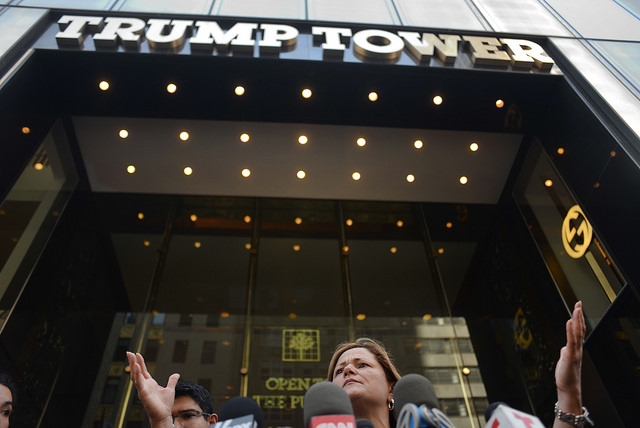 Mark-Viverito at Trump Tower (photo: Sofie Hecht/Gotham Gazette)
---
Local elected officials continue to take stock of what a Trump presidency might mean for New York City, and with budget season around the corner, only one word can describe their feelings: uncertainty.
Mayor Bill de Blasio, Comptroller Scott Stringer and City Council Speaker Melissa Mark-Viverito are all waiting to see what President-elect Donald Trump will actually do when he takes office in January. Trump, a Republican, made many campaign promises that alarmed city officials, who are almost all Democrats. De Blasio, Stringer, and Mark-Viverito all supported Hillary Clinton for President, and sounded varying volumes of alarm bells about the threat Trump may pose to the city and its residents.
In his first two weeks as president-elect, though, Trump has already backtracked on a number of his campaign promises, but he hasn't entirely withdrawn from plans that could have major consequences for New York City. He has sworn that he will deport undocumented immigrants, force the registration of all Muslims, and cut funding to Planned Parenthood, all of which would have significant implications in New York. His pledge to overhaul the tax code could affect personal incomes of New Yorkers and any curbs on immigration could affect employment in a city with a large immigrant population. If he leads repeal of the Affordable Care Act, New York would be one of the hardest hit states, and if he decides to cut federal funding to so-called sanctuary cities, New York City would undoubtedly suffer.
Since Trump's victory, de Blasio has repeatedly said he can't say for sure what Trump will actually prioritize or follow through on as President. Trump's public statements have warranted a wait-and-see approach. But, de Blasio also met with the president-elect to, as the mayor told it, express the fears many New Yorkers have of a Trump presidency, and gave a speech Monday to both explain what the city would do in the face of certain Trump campaign pledges becoming reality and asking New Yorkers to take certain action right now to help build a response movement to that which Trump created. The mayor has said he hopes Trump will remember where he came from and that he is willing to work with the new federal administration on areas of agreement, like helping working people.
Stringer's office, which oversees city finances, performed an "initial analysis" of the potential impact of a Trump presidency based on the president-elect's campaign agenda, warning of the potential loss of federal funding.
As she did during the campaign, Mark-Viverito has taken a hard line against Trump, tweeting with the #NotMyPresident hashtag, and posting "Constant resistance MUST be our new normal. & I'm up for the fight."
Back in July, at a breakfast event hosted by the Association for a Better New York, Mark-Viverito released the findings of a City Council study she commissioned on Trump's policies, conducted by the Council's finance division. The study foresaw drastic repercussions for the city. It estimated that deporting all undocumented immigrants in the country would cost between $400 and $600 billion, and New York State alone would have to contribute $49.2 billion for those costs. These deportations would mean that New York City would lose 340,000 jobs, more so than in 2001 after the World Trade Center attacks and after the 2008 recession, the report said. The consequent loss in revenue from undocumented immigrants would be $793 million in state and city taxes, according to the report.
Overall, New York's Gross City Product would decline by 3 percent, between $23.1 and $26.3 billion, according to the City Council report.
The study also looked at immigration from 32 Muslim-majority nations -- Trump had made a campaign call to halt all immigration to the U.S. by Muslims. The Council estimated that 263,000 New Yorkers hail from these countries, of which 157,000 are working citizens and about 25,000 are self-employed. "Overall, workers in New York City who were born in Muslim-majority countries contribute $14.2 billion annually to our local economy," the study states.
About 900 Muslims serve in the New York Police Department, something de Blasio has highlighted repeatedly since Trump's election and the mayor said he was sure to tell Trump when the two met at Trump Tower on November 16.
Since Election Day, Mark-Viverito has struck a defiant tone towards Trump, vowing to stand up to the "hate, bigotry and racism" inspired by his campaign. "We are and will continue to be a city that respects and protects immigrants, people of diverse faiths and races, LGBTQ New Yorkers, a city that values and empowers women and all of our communities," Mark-Viverito said November 9, the day after the election. "We are better, stronger and prosperous because of our commitment to inclusion."
As she and others wrestle with what a Trump presidency will mean more tangibly for New York, the speaker hasn't made any mention of the Council study from July, though. It isn't available on the City Council's website and wasn't sent out in a press release the day it was unveiled. Eric Koch, a spokesperson for the speaker, said in an email last week that the "report still stands."
When asked why Mark-Viverito hasn't talked about the study, Koch said, "I don't think you need to mention a study every time you talk about something." He said the analysis had been provided to members of the press at the ABNY event and anyone who had requested it. The speaker invited criticism for producing the study with city resources since she was an active surrogate for Clinton during the campaign. She did not order a similar examination of Clinton's policies, explaining at the time that Trump's drastic proposals warranted looking at how they would affect the city.
During his speech at The Cooper Union on Monday, de Blasio vowed to stand strong against Trump's policies if they should run contrary to the city's values and interests. "We New Yorkers will stand together," de Blasio said. "We're going to stand up for the needs for working people. We're going to stand up for the right to organize. We're going to stand up for our immigrant brothers and sisters. And we know that so many in this city fear being affronted, and we will stand with each and every one."
De Blasio's administration is also preparing for what could be drastic cuts to the city's budget. In the current fiscal year, roughly $8.5 billion was budgeted under federal contributions, according to the November budget modification which adjusted the total city budget upwards to $83.5 billion from the $82.1 billion that was arrived at in the adopted budget. The modification also included projections for the next few fiscal years, and estimates a lower federal contribution of $6.8 billion for fiscal 2018 and $6.6 billion for the two years after that.
Asked for more specifics at a Tuesday press conference about how he would fight federal policy and plug potential budget reductions, de Blasio said, "we're going to seek to resolve these issues when we can, but if the federal government asks the City of New York to do something we think is against our vital interests, we're prepared to stand up. I'm not going to speculate about the funding issues because it's way too early to tell."
"There's no way to know yet how the City's budget may be affected by potential policies under the Trump administration because we don't yet know what they will do," said mayoral spokesperson Freddi Goldstein, in an email. "We're preparing cautiously and we'll respond aggressively, but at this point it's all theoretical."
Trump's propositions stand to have a domino effect that may be hard to fully grasp. New York State has already suffered from an imbalance of payments to the federal government for decades, which late Senator Daniel Patrick Moynihan first highlighted in a report termed "The Fisc" in 1976. The state received less in federal aid than it pays in federal taxes, roughly 91 cents to the dollar, according to a 2015 analysis by State Comptroller Tom DiNapoli.
"In the best case scenario," said Jonathan Bowles, executive director of Center for an Urban Future, a liberal think tank, "New York keeps doing what it's doing without help from Washington D.C." Although he gave Trump the benefit of the doubt, he said the state will definitely miss out on opportunities that would have been likely under a Clinton administration, such as funding for social services, transit infrastructure, and immigration reform. While Trump has promised a major infrastructure spending package, it is unclear what form that could take or whether he and Congress, albeit Republican-controlled, will agree on its scope and funding.
"In the worst case scenario," Bowles said, "a Trump administration could take New York backwards on health care, immigration, trade, and criminal justice."
He cited the importance of immigrants to the city and how a ban on certain types of immigration could be disastrous. "It goes far beyond lost tax revenue," he said. "Immigrants have been a real catalyst for growth." And under Trump's proposals, he foresees a decline in legal immigration as well. "New York is a huge loser if that happens," he said.
Trump has also promised to upend current trade agreements which, Bowles argues, have been massively beneficial to a global hub like New York City. "Every industry just about has seen growth because of globalization," he said, citing fashion, law, technology, among others. "So much of the city's economy is built on exporting and trading products."
Bowles also warns that the figures in the speaker's report "only scratch the surface" of the effects on New York City that a Trump administration and like-minded Congress could have. Major changes in healthcare policies would lead to greater burdens on the city and state's budget, he said, as it absorbs the cost of lost federal aid. On the precarious state of criminal justice policy, he pointed out, the president-elect's tone and rhetoric could create further divisions.
But the one aspect Bowles fears most is the omnipresent threat of terrorism. "As a New Yorker, I'm really afraid that President-elect Trump...could make statements or policy decisions that increase the likelihood of terrorist attacks," he said, expressing concern that the rhetoric Trump employed on the campaign trail could speed up domestic radicalization if carried forward into the presidency. "Hopefully," he said, "the president-elect will put good people in place and they won't go there."
By some estimates, New Yorkers might feel the effect of a Trump administration directly on their own pockets. According to the city's Independent Budget Office, under Trump's tax plan, if state and local taxes are no longer deductible against federal taxes, it would increase the taxable income in the city by $28 billion alone, hiking the tax bill by $8 billion for New Yorkers. Trump has also promised significant tax cuts, of course. Yet again, these proposals are not set in stone, or even paper for that matter. "Many of [Trump's] policies are pretty short on details, stronger on rhetoric than fine points," said Doug Turetsky, IBO communications director. "It's going to take some time for this to play out."
The unpredictability also means that the city will have to "tread carefully," Turetsky said, in its assumptions about revenues from federal sources.
As Trump continues to build out his administration and clarify his positions on policy, elected officials may have a clearer picture of the future. After attending the mayor's speech on Monday, Comptroller Scott Stringer told reporters that his office would release its own analysis. "I think we'll be able to give you some pretty good data snapshots," he said, "about what's at stake both in terms of what's going to happen in Washington, how that will trickle down to the state and then how that comes back to New York City." He conceded, though, that he could draw no conclusions yet since "a lot of this is still uncharted waters."
Stringer acknowledged that limited federal funding is nothing new for New York. "Look, it's not like we've been up to our eyeballs in NYCHA funding and the like," he said. "We've already sent billions more to the federal government than we get back and that's under a Democratic president and Democratic elected officials as well, so New York has always been on the short end of the stick. We are now worried that any more of that could have real impact in terms of continuing poverty and other issues."
Stringer's office then released its analysis on Wednesday.
Nicole Gelinas, senior fellow at the Manhattan Institute, a conservative think tank, echoed a similar sentiment of uncertainty. "More infrastructure spending could benefit New York, for example, but Trump's $1 trillion infrastructure plan may be less than meets the eye," she said in an email, "as he seems to be focusing on private-sector infrastructure, like pipelines, not public-sector infrastructure, and it is already straightforward for New York to fund profitable, private-sector infrastructure projects; it's the public-sector projects like the subway that are a funding and building problem for us."
Gelinas also said that a decrease in Medicaid spending would be detrimental, but pointed out that Trump has yet to put forward a concrete plan to replace the Affordable Care Act's provisions for higher spending.
"So far, Trump's main impact has been to create a traffic problem on Fifth Avenue, one that is the mayor's responsibility, and one that the mayor hasn't handled well at all," she added. "Other than that, we'll have to wait and see."
Note: this story has been updated to reflect that Comptroller Stringer released his office's initial analysis of federal funding to New York City.