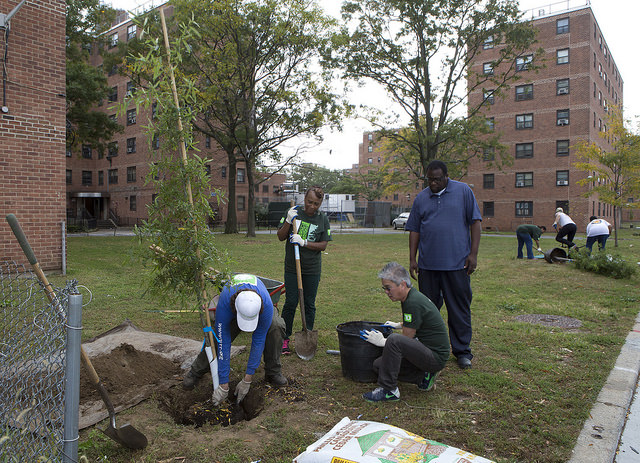 Tree-planting at NYCHA (photo via NYCHA on flickr)
---
Five months after the announcement of NextGeneration NYCHA, the comprehensive overhaul plan for New York City's troubled public housing system, the Fund for Public Housing accepted its first donation. Shola Olatoye, NYCHA Chair and CEO, and Rasmia Kirmani Frye, the founding president of the Fund, welcomed the support for the new public-private partnership that aims to "improve social service delivery and access to economic opportunity for residents."
In January, the Fund, a 501(c)3 nonprofit, officially began reaching out to donors, and, according to Kirmani-Frye, raised almost $900,000 as of late October. It is an effort to supplement the cash-strapped public housing authority by tapping private donors, attempting to lure philanthropists to NYCHA, where about half-a-million people live.
Public-private partnerships are not new to New York City; former Mayor Rudy Giuliani created the Mayor's Fund to Advance New York City, and former Mayor Michael Bloomberg created the Fund for Public Schools and the Fund for Public Health. The public-private funds serve to help fill different needs in the city: the Mayor's Fund is currently focused on youth employment, mental health, and immigration; the Fund for Public Schools helps raise money for banner de Blasio administration programs like Computer Science for All and Pre-K for all; the Fund for Public Health implements targeted programs aimed at reducing asthma in low-income homes or preventing teen pregnancy in the South Bronx.
The Fund for Public Housing, which, according to the NextGen NYCHA goals, aims to raise $200 million in its first three years, will take a modest approach to addressing some of the most pressing needs at the public housing authority, which includes 328 developments and 178,000 units across the five boroughs.
According to Kirmani-Frye, a former director of the Brownsville Partnership, the "three lenses or buckets that we see and fulfill that mission are through people, place, and work." The Fund could create programs that reach NYCHA residents faster than government initiatives might. NYCHA's $17 billion capital budget gap is not something that the Fund will address directly, Kirmani-Frye said, indicating the Fund is focused more on programs and policies than physical building needs, as great as they may be.
Some of the largest donations to the Fund have thus far come from major international banks. Deutsche Bank donated $100,000 to update NYCHA design guidelines in order to improve resident quality of life, enhance sustainability, and reduce operating costs. Citi Community Development, a charitable offshoot of Citibank, contributed $250,000 to the Fund to support earned income tax credit access for NYCHA residents through the expansion of the Virtual Vita initiative, a tax preparation program for low-income New Yorkers. Capital One provided $25,000 to establish youth councils in NYCHA.
But beyond the large companies and foundations, the Fund is also looking to drum up support from past NYCHA residents. Olatoye, the NYCHA CEO, said, "the Lloyd Blankfein's and the Jay-Z's of the world" are the types of successful former NYCHA residents who could be especially helpful to their former communities. The Fund is also looking to find donors in "the ordinary folks who are doing great things...who but for public housing, their families' trajectory and their lives would be drastically different," Olatoye said.
Jeff Levine, the chair of Douglaston Development, Levine Builders, and Clinton Management, sees himself as one of those people. Levine lived in Brooklyn's Linden Houses from four- to ten-years-old, and recently donated $100,000 to provide scholarships for NYCHA residents attending the CUNY School of Architecture. Levine, whose businesses are behind major development projects in New York City, said of NYCHA, "I'm very grateful having had the opportunity to have lived there for a period of my life, and I appreciate that my education is completely public education."
Appealing to donors like Levine may be crucial if The Fund for Public Housing wants to reach the $200 million goal. According to Kirmani-Frye, "New Yorkers really recognize the value of other systems with the word public in front of it: public transportation, public education, but not as much public housing." But Kirmani-Frye points out the people who live in public housing make many other public systems run. She says a "big goal of the Fund is to change the narrative and challenge the assumption that people have about public housing."
At the New York Times City Visions conference, Kirmani-Frye echoed this sentiment, pointing out that the top three employers of NYCHA residents are the NYPD, the city Department of Education, and NYCHA itself.
The average NYCHA resident makes $23,300 annually. As of January 2015, 11% of all families received welfare assistance, and 46.9% of families had one or more members who were employed. Programs like Opportunity NYCHA help residents find employment and enroll in adult education classes about entrepreneurship. The Fund for Public Housing is part of a set of programs and strategies aimed at improving economic opportunity and outcomes for NYCHA residents.
With her typical optimism, Olatoye recalled that she was "at a conference on innovation and government, and the gentleman next to [Kirmani-Frye] leaned over and said 'Hey I grew up in the Bland Houses in Queens, I live in Minnesota now, and want to help you.'"
"The reality is philanthropy is very self-connected, so to speak," Levine said. But he thinks the work the Fund is doing to get the word out is vital. "My children, as a result of their awareness in my involvement in public housing are themselves involved in these efforts, so it can expand. It takes awareness."
The Fund's board may show the different channels the Fund can tap into; it includes figures in tech, social work, and health care, as well as residents of NYCHA. Scott Anderson is a board member and a co-Founder of Intersection, the company behind Link-NYC, the public wi-fi kiosks popping up all over the city. Anderson is interested in seeing expanded internet access to NYCHA residencies, something that has been a priority for Mayor Bill de Blasio and his administration.
In an email, Anderson said "Public access to the internet at home will help all boats rise. We will actively be looking at additional sources of funding for Wi-Fi and other digital initiatives." NYCHA has invested $10 million to provide free internet to five of its developments, but according to Olatoye, only half of NYCHA residents have internet, paid or free, in their homes.
Diallo Powell, a board member and a co-founder of the healthcare start-up Zipari joined the fund after meeting Kirmani-Frye through a mutual acquaintance. One of the biggest questions for Powell was whether the Fund could help start "initiatives that can actually be sustainable. And return not only value but revenue."
Right now, Powell sees his role on the board as a middleman, making connections between the board and potential donors. "I think just overall partnerships are the most important thing because at the end of the day it's not Ras and Shola doing this, it's finding groups of people, finding the right groups to make connections with who have a track record."
That track record may start with NYCHA, which has several programs that the Fund is interested in scaling to include more residents. Olatoye thinks that the Food Business Pathways program is one of such initiatives. Olatoye explains the rationale behind the program: "Essentially, we have all these emerging entrepreneurs in our developments. They cook for the church event, or they cater the cupcakes for the local birthday parties. A couple years ago folks realized that there was a number of them, and they were actually like small businesses. So why don't we actually create a pathway to actually create real businesses for these people?"
The Food Pathways Program has, according to Olatoye, already trained 300 people to join the city's food industry, and 50% of those people have gone on to create cash-flowing catering businesses. Still, 300 people is a small fraction of the hundreds of thousands of NYCHA residents.
Going forward, the Fund for Public Housing faces some persistent challenges, like convincing people that public housing -- and the people who live there -- are worth investing in. At this point, the donors to the Fund have endowed mostly small-scale projects: updating design guidelines or creating scholarships. By comparison, other public-private city nonprofits like the Fund for Public Schools help create much larger projects.
Olatoye thinks the Fund for Public Housing could eventually tackle large- and small-scale projects simultaneously: "I imagine a world, where we can hold both concepts in our head. Where we can have large-scale numerically impactful programs that are putting large numbers of public housing residents to meaningful work, while having the space to nurture our focus on bringing public art into the housing authority. And I think there is a base of donors and philanthropic partners who are interested in both."