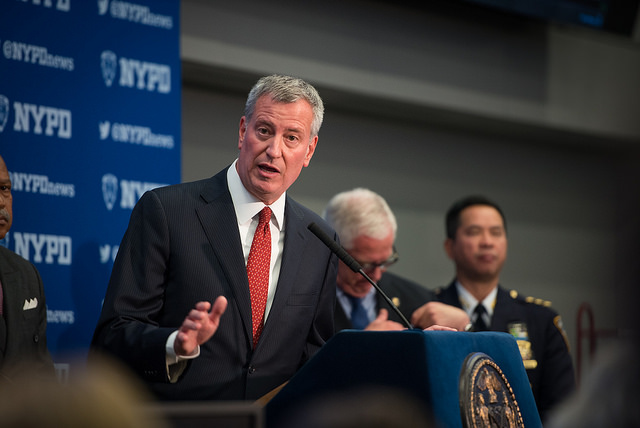 Mayor de Blasio (photo: Edwin J. Torres/Mayor's Office)
---
Mayor Bill de Blasio indicated on Tuesday that he has cut down his contact with Jonathan Rosen, a campaign consultant who has remained a top advisor to the mayor since de Blasio took office in 2014. Earlier this year de Blasio told reporters that amid controversy and investigations into his behavior he had reduced his communication with lobbyists. It appears that the mayor has also adjusted his approach to controversial political advisors like Rosen who are not on the government payroll but who have nonetheless been influential.
The relationship between de Blasio and Rosen, as well as other advisors, has raised flags since Rosen represents clients with city business while acting as a de facto member of the mayor's cabinet, advising de Blasio on all manner of political and governmental decisions.
City Hall has restricted access to email correspondence between the mayor and his staff and Rosen, putting new limits on Freedom of Information Law requests and calling Rosen an "agent of the city" even though he is not paid by the city. The city has also extended that designation to several other outside consultants that helped get the mayor elected and remain important to de Blasio, but are not on the city payroll.
The day before Thanksgiving, as part of a lawsuit wherein NY1 and The New York Post are suing for access to the aforementioned communications between City Hall and these outside 'agents,' the city released hundreds of emails involving Rosen. The correspondence, from 2014 and at times significantly redacted, shows Rosen's inclusion in de Blasio's inner circle and influence at City Hall.
Rosen, who is co-founder of the firm BerlinRosen, helped guide de Blasio to victory in the 2013 mayoral race. His firm is now leading the mayor's reelection efforts, which recently kicked into higher gear on both fundraising and early endorsements. Between the two campaigns, Rosen has had the mayor's ear and de Blasio has sought his guidance. His firm has also represented a variety of clients with city business, including not-for-profits and real estate developers. The emails show some blurring of the lines between Rosen's formal and informal roles.
The Wednesday document release led to new questions for de Blasio about transparency, conflicts of interest, and Rosen's special designation -- first on NY1's Inside City Hall on Monday evening, then at a Tuesday press conference where de Blasio took whatever questions the assembled press wanted to ask.
De Blasio continued to defend the relationship, arguing its validity, importance, and integrity. "I'm absolutely certain that there's no representation of clients involved in those discussions," de Blasio said. "And these are folks who I have known for years and years who have been providing me advice that I long ago came to the conclusion was objective, thoughtful advice. But it's just advice. I listen to advice from many quarters, and I make the decisions."
But, asked by Gotham Gazette if he was still in such regular communication with Rosen and other top outside advisors, the mayor implied that he had cut back on such contact. "Each situation is individual," de Blasio said. "I think it's fair to say that it's pretty rare I'm talking to people, but each situation is individual."
Reminded that the emails show very regular contact with Rosen, de Blasio said, "The emails go back a ways."
Asked then about the current state of things, he told Gotham Gazette, "I'm saying – I think it's pretty rare that I'm talking to those individuals, but again, I think each case is individual."
When Gotham Gazette followed up with the mayor's press office, a spokesperson confirmed that Rosen is no longer attending meetings with the mayor and his top governmental staff -- the 2014 emails that were released showed Rosen regularly included in high-level calls and meetings. The de Blasio spokesperson did not answer additional questions or offer further comment. De Blasio's campaign spokesperson at BerlinRosen declined to comment on the shifting dynamics of the relationship.
While de Blasio continues to insist that Rosen never discusses his clients with the mayor, top de Blasio aides and others in the administration know Rosen's importance to de Blasio, giving him and his clients a major advantage. Every mayor comes into office with friends, advisors, and colleagues, not all of whom take jobs in the new administration. But, Rosen's level of influence on de Blasio and city policy while representing clients with city business appears to be highly unusual.
De Blasio has continued to defend the situation, though, even as he acknowledged Tuesday having scaled back Rosen's involvement in government decision-making. The change is similar to both the mayor's affiliation with political nonprofits, like the Campaign for One New York, that Rosen and others established in partnership with de Blasio, and the mayor's relationship with lobbyists, especially top city lobbyist James Capalino.
Amid controversy, criticism, and law enforcement investigations, de Blasio saw to the shutdown of the Campaign for One New York, though he has steadfastly defended its existence and did so as recently as Monday on NY1. When his relationship with Capalino and the access of lobbyists at City Hall came under heightened scrutiny, especially around the problematic sale of Rivington House, de Blasio said he had cut down his contact with Capalino and others.
"I have not been in touch with Mr. Capalino," de Blasio told reporters in August. "You know, he – going into the mayoralty – was someone that I respected and was a friend, someone I talked to a lot over the years. But I do not have contact with him anymore."
De Blasio explained it was "because of the atmosphere we're in, and the ongoing investigations." He wasn't able to say when that new approach had begun, but said it was "a while back."
It should be noted that neither de Blasio nor any of his close allies have been charged with a crime, and the mayor has insisted everyone has acted both legally and ethically. There are ongoing investigations, though, including into whether government favors were given or promised in exchange for donations to the Campaign for One New York.
After the mayor indicated Tuesday that he had limited Rosen's involvement in government decision-making, a de Blasio spokesperson did not answer Gotham Gazette's inquiry about when that distance had been created. It's also not clear how often de Blasio is currently emailing with Rosen, or to what extent they've moved communication to phone calls, which are not subject to Freedom of Information requests. As de Blasio is now more engaged in his reelection campaign, he is more involved with BerlinRosen on a regular basis.
"I think what you guys have to recognize is we're very, very comfortable saying 'no' to anyone," de Blasio told reporters Tuesday, explaining that Rosen and others can suggest ideas or recommend actions related to their clients, but should not expect undue influence. "And we have no problem with putting an idea on the table, no problem with recommending someone or offering an event. We'll make a decision based on what we think is right."
"These are individuals who advise me for years and years," de Blasio said. "They're offering ideas. There's nothing about that that is out of the ordinary. Everyone who holds high office has advisors, and they offer advice. And again, I make the decisions."