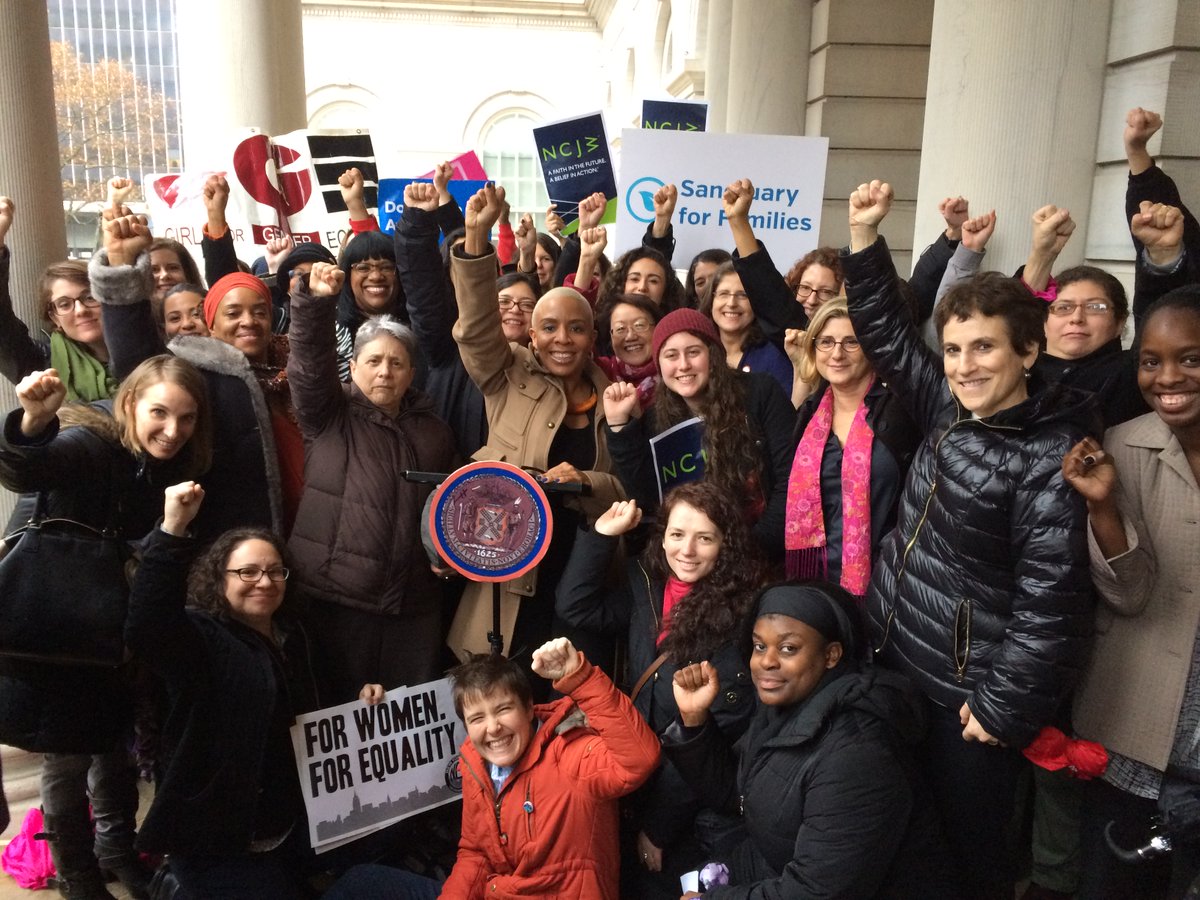 Equality rally at City Hall (photo via Council Member Cumbo)
---
The Women's Caucus of the New York City Council announced a legislative package Tuesday aimed at equal rights and opportunities for women. With an "equality rally" outside City Hall before the full Council held a meeting at which some of the bills were introduced, legislators, advocates, and service providers expressed support for the legislation and argued for its necessity in light of Donald Trump's election as President.
The co-chairs of the Women's Caucus, Council Members Laurie Cumbo and Helen Rosenthal, spearheaded this first-of-its-kind legislative effort by the caucus. The 11 bills and resolutions range widely, while some have already been passed into law and others are completely new. The entire package should be enacted at the city level in conjunction with other state and federal policies, those who rallied said. The concern, though, is that the federal government will not be advancing gender equity under President Trump. Council Member Cumbo, who represents District 35 in central Brooklyn, said she's worried about Trump's treatment of women and his misogynistic language.
The legislative package seeks to address issues like the needs of unpaid caregivers, access to feminine hygiene products, services for victims of domestic violence and sexual assault, the gender pay gap, and more.
"We have seen all across this nation the challenges that women face when attempting to become leaders," Cumbo said. "All across this country we have seen the level of disrespect. We have seen women who want to have families, who want to have babies, and a president-elect saying that pregnancy in the workplace is a problem."
While Council Member Rosenthal praised the City Council and the de Blasio administration for their efforts to help women achieve equal opportunities through legislation and by creating the Committee on Gender Equity, she said advocacy groups and public officials should still push for progress.
"With the challenges that we now face, it is critical that we redouble our efforts towards the promise of equality and we refocus our outreach and organization as a caucus to ensure there's a success in that effort," said Rosenthal, who represents District 6 on the Upper West Side. "This legislative package will make a difference in the lives of not just women, but all of New York."
Council Member Margaret Chin, who represents District 1 in Lower Manhattan, said this presidential election served as a reminder of the long fight ahead for equal rights under a Trump presidency: "When a President-elect with a record of belittling, harassing and abusing women is about to take office, we have the responsibility to act now — to demand equal rights in our city and across the nation."
Last July, Governor Cuomo signed legislation to eliminate sales tax on feminine hygiene products in New York. One of the bills in the package, sponsored by Council Member Julissa Ferreras-Copeland, would provide feminine hygiene products at no cost for students on Department of Education premises. Ferreras-Copeland has been at the forefront of other city legislation to improve access to feminine hygiene products at city schools, shelters, and jails.
Additional components of the legislative package include a new resolution, sponsored by Rosenthal, pushing the state to give domestic violence survivors greater ability to break leases with landlords; legislation, sponsored by Chin and already passed into law, that helps address needs of unpaid caregivers; and a resolution, sponsored by Council Member Annabel Palma that calls for passage of a state law to prohibit employers from asking salary history. (Public Advocate Letitia James, a former Council member, has such legislation at the city level.)
According to a report released by James, women in New York City earn annually approximately $5.8 billion less in wages than men. Women of color face the greatest wage gap, with Hispanic, black, and Asian women experiencing a gap of 55, 54 and 37 percent, respectively, relative to white men. New York City ranks higher for racial disparities in salary than most cities in the country, according to James' report.
Council Member Rosenthal said she was especially impressed by the show of support on Tuesday from so many advocacy and nonprofit groups. "In the city, nonprofits are hungry to do what they can to support anyone who might suffer consequences of a Trump administration....based on outcomes of his misogynistic view of the world," Rosenthal said in an interview.
The Women's Caucus, which includes 14 members in the 51-seat Council, said the package serves not only women of New York, but all of its residents by providing improved transparency into city programs, support for families, and efforts to reduce sexual assault and domestic violence against all genders.
"As a national model, we must maintain our upward momentum to end gender and racial inequality through public policy that celebrates our diversity," Council Member Cumbo said at the rally, pointing to other city and state efforts like the municipal identification card program and a higher minimum wage.
The Women's Caucus includes the Council Speaker, Melissa Mark-Viverito, who is one of several women term-limited out of the Council at the end of 2017. Mark-Viverito, Rosenthal, James, Ferreras-Copeland, and other city elected officials have been involved with efforts to encourage more women to run for elected office.
***
by Devin Gannon and Milka Nissinen
@GothamGazette