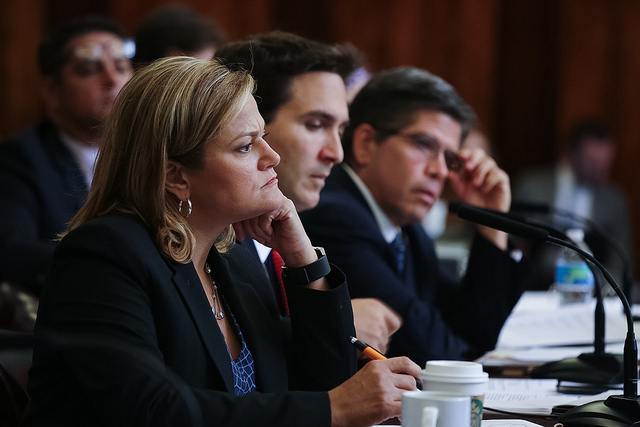 Speaker Mark-Viverito (photo via flickr)
---
The City Council's long-awaited public bail fund, a project spearheaded by Council Speaker Melissa Mark-Viverito, is one step closer to being operational after receiving another required approval from state authorities.
Mark-Viverito announced the plan to create a $1.4 million citywide bail fund in February 2015, during her first State of the City address. She called it a crucial element in her larger agenda of criminal justice reform, which now includes several other elements, such as the Criminal Justice Reform Act, which reduced penalties for many low-level, nonviolent offenses.
But the bail fund has been mired in bureaucratic process for some time, and its launch does not appear to be something that the speaker and her partners in the effort have made an urgent priority, despite the fact that the city's bail system is widely acknowledged as broken. The problems with the bail system prompted Mark-Viverito's bail fund initiative and elements of the Criminal Justice Reform Act, which helps avoid arrests in the first place.
The Liberty Fund, as it is called, aims to assist low-level offenders who cannot afford bail, at times as low as $250, and would otherwise be incarcerated awaiting trial. It would mirror other bail funds that are running in the city, and will be overseen by the Doe Fund, a nonprofit that provides assistance to homeless people.
"[I]f you can't afford bail you will spend on average 15 days in jail," Mark-Viverito said in the 2015 speech. "The results are predictable: people lose their jobs, or their housing, and cannot take care of their children while they are in custody. These are people who are accused of minor offenses and are still considered innocent in the eyes of the law. This is not justice."
More than a year later, in March 2016, the fund was recognized as a charity by the Attorney General's office. After other steps in the lengthy procedure involving multiple levels of state approval, the fund received a license to run as a charitable bail bond operation on August 12, according to a spokesperson for the state Department of Financial Services, which authorizes such funds. The speaker's staff told Gotham Gazette that same month that the fund is expected to provide assistance to about 1,000 people annually, and they hope to reach as many as 2,000 each year. Under state law, a charitable bail fund can only pay bail for an individual charged with a misdemeanor whose bail is set below $2,000.
According to the DFS spokesperson, the fund now has to to obtain a license for an individual to act as a bail bond agent. The spokesperson said that they received an application and a letter from the City Council on November 23 asking to approve the license. The individual will have to be vetted and interviewed before receiving the license, although the spokesperson could not say how long that process would take.
Two other bail funds currently operate in New York City -- The Brooklyn Community Bail Fund and The Bronx Freedom Fund. Both funds report that about 95 percent of their clients, who would otherwise have been unable to afford bail, return to court. The city-funded Independent Budget Office found in 2011 that on an average day, 49 percent of pre-trial detainees were jailed because they could not pay bail and that the annual cost to the city for housing all pre-trial detainees who were unable to pay bail was around $125 million.
The Council's bail fund aims to prevent thousands of such defendants from spending time in jail, cutting down both on the prison population and the associated costs of incarceration, as well as the personal costs to the individuals. "Our Citywide Bail Fund will make our criminal justice system more fair by ensuring low-income New Yorkers accused of low-level offenses aren't forced to languish in jail while awaiting trial," said Robin Levine, a City Council spokesperson, in an email. "We are in active conversations with our partners and will be announcing next steps soon."
Once the fund is established, that licensed bail bond agent will begin offering qualified candidates the cash to post bail, with the agreement that the participant will show up for his or her court date. The city's budget for Fiscal Year 2016, which ended June 30 2016, included $1.4 million for the bail fund, which was unused. The same amount was included in the Fiscal 2017 budget as well.
At this point, the launch of The Liberty Fund could coincide with Mark-Viverito's next, and final, State of the City address, in February. Mark-Viverito is term-limited out of office at the end of 2017.
"It is a time consuming process for an organization to be charitable bail fund organization," said Peter Goldberg, executive director of the Brooklyn Community Bail Fund. Goldberg said his organization received its license in about a year-and-a-half, which is similar to the timeline for the Council's fund so far. For the Brooklyn fund's individual bail bond agents, Goldberg said it took about three months to be licensed by the state.