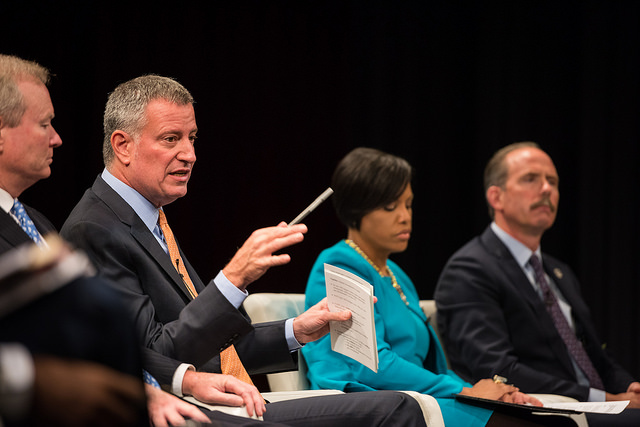 Mayor de Blasio (photo: Edwin J. Torres/Mayor's Office)
---
In a surprise move on Monday, Mayor Bill de Blasio declared during a NY1 television appearance that going forward his communications with five outside advisors would be subject to public disclosure. In doing so, the mayor betrayed his own rhetoric from a week prior when he vigorously defended his actions in keeping those communications confidential and maintained that "the highest standards were adhered to" in his dealings with unpaid consultants, some of whom have clients with city business.
For the last several months, the mayor has pushed back against allegations of a pay-to-play culture emerging at City Hall stemming from his close relationships with multiple consultants that have clients with city business and the mayor's political nonprofit, the Campaign for One New York, for which some of those consultants also worked. Much of de Blasio's explanation around the Campaign for One New York and his relationship with outside consultants has indicated a bare adherence to legal and ethical guidelines, not to the "highest standards."
The Campaign for One New York, which de Blasio has repeatedly said was OK'd by the city's Conflicts of Interest Board, raised unlimited funds from wealthy donors who have business with the city, including labor unions and real estate developers. The now-defunct group, which voluntarily disclosed its donors, is under federal and state investigation to determine whether donors were offered or received political favors from City Hall. No one has been charged with wrongdoing and the mayor has insisted that he and his allies sought proper guidance and conducted themselves ethically and legally.
The administration has sought to keep the communications with his unpaid consultants, termed "agents of the city," exempt from disclosure under the Freedom of Information Law, inviting a lawsuit from the New York Post and NY1 for their release. Two weeks ago, the day before Thanksgiving, the administration released some of those communications, just over 1,500 emails dating back three years, exchanged with one of the consultants, Jonathan Rosen of the BerlinRosen firm.
At an unrelated news conference on November 29, de Blasio argued that his exchanges with Rosen were appropriate and did not present conflicts of interest. "I'm absolutely convinced that the highest standards were adhered to," he told reporters. "Everything we did – I said it last night, I'll say it again. Everything we did, we did with legal clearance for the way to approach things – in the case of Campaign for One New York, with pre-clearance from the Conflict of Interest Board. I am convinced everything was done appropriately."
But the mayor's argument has not swayed good government groups who would like to see a higher standard of conduct and more transparency from a mayor who campaigned on that very promise.
"It's common sense that you can't serve two masters," said Susan Lerner, executive director of Common Cause New York, in an email. "The Mayor's closest advisors, so called "Agents of the City," represent private interests with business before the city, and they're not accountable to anyone other than their clients. They should not also have a prominent role in public policy."
On Monday, the mayor sought to make a move towards more openness, telling anchor Errol Louis on NY1's Inside City Hall that he would no longer shield communications on government matters with outside consultants. He described the move as necessary since the email issue had "obviously become a distraction" to his administration, but in doing so, he effectively acknowledged a higher standard to follow.
Meanwhile, earlier communications with those "agents" are still being held confidential and the lawsuit continues.
"It's hardly the highest standard when the response of the administration, in my opinion, is inconsistent with law," said Robert Freeman, executive director of the state Committee on Open Government, which provides guidance on the state's Freedom of Information law. "A consultant according to the state's highest court refers to persons or entities retained by the city," he added, pointing out that the mayor's advisors are private citizens who are not on the city's payroll, which is the basic requirement for shielding communications.
De Blasio similarly undermined his own argument about high standards when he shifted the policy of including Rosen in high-level government cabinet meetings, with a spokesperson telling Gotham Gazette Rosen is no longer attending such meetings (BerlinRosen is again running communications for de Blasio's campaign) after de Blasio himself told Gotham Gazette at the Nov. 29 news conference that he is rarely talking with those termed "agents of the city."
Christina Greer, political science professor at Fordham University, faults de Blasio for not matching his lofty rhetoric, but believes he hasn't done anything untoward. "He should probably refrain from using superlatives in explaining what he's done," she said. "But I don't think it's been illegal or detrimental." If there was any illegal conduct, Greer is confident that U.S. Attorney Preet Bharara, whose office is investigating the Campaign for One New York, would have found it by now.
Though de Blasio never admitted that the Campaign for One New York was a mistake, he had it shuttered when it too had become a significant distraction. He said it had accomplished its goals, chiefly helping to secure state funding for pre-Kindergarten.
"I think [de Blasio] has an Obama problem," Greer said. "He cares about the city, he has time constraints, and in his expedience to try and implement policy, he doesn't necessarily explain how or why." She said that approach creates two negative consequences: constituents are unaware of the positive changes the mayor is making and, because of the lack of transparency, they are skeptical of whether the mayor's actions are "above board."
But the mayor's bigger problem, Greer said, is that he faces different pressures than his predecessor, billionaire Mayor Michael Bloomberg. "I really do wonder if this is just the cost of doing business for someone who is not a billionaire and can't finance his own projects," she said, insisting that the mayor has to be able to make deals. "If he doesn't get in bed with wealthy capitalists, how is he going to help poor people. That's the question for American politics," Greer said.
Back when de Blasio was public advocate, he made a show of calling out city agencies for their lack of transparency. He issued a "Transparency Report Card" in which he gave failing grades to agencies that consistently failed to comply with the law. "The City is inviting waste and corruption by blocking information that belongs to the public," de Blasio said, in April 2013. "That's the last thing New York City can afford right now. We have to start holding government accountable when it refuses to turn over public records to citizens and taxpayers."
Mayor de Blasio is a far cry from that public advocate when it comes to transparency. "We'd like to believe that he is holding himself and others to the highest standard, but we don't have any independent verification of that," said Dick Dadey, executive director of Citizens Union, a government reform group. "When one is devising his own rules to shield people from public information, it raises questions about the validity of such claims. He cannot be the arbiter of whether he is doing so or not particularly when it involves protecting his closest associates."
Note: Gotham Gazette is an independent publication of Citizens Union Foundation, sister organization of Citizens Union.