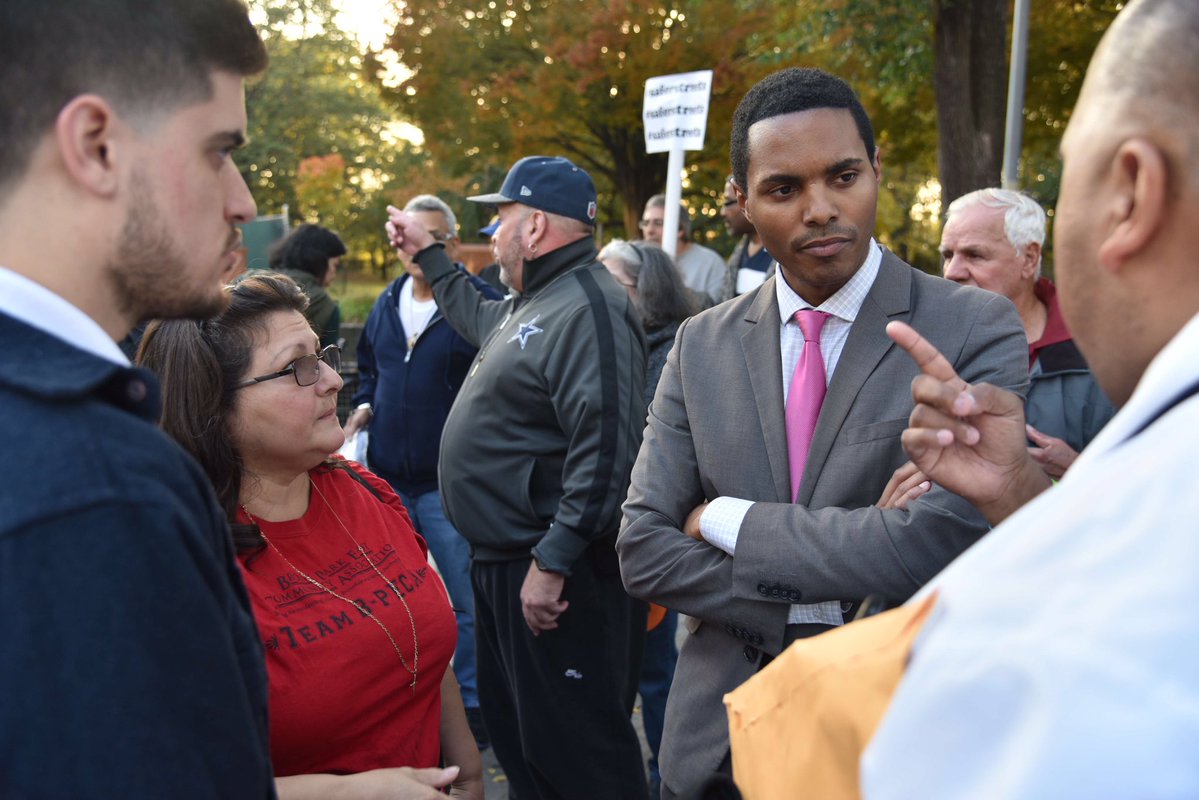 Ritchie Torres (photo: John McCarten)
---
City Council Member Ritchie Torres will introduce a bill on Thursday that aims to ensure landlords follow the law and keep the heat on for tenants when it should be.
Torres' bill, being introduced in partnership with Brooklyn Borough President Eric Adams, would require landlords of buildings with more than three units to install tamper-proof heat sensors in the living room of each unit. These "temperature reporting devices" would be monitored by tenants, landlords, and the city's housing agency, the Department of Housing Preservation and Development (HPD).
The model for such a device was developed by Heat Seek, a winner of the city's 2014 BigApps competition. With their legislation, Torres and Adams want to make sure that all tenants have heat when they are supposed to, and to create a new deterrent for landlords who might abuse heat settings as a way to drive tenants out of rent-stabilized housing.
"The bill is based on a recognition that laws governing heat and hot water, which are among the most common complaints among tenants, can be the hardest to enforce," Torres said in an interview on Wednesday.
"It's bringing housing code enforcement into the 21st century," Torres said. "And it's allowing us to hold unscrupulous owners accountable, and drive down the rate of heat and hot water violations in New York City."
Working with Heat Seek, tenants, and housing lawyers, Adams recently announced a lawsuit against one large Brooklyn landlord whose Brownsville building had a number of heat complaints.
Landlords must provide tenants with heat and hot water when the outdoor temperature falls below 55 degrees during the day and below 40 degrees at night during the October 1-May 31 "heat season." HPD tracks violators.
"My message to landlords across New York City is that we're watching; don't harm your tenants' quality of life all because of greed," Adams said in a statement. "We are using cool technology to warm the homes of Brooklynites, while putting bad-acting landlords on the hot seat for their harassing behavior. I am proud to work with Council Member Torres, the innovative team at Heat Seek NYC, our incredible legal advocates, as well as courageous tenants who are standing up for their housing rights."
As originally drafted, if passed by the Council and signed by the Mayor, the provisions of the bill would go into effect for January 1, 2018. It would require rules to be drafted and contract procurement by HPD (Heat Seek would not be guaranteed the contract for the devices). The bill will be heard in the Committee on Housing and Buildings, which is chaired by Council Member Jumaane Williams. Torres chairs the Committee on Public Housing, but the bill does not apply to the New York City Housing Authority, which is separate from the private landlords the bill is targeting.
There are already amendments to the bill being discussed. Most significantly, according to Torres' office, the bill is likely to be changed so that the temperature monitors are required of landlords with repeated violations related to providing heat, not of all landlords. The idea will be to identify when there has been "willful deprivation of heat and hot water" so that HPD can then monitor it and ensure that landlords are not repeatedly violating the law or driving out tenants. At times, landlords are accused of not providing heat but then raise the heat for HPD inspections. Sensors would allow for regular detection.
Torres' office is looking at perhaps coordinating with the Public Advocate' "worst landlord" list that is released each year as those involved seek to identify negligent landlords or landlords that harass tenants.
According to data provided by Torres' office from HPD, last heat season HPD inspectors attempted 117,767 heat-related inspections and wrote 7,548 heat-related violations. HPD completed $2.7 million in heat-related emergency repairs that was charged to building owners and filed 3,151 heat cases in court, collecting $1.7 million in civil penalties against more than 3,100 properties.
Heat Seek is looking forward to expanding its work. In a statement, the company said, "Heat Seek is grateful for Councilman Torres's and President Adams's forward-thinking approach to solving problems experienced by many New Yorkers. We know that underheated apartments are too common for our neighbors, and we believe that sensor technology has the capacity to change the way landlords provide services for their tenants and how our city enforces the Housing Code."
Tenants are encouraged to call 311 to report issues with their heat and their landlords. Some tenants have taken to keeping a "heat log" but the tamper-proof devices from Heat Seek can provide more indisputable evidence.
"I think most landlords make good effort to comply with the law," Torres said, but it will be important to monitor and punish "actors who have a consistent pattern of heat and hot water violations."