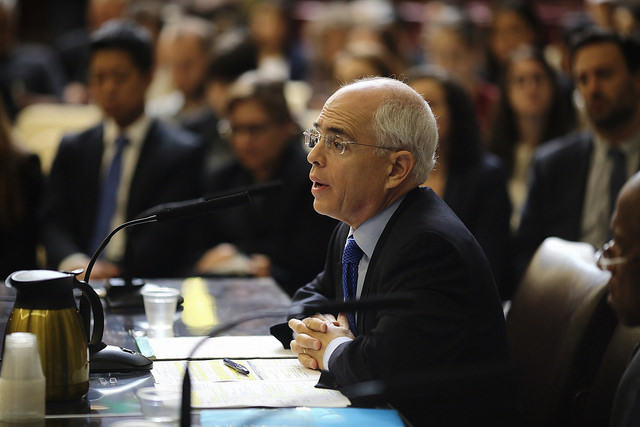 First Deputy Mayor Shorris testifies (photo: William Alatriste)
---
The de Blasio administration is bringing in a new chief administrative officer to work under First Deputy Mayor Tony Shorris starting January 1. Laura Anglin, who comes to City Hall after serving as president of the Commission on Independent Colleges and Universities for the last seven years, "will support the work of a number of City agencies," according to the December 15 press release announcing her hire.
Those agencies include several within Shorris' 30-agency portfolio, the vastness of which was a key point of contention at a City Council oversight hearing in September. At that hearing, which focused on the administratioan's mistakes in removing deed restrictions on Rivington House, City Council Member Ben Kallos asked Shorris a series of questions about the structure of Mayor Bill de Blasio's upper management and whether the first deputy mayor has too much on his plate. Kallos indicated that he believes de Blasio should have a deputy mayor for operations like some of his predecessors.
Shorris repeatedly said the structure of the cabinet is up to the mayor and, while acknowledging mistakes on Rivington House, indicated that he is comfortable with his workload.
City Hall insists that Anglin's hire has nothing to do with Rivington, where a nonprofit health care facility is becoming market-rate condos after a series of miscommunications, questionable decisions, and limited agency oversight by Shorris. But, the new chief administrative officer will be responsible for supporting the work of the Department of Citywide Administrative Services (DCAS), which, along with Shorris' office, was at the center of the Rivington mishap.
Asked on Tuesday whether Anglin was being brought on as a response to what the Rivington saga showed about Shorris' workload, de Blasio said, "It's a way of just making the team stronger. She's a real proven leader; tremendous experience, particularly at the state level."
The mayor continued, saying that Shorris "has a huge portfolio," and credited his first deputy with key contributions to the successes of the past three years. "I think he's done a fantastic job," de Blasio said of Shorris. "But, it gives us the ability to support his work more effectively, it's as simple as that."
According to the announcement of her hire, Anglin will deal with agencies including "Fire, Sanitation, Transportation, DEP, DOITT, DDC, DCAS, Buildings and TLC."
According to the mayor's office, Anglin will be paid $218,000 annually, coming in at a higher level, but in a sense filling several vacant positions, including a senior advisor for contracts and administration who left earlier this year.
"This hire allows us to bring an exceptionally talented individual on to the First Deputy Mayor's team, and in doing so, making up for some positions that were vacated earlier this year," said Natalie Grybauskas, a de Blasio spokesperson, in a statement to Gotham Gazette.
According to the announcement of her hire, prior to her time as CICU's president, Anglin "spent time working as the First Deputy Budget Director and Budget Director for New York State, largely in charge of managing the State's financial plan and proposals. Additionally, Anglin has spent time as an economist at the New York Department of Environmental Conservation, an Econometrician at the New York Department of Taxation and Finance, and has had various roles in the NY State Assembly."
During the September hearing on the Rivington matter, Council Member Kallos asked Shorris about his portfolio, at one point asking him if he agreed that approximately 30 agencies is "a lot," to which Shorris replied "Yes."
When Kallos asked why there is no deputy mayor for operations under de Blasio, Shorris said, "Well, the decision on the structure of the government at City Hall is obviously the Mayor's decision; we discussed that and there are many models. As I'm sure you know, over the course of the years there have been many different structures for City Hall -- some have first deputy mayors, some don't; some have deputy mayors for operations, some don't; some have seven deputy mayors; some have three; it's all based on how a mayor wants to organize his government and do so effectively."
De Blasio has structured his government with Shorris as first deputy mayor for the entirety of his term thus far, and three other deputy mayors, one each for housing and economic development (Alicia Glen throughout); health and human services (currently Dr. Herminia Palacio); and strategic policy initiatives (Richard Buery throughout).
Kallos, who declined to comment for this article, asked Shorris if he felt that he had been able to "effectively manage" his vast portfolio. "I'm extremely proud of the record of this administration in implementing a series of initiatives," Shorris said, before Kallos interrupted and the two simultaneously for a few moments.
One breakdown in the Rivington chain of events was that Shorris had stopped reading the weekly memos prepared for him by commissioners who report to him and key decisions were being made that were not otherwise communicated in person or by phone or email. The memos came up during the hearing, with Kallos asking about them and whether Shorris reads them.
"As I mentioned in my testimony, Councilman, when I began, I asked [commissioners] to provide a weekly memo that summarized their activities in the prior week," Shorris said. "I initially read some of them, 'cause I was obviously trying to learn the way the government operated. Over time, as I became more comfortable with the operations of the government and my meetings with the agencies became more and more frequent, that became less necessary; as a result, as I mentioned in my testimony, I took to reviewing the memos on an episodic basis, just to sort of get a feel for what was going on -- they were not decision-making vehicles."
"So have you told the commissioners and agencies that they don't actually have to do these anymore because they're not useful?" Kallos asked.
"No," Shorris responded. "No, what I've told them is they should continue to send them and our staff reviews them, I review some of them. From time to time they provide information that's helpful in context, but they're not for decision-making, Councilman, but they have other purposes."